Makeup-Less Avatars Of Mila Kunis
Mila Kunis has done many movies including Black Swan for which she received an award for the Best Young Actress. Mila Kunis a successful actress as is evident from her career and it is difficult to believe that a successful actress could step out without makeup.
Mila Kunis leads a simple despite being an awarded actress. She goes shopping for her household items. Also, she enjoys life with average women as she's seen walking leisurely at public places.
Here're 10 pictures when Mila Kunis is caught makeup-less but she looks gorgeous even without makeup
Shop Till You Drop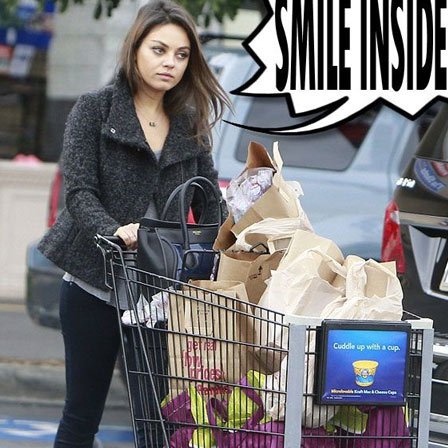 Mila Kunis is spotted out of a shopping mall with her monthly shopping. She is pushing the steel shopping cart that is full of paper bags on the walkway and she looks quite tired of shopping. Her face looks calm and her eyes are focused on a direction different from the path. She seems to be lost in thoughts. Her burgundy-colored locks flowing in one direction show that she's ignorant about her tired and makeup-less look. She's wearing a black-colored woolen coat, light-gray t-shirt, and dark black trousers.
Both Hands Full
Here Mila Kunis is seen with her partner Ashton Kutcher. They are seen in a marketplace with both of their hands full of soft drinks and a newspaper. While Mila Kunis is carrying beverages in her hands, her partner Ashton Kutcher has a drink in her left hand and a newspaper in her right hand. Mila Kunis has gone makeup-less as is evident from her clean face and neatly tied hair at the back. She's wearing an oversized black top and light blue jeans. It seems that they are looking for a convenient place to enjoy their drinks.
Plugged Ears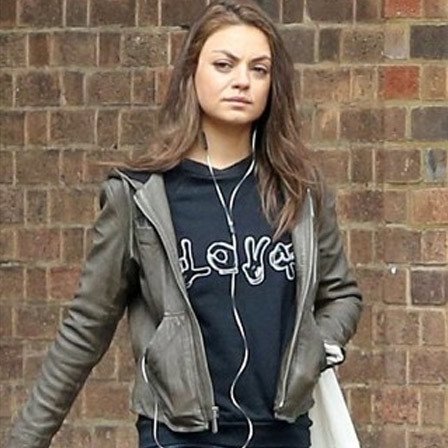 Mila Kunis is taking long strides with her ears plugged with earphone buds connected to her Smartphone kept in the right pocket of her light gray-colored leather jacket. She's wearing a black t-shirt under the jacket and she's paired the top with matching black trousers. Her square face is perfectly contoured by her long flowing locks. Her face is makeup-less but clean and her natural skin tone matches perfectly with her hair color. And the complete look with the black dress makes her outstanding in a makeup-less avatar.
Mila Kunis In Barbie Doll Avatar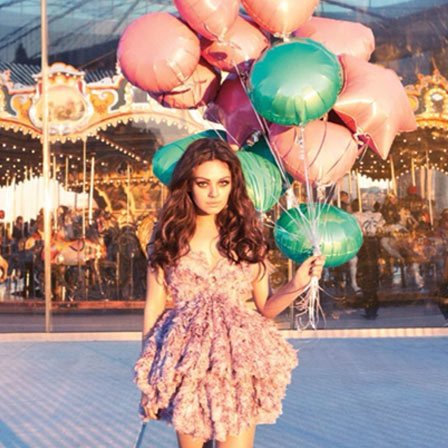 It is a perfect Barbie Doll look without makeup, of course. Mila Kunis has done no makeup for this look because it isn't a photo shoot. She's at a carnival as is evident from the backdrop of the photo. People are seen enjoying the event at the backdrop in the picture. But Mila Kunis looks like a Barbie Doll in a fascinating pink frock and long flowing locks. Her face is clean and makeup-less. She's holding colorful balloons in her left hand and these balloons are multiple. Together with balloons, her picture looks more colorful.
Mila Kunis Real Life Look Without Makeup
It is a close-up shot taken by the paparazzi and this is evident from the look of Mila Kunis. Surprised by this shot, Mila Kunis looks annoyed with the click. Her face is clean and makeup-less and her hair is tied in a loose bun at the back. And she's wearing a black-hood whose white laces are visible in the picture. Her face is stressed especially lips and eyes that seem to be making an alarming gesture for the paparazzi, who surprised the actress with a sudden click.
Mila Kunis Without Makeup Diva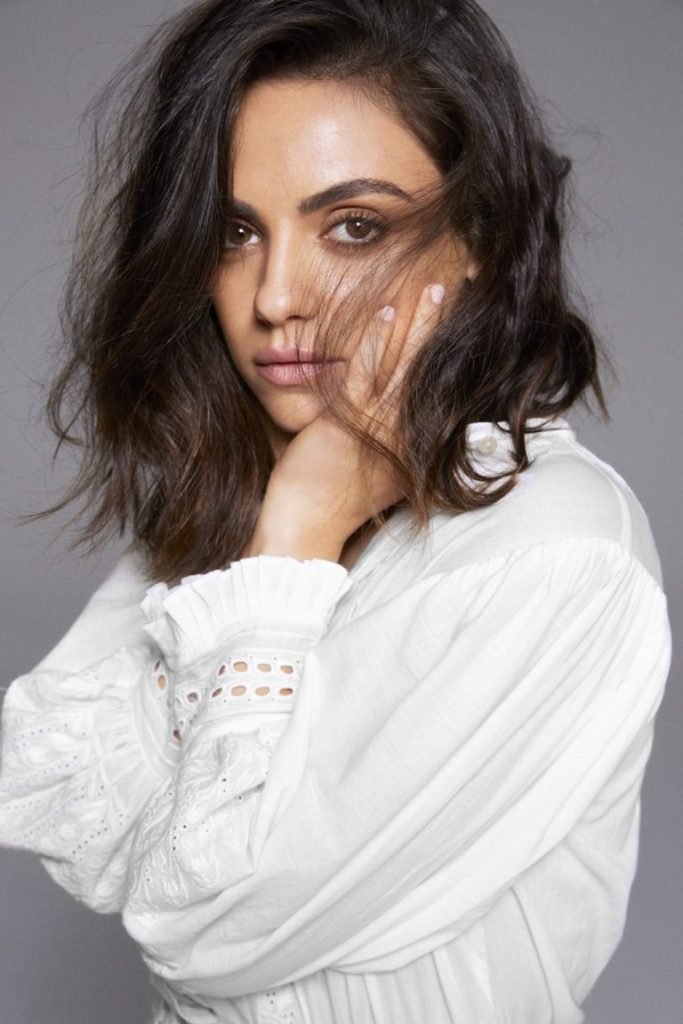 It is a perfect picture in which Mila Kunis looks like a diva without makeup. Her pale face reflects the natural glow and the undone locks frame her beautiful makeup-less face. Have a close look at her pouty lips with natural pink and naughty eyes that look bigger. Also, visible are her neatly trimmed eyebrows that are highlighting her eyes. Finally, it can be summed up as a picture taken in consent with the actor. And Mila Kunis looks quite excited about the photo.
College Girl Mila Kunis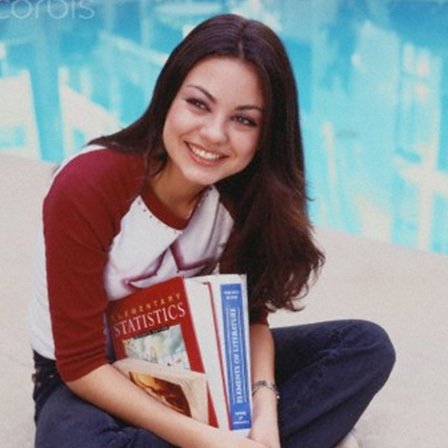 Mila Kunis has been a meritorious student throughout her life and her close friends say that she is dedicated to her studies. In this picture, Mila Kunis is seen with a couple of books one of with is of statistics. She's sitting with folded legs and holding her books in her hands. She's looking at the camera and giving a broad smile to the viewers. Her dress that is red-and-white top and black jeans completes her student look. Also, she's let her long tresses loose to look carefree.
Chocolaty Girl Mila Kunis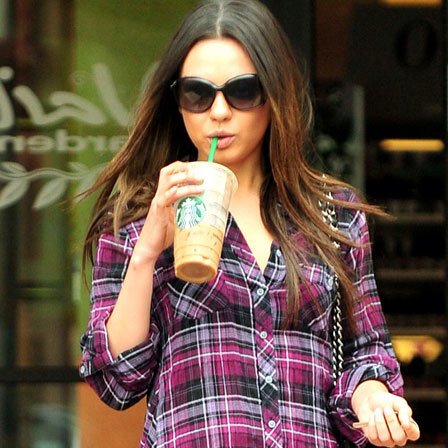 Chocolate milkshake is her favorite drink as is evident from the picture. Mila Kunis looks like a diva while sipping her favorite drink. She's walking in a marketplace and enjoy her free time. She's wearing a check shirt and matching denim. Also, she's wearing matching goggles. Her neatly comb locks flow freely with the wind. And this is a makeup-less picture. Mila Kunis has done no makeup for this photo shoot as it is a sudden grab.
Walking The Dog
Mila Kunis is health-conscious. She does regular exercise and she loves walking most. Here she's seen walking a dog with her partner. Mila Kunis is wearing a dark hoodie top and a light gray lower for walking. Her partner is also dressed in a grey tracksuit. Mila Kunis has tied her hair at the back to remain carefree. And she's done no makeup because she isn't doing any photoshoots. The photo is taken outside her home.
Innocent Face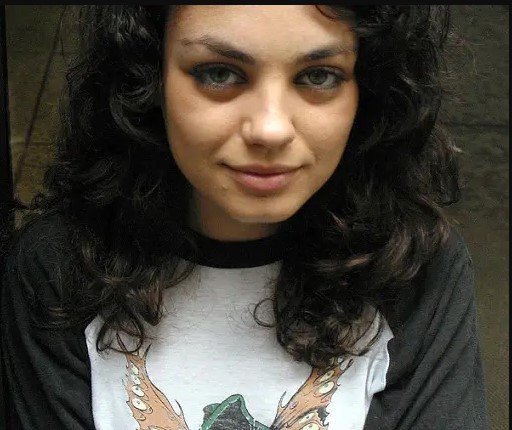 Mila Kunis is an awarded actress that has done different roles in many movies and her roles are always appreciated even by critics. But she's an innocent girl in her. This picture is taken in a parking lot where she's caught getting out of her car. She's wearing a light-colored t-shirt paired with dark-colored trousers. Her locks are flowing with the wind and it seems like her locks are hiding her face from getting clicked. The picture is clicked from the back as Mila Kunis is looking back with a smile on her face.