Emilia Clarke
Emilia Clarke was included in the list of 100 most influential people in the world by Time magazine in 2019 but she's more popular as Daenerys Targaryen of Game of Thrones. Emilia Clarke is also known for her workout & diet routines.
Do you know that she replaced Tamzin Merchant in Game of Thrones?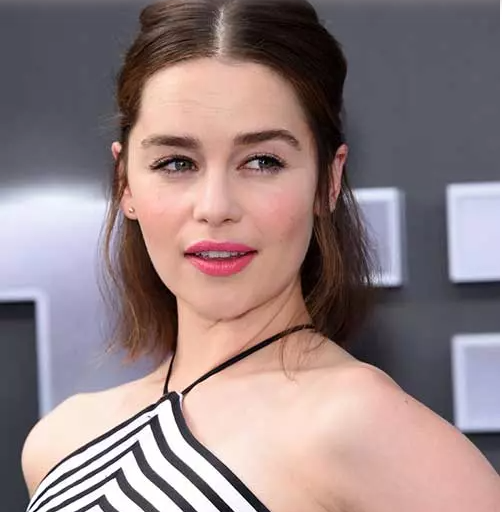 Actress Tamzin Merchant was the first choice for the character of Daenerys but she was replaced with Emilia Clarke after the pilot episode was re-shot. The show ran from 2010-2019 with Emilia Clarke playing Daenerys throughout the series. And it was no less than an achievement for Emilia Clarke as she received critical acclaim for that role.
Emilia Clarke is a petite actress with just 5'2" feet (1.57 m) height and only 52 kg (115 lbs) weight. But she looks hot and was just perfect for the character of Daenerys Targaryen who transformed her personality from a frightened girl to a powerful woman. And Emilia Clarke was the right actress to essay that character.
The most important thing for Emilia Clarke was to maintain the right weight through the series. And you will be surprised to know that she didn't follow a strict diet or exercise schedule to maintain her health. She isn't a big fan of dieting and nor she is a regular to gyms, but she still has a beautiful figure that could make anyone envy.
How does Emilia Clarke maintain a beautiful body without dieting and exercising?
Emilia Clarke follows what her trainer, James Duigan, suggests and James is himself a well-known celebrity trainer and the bestselling author. The fitness secret of Emilia Clarke is based on a theory produced by none other than her fitness trainer James Duigan and his wife Christiane Duigan. The Duigan couple produced Clean and Lean philosophy back in 2009.
What do we know about the Clean and Lean philosophy?
Duigan couple has authored six books including Clean and Lean for Life – The Cookbook. The philosophy says that the body should be cleaned of flattening toxins and made lean with proper nourishment and exercise. They further say that the result would be a "good mix of the slim and healthy body" and not a skinny one. The fitness couple suggests clean food that is a whole food. Their clean food includes green and leafy vegetables, fresh and juicy fruits, lean protein, healthy fats, a full-fat dairy, necessary herbs, and spices according to taste. Emilia Clarke followed this philosophy in letter and spirit to maintain a good curvy body.
Emilia Clarke Diet
Emilia Clarke is allowed to follow her heart while choosing her food. She can even eat things considered unhealthy but in moderation. Her fitness trainer revealed the secret of Emilia's diet during an interview. He emphasized having the right mindset to achieve the objective of a physical transformation. He further said that the moment people started counting calories, beating themselves for eating, and weighing their food before eating, they lost the battle. He allowed Emilia to eat anything but with a condition. And Emilia was so impressed with his philosophy that she introduced his book – Clean and Lean for Life – The Cookbook – as key to her very happy kitchen on Instagram.
Emilia Clarke Workout
Emilia Clarke doesn't have much time to exercise in a gym as she is always on the go from one shooting location to another. But she never misses her fitness routine to stay fit and healthy. She works out only 3-4 days a week and prefers bodyweight and TRX band training. She practices exercise like push-ups, squats, burpees, and plank that build core strength, improve posture, and keep her body well-toned. And Emilia Clarke always carries her TRX resistance bands to continue her workout even during busy shooting schedules.
What James Duigan says about exercising?
The celebrity fitness trainer has a different opinion on exercising. He suggests not to go to extreme levels where you end up with a sore knee. If you want to lose weight, you should act wisely that is focus on your health. He warns fitness enthusiasts about punishing their bodies by following a strict exercise routine. He says that rigorous exercising could slow down the body and the results. He suggests exercises that you like most instead of those you find difficult. For example, if you don't feel comfortable in weight training, you can go swimming, running, dancing, or rock climbing.
Takeaway Points:
• Consume whole foods and avoid unhealthy food
• Control portions to prevent overeating
• Exercise at least 3 days a week
• Focus on cardio and strength training
• Choose exercises that you like most
• Avoid punishing your body
Emilia Clarke follows what James Duigan advises and she's happy with her dieting and workout schedule. She is fit, fine, happy, and healthy. Also, she's doing well in her career. The biggest thing about her fitness is that she has no stress or tension about following a strict diet or worrying about missing her workout.
James Duigan on the cheat meal
The celebrity fitness trainer is a big fan of cheat meals and even advises Emilia Clarke to enjoy a cheat meal whenever she wants. He says that there is little harm in having a load of calories if you have earned them. And you can earn the calories by taking a balanced diet and doing regular exercises. Since Emilia Clarke takes whole foods and she is regular at exercising, she is allowed to enjoy a cheat meal with friends or sometimes alone in a shooting location.
Advice for people
Start with the right mindset: You need a healthy mind for a healthy body. Think about your health and take care of yourself. With the right thinking, you will be able to achieve your weight loss goal.
Eat simple and in balance: It is better to go simple in choosing your food. There are vegetables, fruits, dairy products, poultry items, nuts, seeds, herbs, and spices that can provide necessary nutrients to keep your body healthy. But you should avoid eating too much junk food.
Do mixed exercises: Cardio and strength training is good for your health but you can mix them with yoga and Pilates that will bring your body into posture and keep you slim.
Disclaimer: It is the fitness secret of Emilia Clarke and she follows the fitness routine under the watchful eyes of her trainer. Others should follow this fitness routine only on the advice of a fitness trainer.