Women prefer leggings over others including jeans and there are convincing reasons for choosing leggings. They are comfortable, stretchable, and designed for carefree use. They snug the legs tightly leaving no room for even air to pass but allowing ample room for leg movement.
Another advantage of leggings is that they suit women of all ages and they come in attractive prints, colors, and patterns. What is more exciting is that they can be paired with shirts, crop tops, leather jackets, hoodies, sweaters, and every top you can think of.
Take A Look!
Long Georgette Top With Black Leggings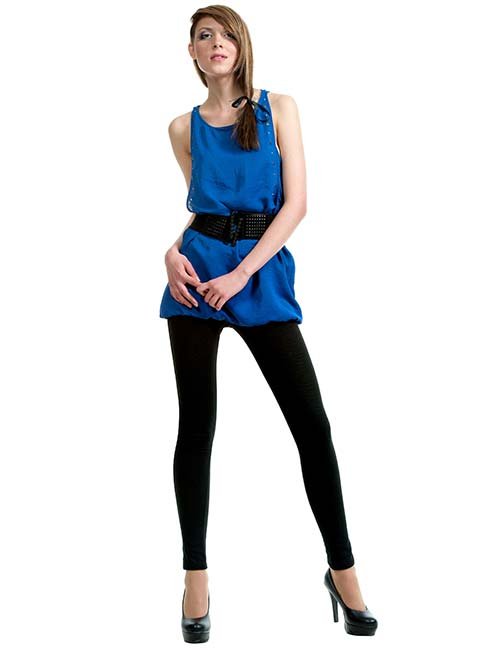 Unlike denim, leggings won't bunch around your waist and create a messy silhouette. The fit of the top will remain intact on leggings and the silhouette will be stunning. Before you move out, you can wear a thick waist belt and pumps and throw a cross-body bag to complete your look.
High-Rise Colored Leggings With A Hoodie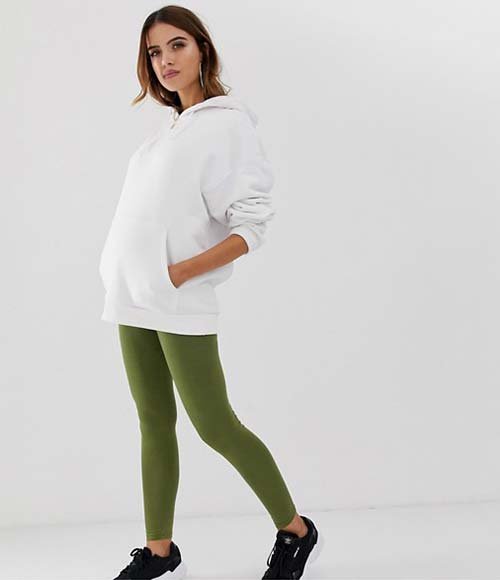 You don't have to be a Kendal Jenner and Gigi Hadid to wear leggings with hoodies. Like a celebrity, you can also try this dress. See the model for inspiration and choose colors that pop instead of neutral shades. Also, finish the look with black canvas shoes.
Monochromatic Look With Leggings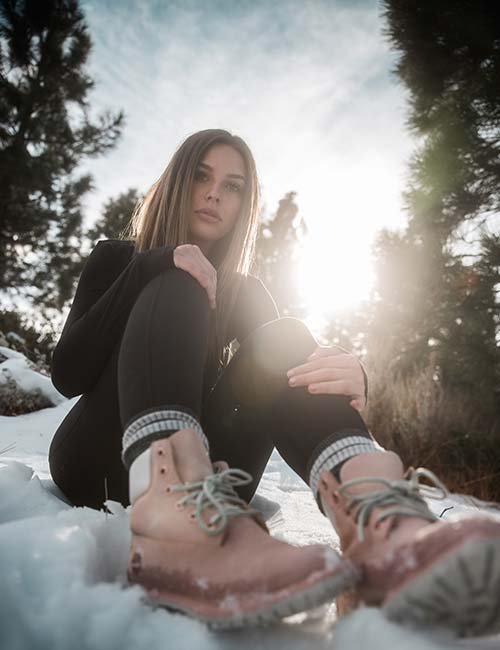 A monochrome look with black leggings is chic and effortless. You can try it in the winter season, especially when going out in the snow. Wear combat-ready boots that will provide you stability on the snow and finish your look as well. And you don't need to wait for the winter snow to get this look. You can use a monochromatic look for beach parties.
Silk Blouse With Leather Leggings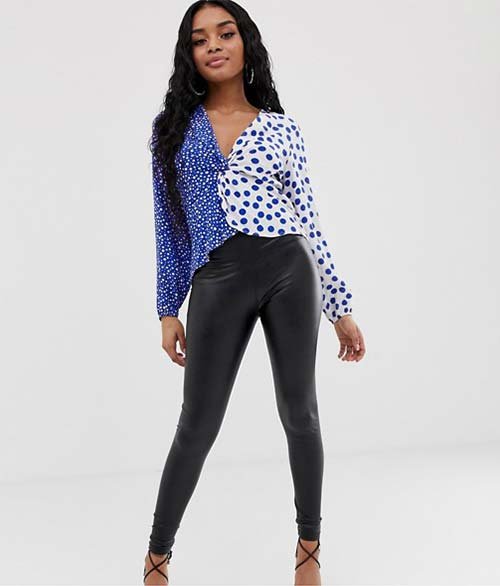 Leggings aren't the best choice for a silk blouse but when you have this top, you will find leggings as the optimum choice. A pair of ultra-hot leather leggings will match perfectly with the silk blouse the model is wearing. Style your hair in beachy waves, wear ankle-length boots, and throw a black side-body bag to get party-ready.
Crop Top And Leggings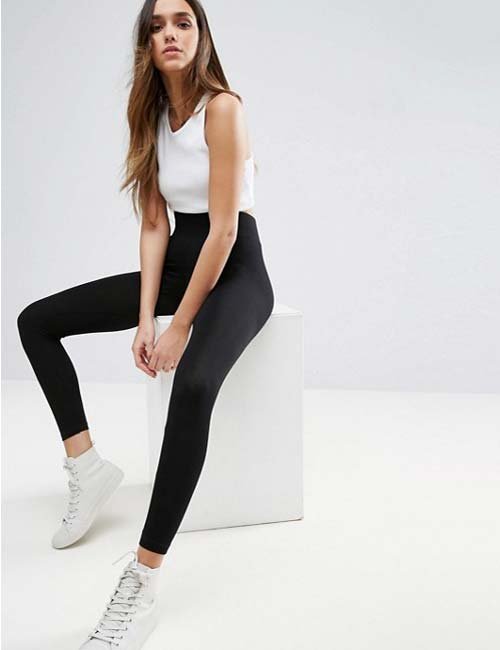 Soft and breathable leggings become the only choice in hot summer months when you simply can't even think of putting on your denim. Leggings with thick waistbands to give a comfortable fit can be paired with racer back or tank tops. You should buy some beautiful leggings for the summer fashion collection.
Bomber Jacket And Fleece Leggings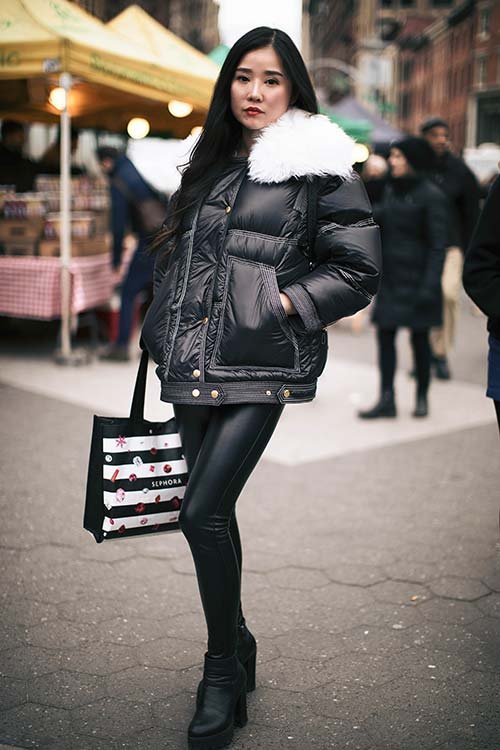 The model is showing how a bomber jacket looks when paired with a pair of sleek leggings. The puffiness of the jacked is well tamed by leggings. And the ankle-length boots balance the contrasting pieces perfectly.
Denim Jacket And Black Leggings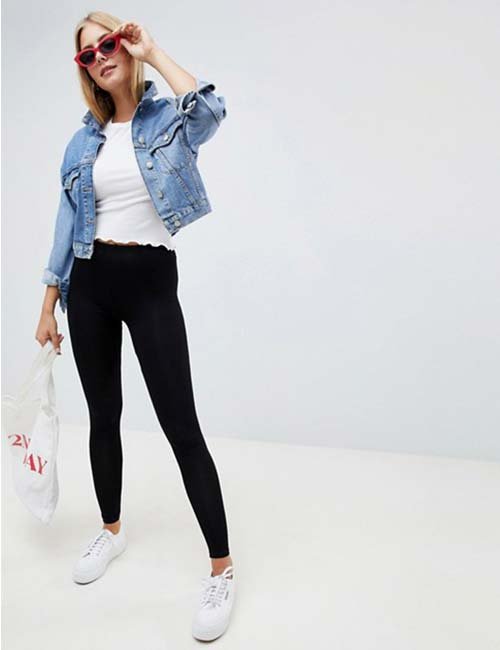 Want to wear a denim jacket? If yes then try it with leggings. A white crop top, a cropped denim jacket, and white sneakers will create a totally different image of your persona. The black leggings will balance the silhouette. But you can try some other bold-colored leggings.
Checkered Jersey Leggings And Leather Jacket
Checks are never out of fashion but this time they have made a big jump to leggings. And checkered leggings go well with anything. Here the model is wearing a tube with checkered leggings. Ankle-length boots provide a firm platform for the leggings and the black leather jacket creates an edgy but effortless look.
Abstract Leggings And Tie Top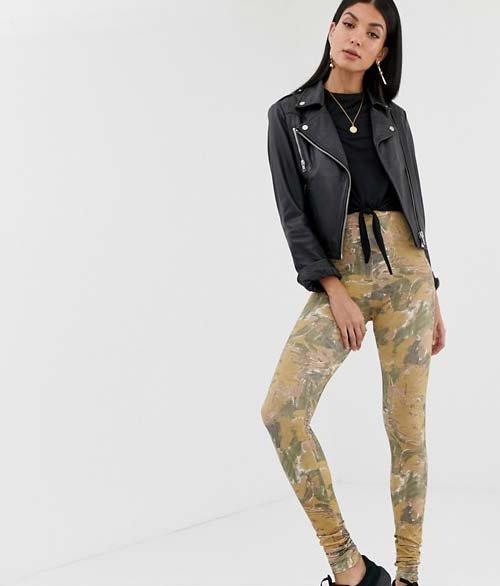 It is an abstract print and it is a level up over regular floral print. But it looks simple and attractive. The model here is wearing a black top with abstract leggings. You should also try plain tops or tanks with these leggings. If you want, you can accessorize … Find more