10 Makeup Tips To Improve Your Eyes
Ever wondered how celebrities make their eyes pop. If yes then here is the secret of getting hazel eyes at home. Improving your eye makeup is an easy job when you have all the necessary material and time.
Eyes can speak more about your look if you improve them with the best material. Get ready to improve your eyes with minimum makeup. And you can get it at home.
Here're 10 eye makeup tips you can use to get different looks
Purple Smokey Eye Makeup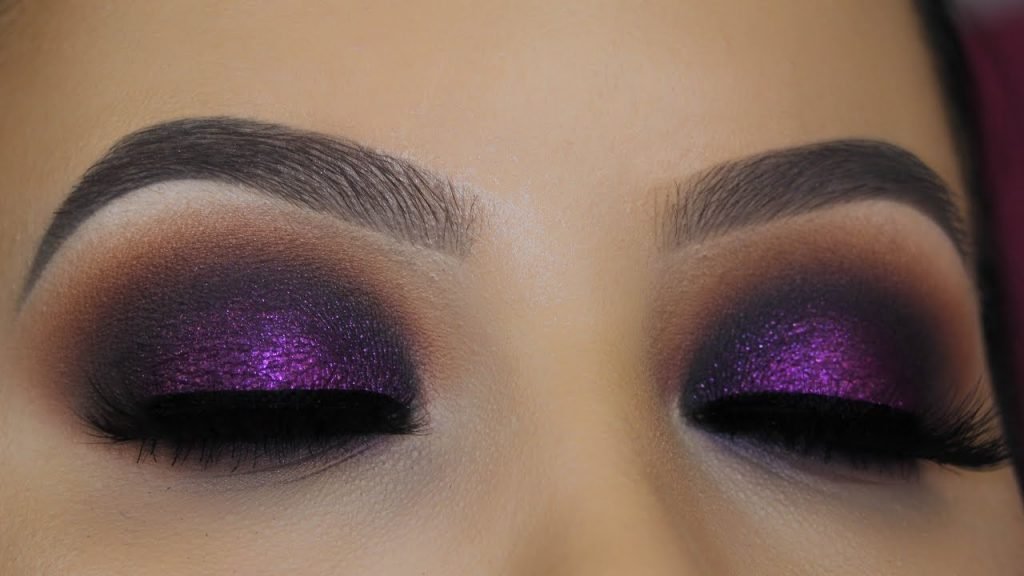 Hazel and purple tones are chosen from the opposite spectrum of the color wheel but they can bring out the real color of your eyes. To get this shade, you need bright purple, aubergine, and black shades.
How To:
• Start with putting some bright purple on the lid
• Put some aubergine shade and blend it well on the outer corner and crease
• Define the outer corner with the black eyeshadow
• Blend it out to remove all harsh lines and make your hazel eyes pop by using appropriate transition shades
• Wear false lines and finish with some mascara
Hot Pink Eye Makeup
A hot pink eyeshadow will make your eyes stand out. You should use a primer before applying the eyeshadow to prevent it from melting into creases.
How To:
• Start with applying a hot pink shade at the crease and blend it well because blending does the job
• Work at the center of the eyelid and the browbone with a frosty shade
• Dab some purple kohl at the center and the outer corner of your waterline and blend it well
• Finally, create a wing using a purple liner and put some mascara to finish
Black and Gold Glitter Eye Makeup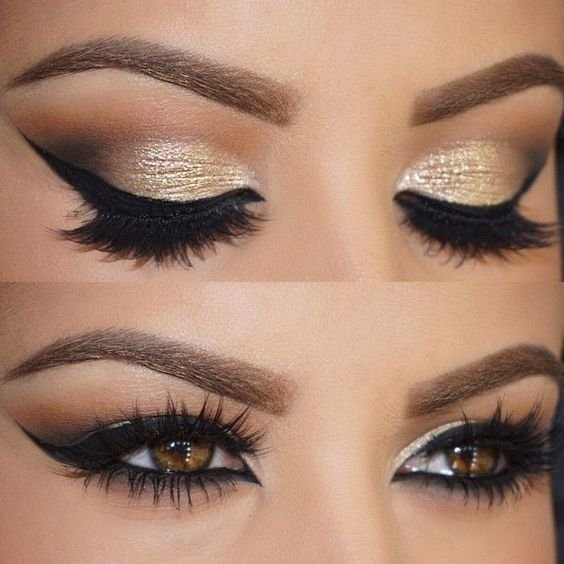 Gold and black are a powerful combination and you can achieve this look with the help of pigmented gold with micro glitter and a gray-black shade.
How To:
• Start with a primer to get a natural shade that you can turn into a transition shade
• Create a refined line along the lower lash line using black eyeshadow. Use a sticky tape for this job
• Paint the outer corner and crease with a metallic black shade
• Extend the shade to the lower lash line to get a smokey look
• Pack some golden material on the center and the rest of the eyelid
• Finish the shade with lashes or just mascara
Mermaid Eye Makeup Look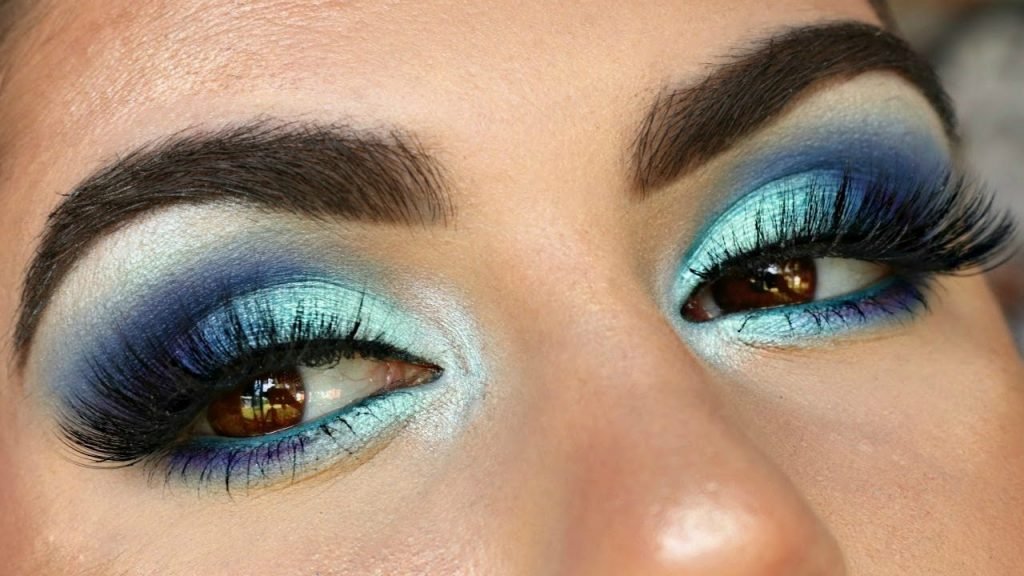 It is a beautiful combination of blue, green, and purple, and these colors create a magical look. Know how to get this hot look.
How To:
• Build your creases with a subtle orange shade
• Work on the outer corners, crease, and bottom lashline with a purple shade
• Line the upper and lower lashlines with metallic blue kohl
• Cover your eyelid with metallic blue
• Brush green shade on the center of the eyelid
• Finish the look with mascara
Bronze Goddess Eye Makeup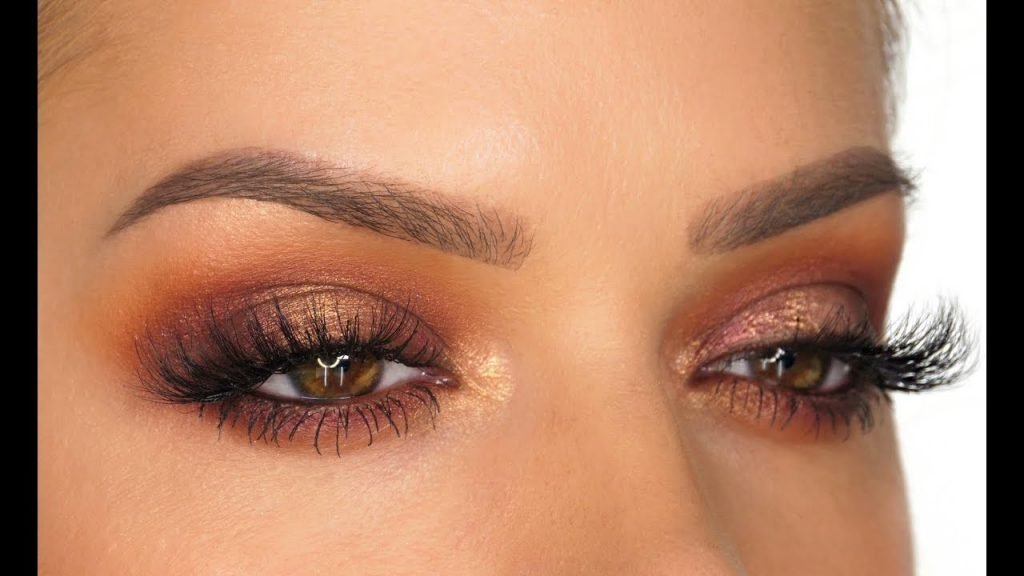 This brazen and sharp makeup is great for all occasions. And it can be achieved with bronze and copper shades.
How To:
• Prime your eyelid and browbone
• Use some tape along the lower lashline to extend the eyeshadow
• Cover your eyelid with a copper shade
• Apply bronze shade to your crease and browbone
• Create a navy blue-winged line and top it with mascara
Tropical Sunsets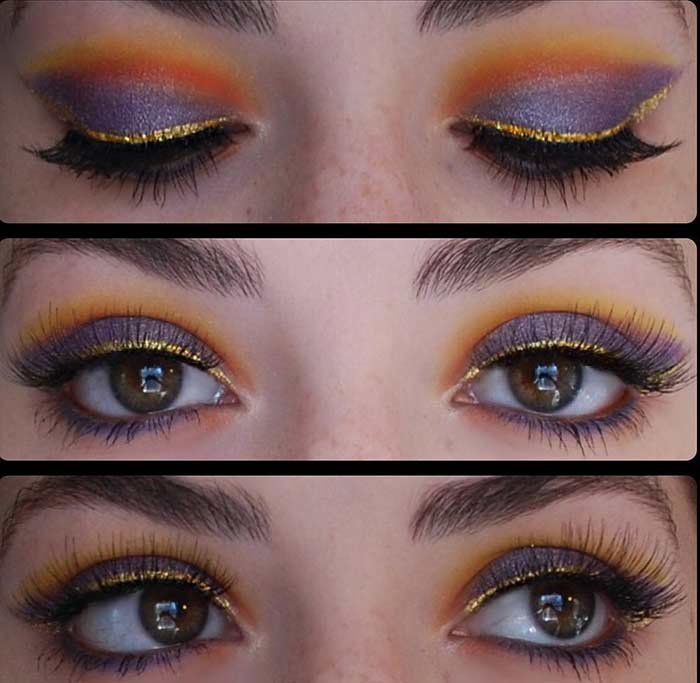 Brighten up your eyes with orange, purple, and gold shades to get this beautiful look. It will make your eyes pop.
How To:
• Prep and prime your eyelids
• Start with a yellow shade under the browbone
• Apply an orange shadow a little lower than the yellow
• Diffuse these colors to remove harsh lines
• Blend some purple shade at the center and outer corner
• Now add gold flecks and finish the look with false lashes or mascara
Classic Black Smokey Eye Makeup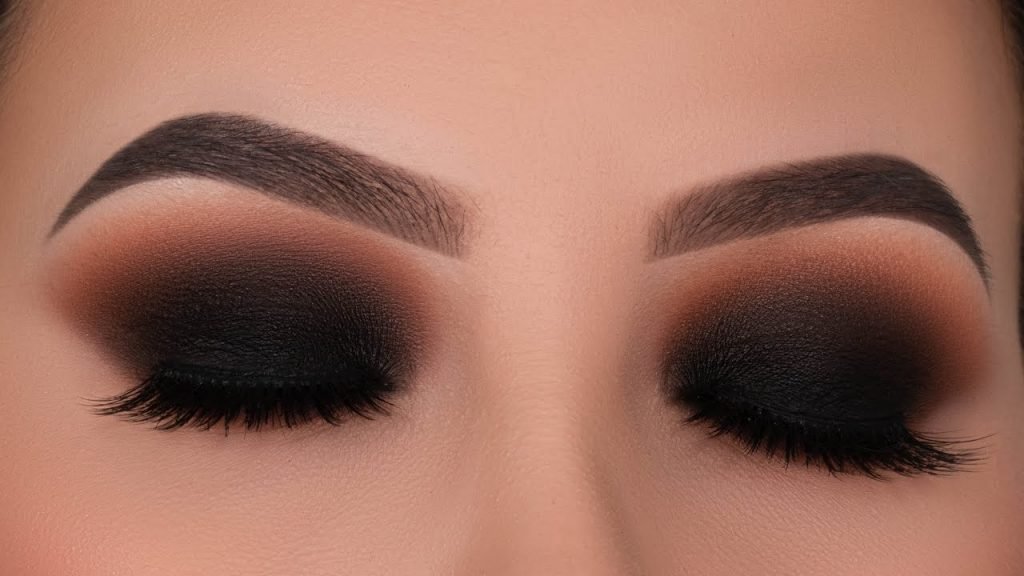 Bring out the color of your eyes with the intensity of the black shade. It will produce a strong contrast to the warm colors.
How To:
• Start with a neutral brown tone on your properly prepped and prime eyelids
• Work under the browbone to create a transition shade
• Cover the eyelid with black shade but in batches and build the shade to achieve the required intensity
• Shade the lower lashline as well
• Line the upper and lower lashlines with a black kohl
• Finish with mascara
Hide And Seek Pink Eye Makeup For Girl With Brown Hair And Hazel Eyes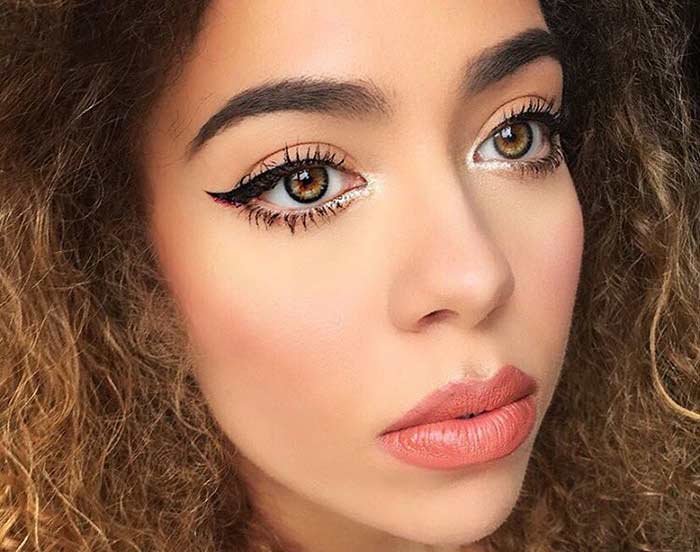 It is a winger liner but slightly different from the regular. Here the wings are spun towards the outer corner.
How To:
• Prime and prep your eyelids
• Create wings using black eyeliner
• Created an extended wing just under the black line with a pink shade
• Add some shimmer in the inner corner
• Finish the look with a coat of mascara
Royal Blue Eye Makeup For Hazel Eyes Brown Hair Female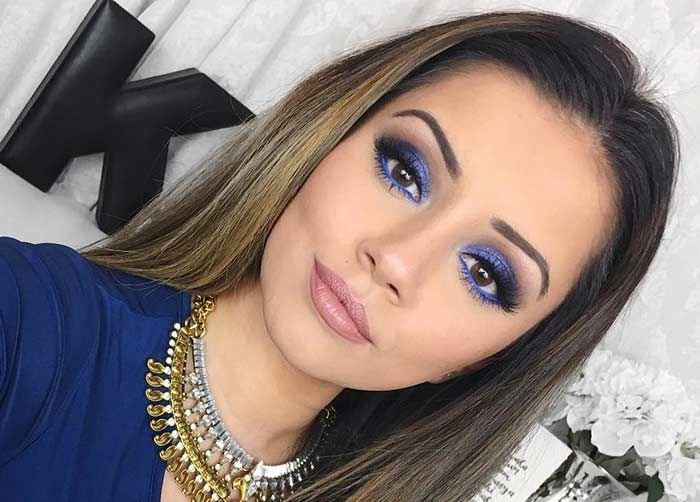 It isn't royal blue color but it gives a royal blue look. It is the best way to pop your eyes and get a regal look.
How To:
Prep and prime your eyelids and start the makeup with a neutral base
• Cover the eyelids with a navy blue shade and blend it to look intense and pigmented
• Put some lilac shade on the inner thirds of the eyelids and blend it with the navy blue shade
• Blend the harsh lines under the brow bone with a neutral brown shade
• Add some lilac kohl to the lower lashline
• Create a winger liner and finish with mascara
Simple Cat Eye Makeup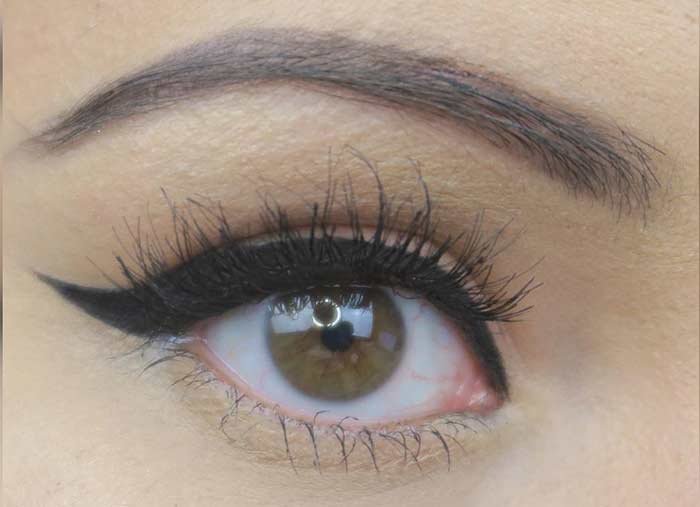 It is a cat-eye look and the beauty of this look is that you can get it in a hassle-free manner and in the shortest time possible.
How To:
• Take a little product and start with the inner corner
• Now come to the wing that is an extension of your lower lashline
• If you follow the line, you can't go wrong. Or you can use a card or some other thing to create the wing with stable hands
• Finish the wing by filling the gaps
• Use mascara at the end
Disclaimer: Information provided in the blog is for educational purposes only and readers are advised to get proper before trying any makeup tips.
For more information please visit our site at https://www.searchom.com/