How Is A Bleach Bath Different From Regular Bleaching?
Bleaching could be effective in lightening your hair, but it isn't safe as the process tends to alter hair bonds leading to brittle hair over time. You should go for a bleach bath that is a safer and gentler way of bleaching your hair. A bleach bath is a right way for people with thin and fragile hair.
Go for a bleach bath for:
• Removing a permanent hair dye
• Fixing over-toned hair
• Lightening your hair by one level
• Lightening fragile hair
A bleach bath could be less effective, but it is a safer option than the bleaching process. It is a minimum bleaching action that can prevent your thin and fragile hair from further damage. Keep reading to know more about a bleach bath.
How To Get A Bleach Bath?
The first thing is preparation. Collect all the essentials including bleach powder, peroxide, and shampoo. And mix these ingredients to make a bleaching solution that is gentle on your hair but tough on the dye that refuses to come out with regular washing.
Preparation
First, Do An Allergy Test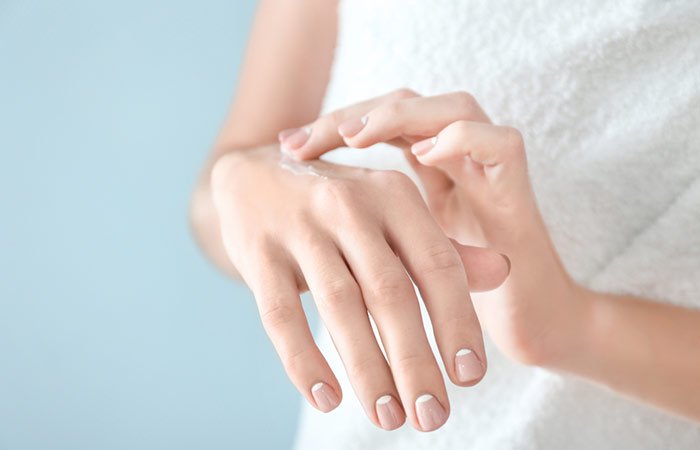 If it is your first bleach bath, then you should start with an allergy test to determine the sensitivity of your skin to the bleaching agent. Take a cotton ball and dip it into the bleaching solution and dab it on your hand. Sensitive skin would turn red and start itching within an hour or two. If you want, you can wait for a long to make sure that you aren't sensitive towards the bleaching solution.
Second, Mix All The Ingredients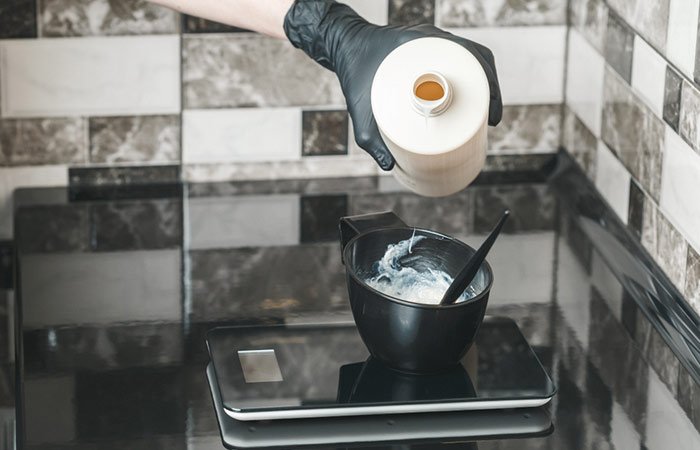 You have bleaching powder, developer solution, and shampoo. And you need to mix the bleaching powder and the developer in 1:2. Also, add one part of mild shampoo to the solution. The shampoo is needed to subdue the bleach. Also, you can add conditioner to the solution. It will soften your hair. Now your solution is ready for taking a bleach bath.
Note: Developer solutions come in various power ranges from 10-40, where 10 is the weakest and 40 is the strongest. For a bleach bath, you should use a 10-volume developer. Also, you can increase or decrease the intensity of the solution according to your needs.
Application
Step 1: Take A Cool Shower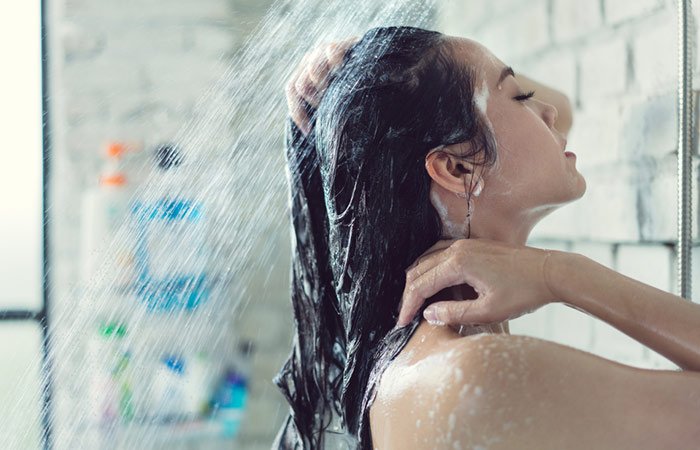 Rinse off the excess water after the shower as a bleach bath works well on dampened hair and not dripping wet. A cold water shower would dampen the hair but you would need to dry the dripping wet hair before going for a bleach bath. You can air-dry your hair or towel-dry to remove the excess water.
Step 2: Cover Your Shoulders
Protect your skin around your shoulders with a towel to prevent accidental drips from falling on your skin. While you have already passed the allergy test, there is little need to test the sensitivity of your skin. Just like your skin, your clothes also need a protective covering as a bleaching solution could discolor the clothes. And don't forget to cover your hands with rubber/latex gloves to prevent your fingers from bleach burns. Keep in mind that the bleaching solution can harm your skin and clothes in many ways.
Step 3: Start Bleaching Your Hair
First, you need to apply the bleaching solution from the tip to the root of the hair and then from the root to the tip. Cover your entire head and apply the rest of the solution like shampoo. Once you are done, you need to wait to allow your hair some time to soak the bleaching solution.
Step 4: Clip Your Hair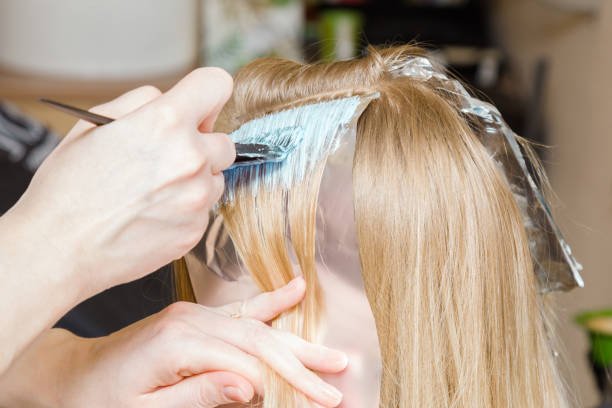 It is a necessary step as it will reduce the amount of bleaching solution dripping down your shoulders and neck, while you wait for your hair to soak the solution. Also, cover your hair with a shower cap.
Step 5: Wash Your Hair
Keep checking the color of your hair every five minutes to prevent over-toning and wash the hair as soon as getting the perfect color. Wash out the bleaching solution completely once you have the right color tone for your hair.
For How Long Should You Allow Your Hair To Take A Bleach Bath
You need to leave the bleaching solution on your hair for some time to complete the process of bleach bath. And this time is determined by the natural hair color and the volume of the developer used in the bleaching solution. For example, if your hair is already bleached, you shouldn't let the solution on your hair for more than 10 minutes. If you want to lighten your dark hair, you need a bleach bath for up to 30 minutes. But if you are using a solution of 30-40 volume developer, you shouldn't let your soak in the bleaching solution for more than 10 minutes.
Bleaching depletes moisture hence it is necessary to take care of bleached hair. Do the following things to keep your bleached hair.
• Condition your bleached hair after every wash and deep condition every two to keep your hair moist
• Avoid using a heat styling tool without a heat-protectant spray or serum to prevent heat damage
• Avoid using hair-straighteners, dryers, and curling irons at least for a few days as freshly bleached hair is more susceptible to damage
• Use leave-in-conditioners, serums, and hair masks to prevent your bleached hair from drying out
A bleached bath is a great way to lighten your hair without damaging your hair bonds. Also, you can take a bleached bath at home. The ingredients for bleach bathing are easily available in the market and you only need to mix them in the right amount.
Final Thoughts
If you are considering bleaching your hair to lighten its tone then think again as it could be harmful to your hair especially for thin and fragile hair. It is better to go for bleach bathing to get excellent results in a safe manner. Also, take care that your bleached hair doesn't lose its moisture with the help of conditioning and hair masks. Also, avoid doing things that could damage your bleached hair.
Disclaimer: While a bleach bath is safer than bleaching, you need to make sure that it is safe for your skin. Take care while taking a bleach bath.
For more information please visit our site at https://www.searchom.com/