How To Match Your Makeup With Your Hair Color?
When it comes to choosing makeup, your first concern is to hide imperfection and then to improve the skin tone. But little do you know that makeup that doesn't blend well with hair color looks completely washed out.
Here're different makeup ideas for 8 types of hair colors. Starting from natural black to shiny magenta color, you need to be careful about your makeup. It should blend well with your hair color.
Dark Hair/Black Hair
Feel blessed, if you have dark black tresses as they look more natural hence more beautiful. With naturally black hair, you can wear almost any shade or go minimal. Simply enhance your features like eyes, cheeks, and lips and keep the rest of the look simple. If your eyes are also dark, it is a double blessing.
Experts suggest wine and blue-based colors to dark-haired beauties. They put more focus on well-defined eye makeup to match their dark-colored hair. And they suggest warmer colors like bronze, corals, purple, and browns for eye makeup. For lips, their suggestion is to wear bolt red or deep plum color. On cheeks, a peach blush would look amazing.
Blonde Hair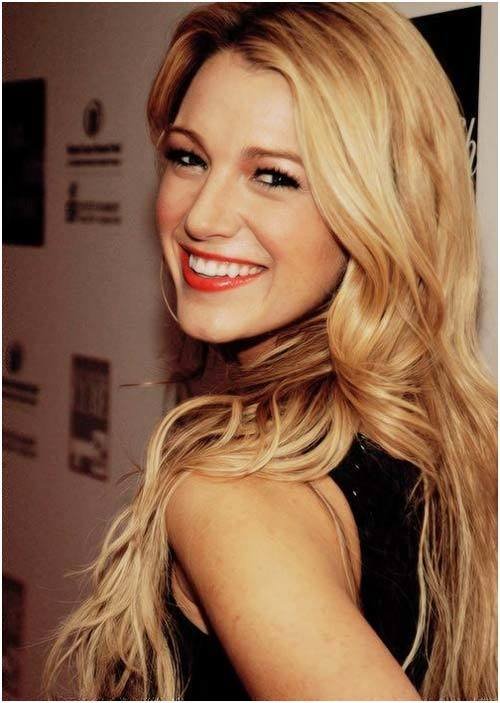 Blonde hair shines in bright light and for this reason, it attracts attention quickly. But you need to be choosey with your makeup else you will end up with a washed-out look. The first thing to keep in mind is to avoid dark tones as they will create a stark contrast with your beautiful blonde hair.
Start your makeup with a light bronzer on your forehead, cheeks, and chin and a dab of peach to warm the skin tone. Choose ivory pink for eye shadow and pink blush for cheeks. If you want to use an eyeliner then go for greys, blue, and taupe colors. For lips, choose neutral or brown lipstick. Brown mascara will also blend well with your blonde hair.
Medium Brown Hair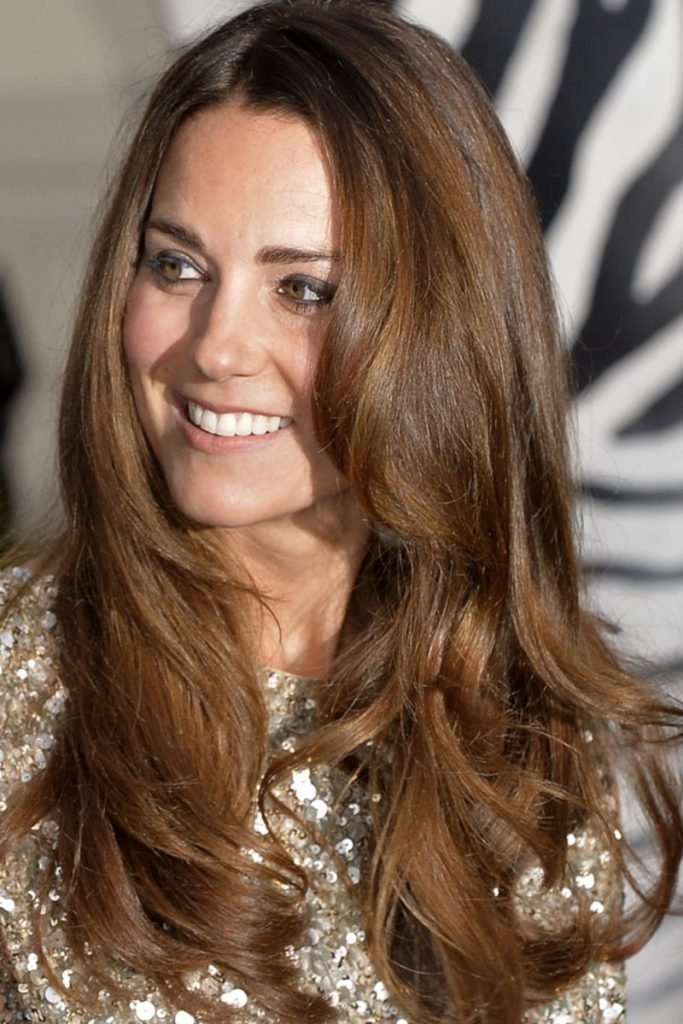 Medium brown hair allows the luxury of applying shades matching your skin tone or eye color. Also, apply a bronzer with hints of peach or pink tones to add a little radiance to your skin. Your face will glow with the bronzer effect and the skin will be brightened with the peach blush.
Complete your look with brown eyeliner followed by black mascara over your eyes. For lips, you can go for a slightly orange-red shade instead of a regular nude or neutral shade. But you can play with neutrals for eye shadow.
Honey Coloured Hair
If you want to go for a natural look then you should brighten your eyes with the help of a light shadow with a hint of gold brushed up to the creases. The next is using eyeliner and here your colors are brown or violet. If you want, you can even go for a dark green shade. These colors will certainly flatter your eyes.
For eyes, you need two coats of mascara from the outer corner of your eyes to the top of the lash line. Also, try nude pink lipstick for this look or use vivid colors for nighttime dressing. If your skin is tanned and your hair is light, you can try a lighter turquoise shade.
Caramel Hair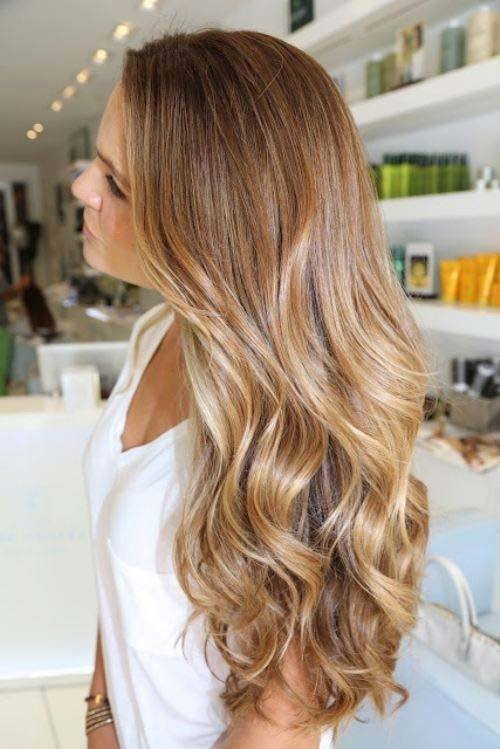 While caramel hair looks beautiful, this color provides little freedom in choosing makeup shades, especially pale skin. The cooler tone of caramel color will wash out your pale skin tone. It would look dull and ashy. And here you need to enhance a tan with bright colors.
For eyes, you should choose soft brown, grey, or ivory beige eye shadows. In eyeliners, your color choice is limited to brown shade. For blush, you can use coral, fuchsia pink, and soft pinks. But you should avoid using pale foundations. For lips, you can choose neutral colors and try soft pink glass for added shine.
Red Hair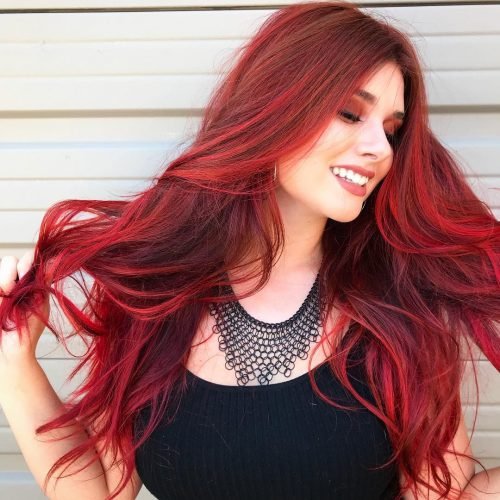 If your tresses are dark red in color like cherry or auburn tones, then you should base your makeup on more neutral tones. Choose neutral colors for your eye makeup and lips. But avoid matching your eye makeup with your hair color. The idea is to take your eye shadows one or two shades higher than your hair color. And you can get the right shade by blending two or three shades together. Also, you can wear contrasting makeup.
Use a pinkish coral blush on your cheeks to match a lighter red shade of hair. Avoid overdoing your eye shadows, if the hair and lips are already bright. Choose neutral shades for eye shadow but avoid orange. For eyeliner, choose brown or grey and for mascara, choose black or brown shade.
Purple Hair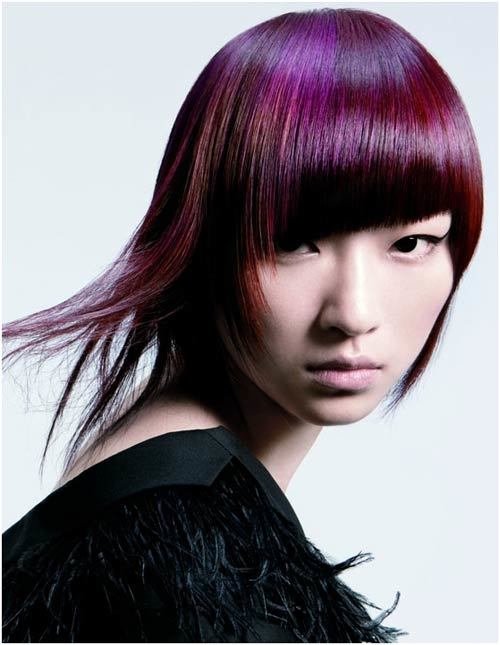 It is an eye-catchy color in a darker shade but looks blonde in lighter lilac shades. And only jewel tones in the skin and eye shadows look best in this color. Experts suggest creating a stylish multi-dimensional look with two or three shades darker for eye shadows. But light-shaded makeup is recommended for dark purple hair. And dark shades are good for lighter hair.
Complement your jewel tones with earthy colors like black, brown, and red. For blush and lip color, choose a peach brown shade. But if your color is lilac purple, then you should go for bright red color.
Magenta Hair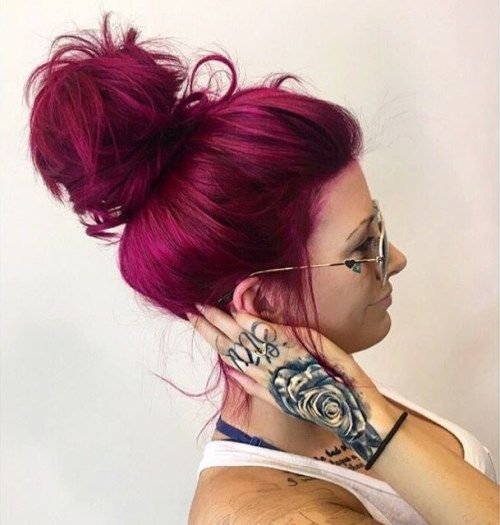 This bold hair color could tone down your makeup, especially during bright sunny days. It is suggested you choose a light kohled shade for your eyes and wear nude lipstick during the daytime. But you can try red or pink for the night. For eyeliner, use black or brown color, but avoid creating think lines.
Mascara should look natural, but it is better to avoid it totally. A bronzer or blush could do well, but avoid overdoing it. Similarly, you should choose a neutral color for lipstick.
Final Thoughts
One more thing to remember with your makeup and hair color is that you can always go for contrast colors. For example, dark makeup with light hair color and vice versa would make your hair color stand out.
For more information please visit our site at https://www.searchom.com/