8 Figure-Flattering Spanx Leggings To Try This Winter
Spanx is a shapewear brand that doesn't need any introduction. Also, it won't be an exaggeration to say that this brand has revolutionized women's clothing completely. They have a long line of women's clothing but they are more popular for leggings. And they have a wide range of leggings to choose from.
Advantage of Spanx leggings:
• Get contouring fit
• Smooth your bumps
• Hide your creases and wrinkles
• Better tummy control with waistbands
• Ankle-length cut for ultra-comfort
• High-waisted design for slim-fit feel
• No unsightly feelings like camel-toe
Spanx is the best in women's clothing but if you are looking for leggings then it has no parallels in the market. Whether it is fashion, style, or comfort, you will give the highest rating to Spanx leggings.
Here're 8 bestselling leggings by the brand Spanx
SPANX Look At Me Now Seamless Leggings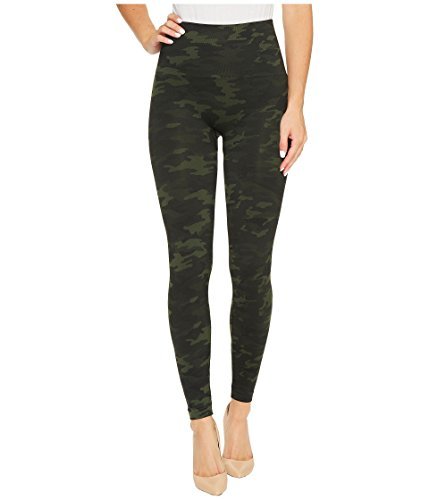 If you are looking for a legging that gives luxurious fitting then look no further than this piece. Available in regular and plus sizes, it will fit your skin like a second skin. And you won't have to worry about your tummy as it comes with a double-layered waistband that smooths your tummy. Also, you won't have to struggle with the muffin top with this legging. It will hide creases and wrinkles and its no-center seam will provide you with a carefree feel.
SPANX Assets Red Hot Shaping Leggings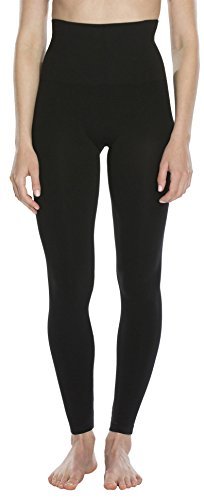 If you are looking for versatile black legging then go for this piece. The black color matches well with all types of tops and tunics, but it isn't the only reason for buying this shaping legging. The legging will contour your body and bring it into a definite shape. It has a double-layered waistband that can smoothen every bump so you get a flawless figure. Also, the seamless yarn will give you the support and push you to need to feel comfortable in the legging.
SPANX Women's Faux Leather Moto Leggings
It is the best legging if you are looking for a piece that feels luxurious; that can stretch to give comfort, and that can such your tummy to reduce your waistline. Its wide-shaping waistband won't let the tummy bulge out from the legging. And the breathable material will ensure that you feel comfortable even after all-day wearing. This faux leather moto legging is simply the right choice for all occasions, functions, and celebrations.
SPANX Women's Ready To Wow Velvet Leggings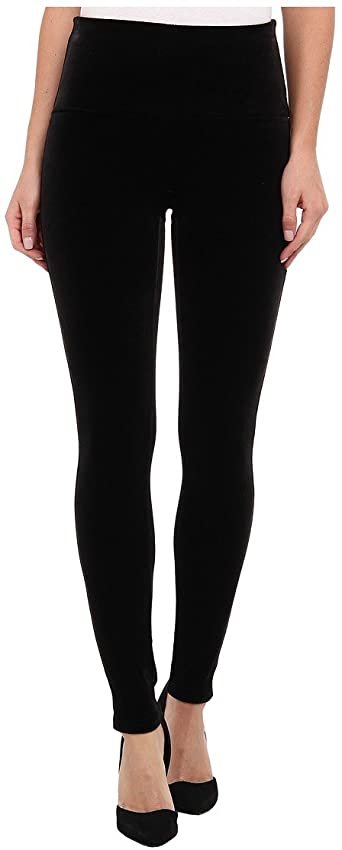 This curve-hugging pair of leggings will give everything you expect from a pair of leggings. The first thing is comfort and here it scores higher than others in the market. It is a high-quality velvety legging made with imported materials that feel buttery-soft and luxurious on the skin. It has the advantage of a broad and flattering waistband that will smoothen your waistline so it appears flat. It will cover your skin so perfectly that no bumps are visible. Also, you will remain free from the worries of unsightly camel-toe from peeping through.
SPANX Ponte Leggings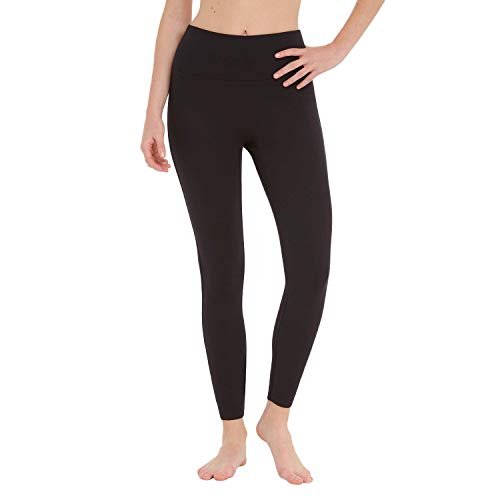 These leggings provide comfort with style. From the inside, they feel luxurious, and from the outside, they look trendy and stylish. They will snug your body like a second skin and work like your original skin. Made from stretchable material, the leggings will provide you with complete freedom to move your legs in any direction and position. Its ankle-length height and natural waistline will bring your body into the right shape so you look fit and healthy. Also, you can choose the right color to suit your needs.
SPANX Jean-Ish Ankle Leggings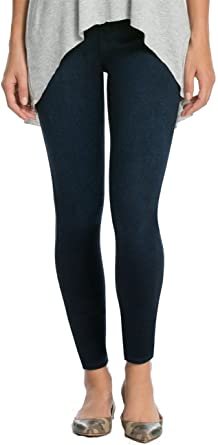 It is jean-ish leggings with ankle-length height. And as evident from the name, it can double as jeans and leggings. You will feel like wearing leggings but it will give the look of jeans. It is skin-tight legging that will give ultra-comfort missing in jeans. The leggings will cover bumps, wrinkles, and creases. And the jeans will provide added space to keep your belongings like car keys, and mobile. Made from a coveted polyester blend, it will give a luxurious feel that you miss in your regular jeans.
SPANX Assets Red Hot Label Shaping Capri Leggings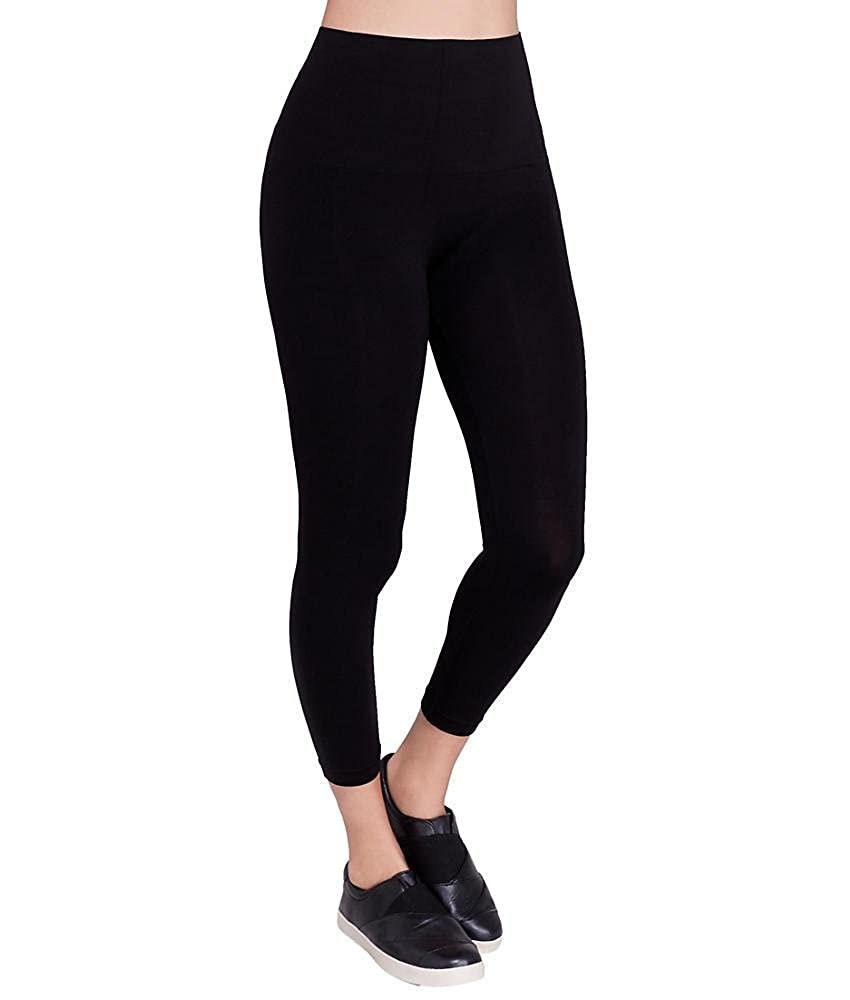 Try this legging, if you are unable to find leggings that are just perfect for your body. It has a Capri-length style so you look trendy. And it provides ultimate tummy control so you look fit and healthy. Its snug, shaping fit will prevent the bumps from bulging out and a double-layered waistband will provide a comfortable fit. The premium material provides ultimate stretch so you feel comfortable in sitting, standing, walking, and even running. You will love wearing the leggings, once you try. It will become your second skin.
SPANX Look At Me Now High-Waisted Seamless Leggings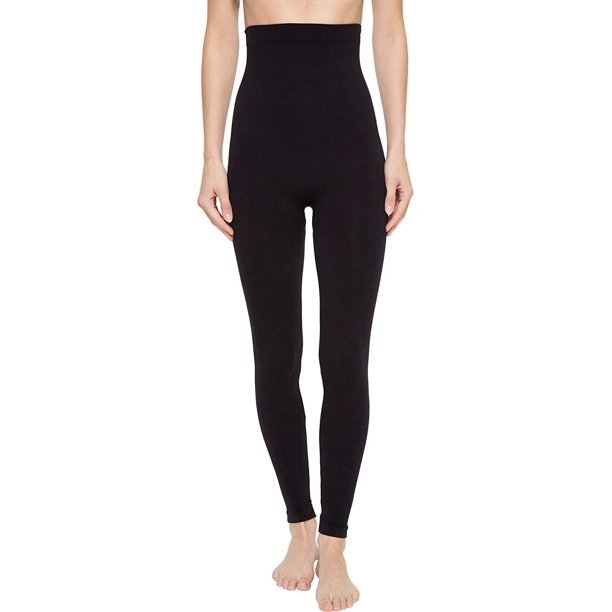 If you are looking at slim-fit legging then go for this legging. Since you are looking for a slim-fit design, you will appreciate its 360-degree tummy-taming waistband that will bring your tummy to its original shape. There will be no unsightly bumps and camel-toe sighting with this legging. It will give your maximum coverage so you feel comfortable. And the twill knit construction will give a little compression. The fit and the comfort that you will get in this legging, you won't get in any other garment.
Spanx leggings are available on the online store of the brand and other big e-commerce stores including Amazon. You can check the Spanx website to check the designs available and buy one for you or as a gift for a loved one.
Do you know how to wear Spanx leggings?
If your answer is, you can wear these leggings with anything then you are absolutely right. But here are some suggestions from experts.
• Couple your leggings with a long-sleeved shirt or tunic for a casual day
• Wear faux leather leggings with a biker jacket or a crop top to make your day special
Also, choose your footwear that matches well with the leggings and the top. Spanx leggings will keep you free from all worries including stretch, comfort, and strength.
For more information please visit our site at https://www.searchom.com/