15 Wispy Bangs To Try In 2022
If you want to transform your look then you should try face-framing wispy bangs that will lay lightly on your forehead and give your twinkling eyes the right amount of space to shine through and make you look mischievous. Also, you have the option of pulling your hair away from your face so they blend with your hair.
Chic Wispy Bangs
Face-Framing Bangs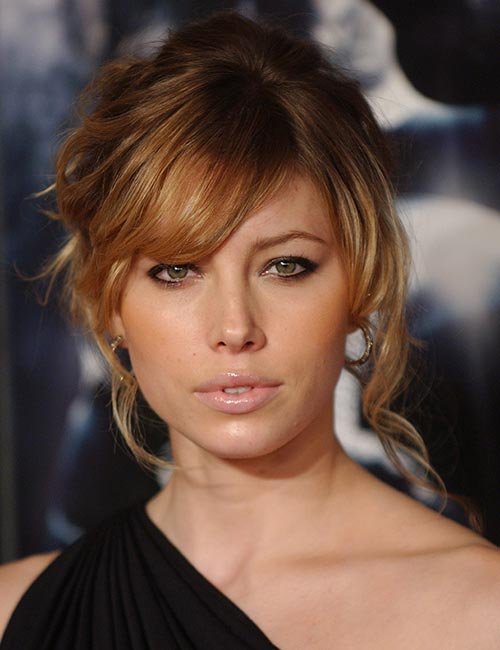 Face framing bangs will cover your wide forehead and balance out the look. If you have wide cheeks, you should make bangs whose length increases from the middle to the sides. If you want to highlight your jawline, you should opt for blunt wispy bangs. Determine your face shape before opting for bangs so you get the right hairstyle matching your facial features.
Classic Wispy Bangs
These bangs are slightly different from others. If you look at the model from close, you will find her bangs slightly parted from midway down. Also, the bangs appear thicker at the roots but feathered at the end. But the most remarkable feature of these classic wispy bangs is they are cut at the eyebrows.
Long Wispy Bangs
If your face is elongated or your forehead has extra breadth, you should go for long wispy bangs. They will cover your forehead completely and only parts of the forehead will be visible. Covering your forehead will draw the attention of other facial features. For inspiration, you can look at the model. She has covered her broad forehead with long wispy bangs and your attention is drawn towards her soft cheeks and pointed jawline.
Wispy Side Bangs
First, brush your wispy bangs down and then part them with the pointed end of your comb. The feathered bangs will make layers on the side bangs. See the model for inspiration. Her wispy side bangs are noticeable. If you have long hair like the model, you can try these bangs when going out for a meeting or outing with friends.
Messy Wispy Bangs
Try messy wispy bangs when you are bored with the regular hairstyle. And you can easily get messy wispy bangs. Simply tousle your bangs with your fingers to get a messy hairstyle. Its advantage is that it is suitable for all hair types and face shapes. This hairstyle will work if you want to get a different haircut but you have little time to work on your hair.
Slight Feathered Bangs
If you have thin hair but you want bangs then you should choose slight feathered bangs. The subtle parting of these bangs will look perfect with your thin locks. Also, you can slightly tweak the bangs by parting them right at the roots. Another advantage of parting the bangs at the roots is they will make your locks appear thicker.
Long Layered Side Bangs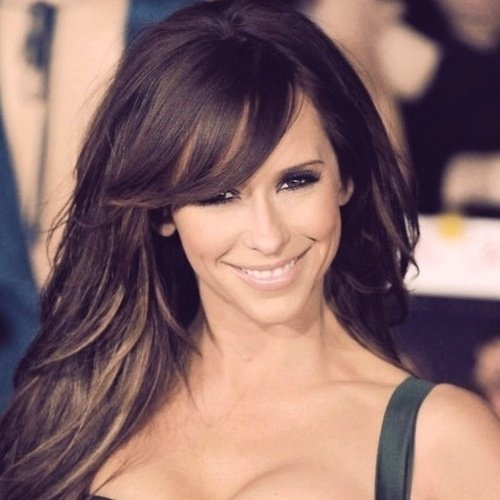 It isn't necessary to go for big front or center fringes when you have the option of making long layered side bangs by parting your hair in the middle. See how the model has created two parts of her hair and both the parts are equal in thickness and length. They are side bangs. Part the bangs down the middle and you are done.
Sharp Tapered Wispy Bangs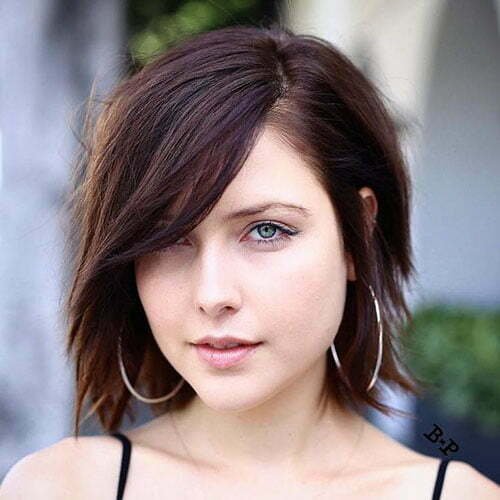 If your tresses are thinner but you want them to appear thicker then you should choose sharp tapered wispy bangs. Like the model, you can also cut your bangs sharp and uneven at the end. It will make your locks look thicker. See how the model is smiling after getting the desired look. The change of look will also bring a smile to your face.
Inward Wispy Bangs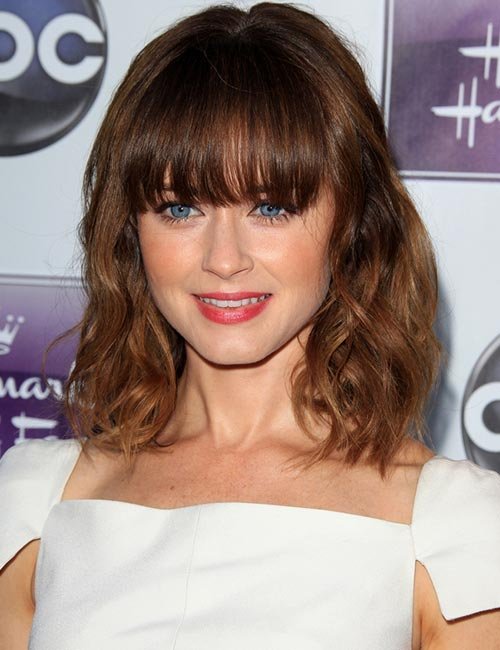 If you want to add more style to your bangs and grab your round brush to get some stylish bangs. Place the brush under the bangs and turn them inward while blow-drying the bangs. Look at the model to get the feel of inward wispy bangs. Also, it is a great way to maintain bangs that have started to grow.
Dark Rooted Wispy Bangs
If you want to add dimension and depth to your face then choose the dark-rooted wispy bangs. But first, have a close look at the model so you have a better idea of how your bangs will look after styling. Frame your hair with bangs and transform your look to chic. Also, you can color your hair like the model.
Long Sides-Swept Wispy Bangs
If you have thick hair and you want to make bangs then you should go for the long sides-swept wispy bangs. The advantage of these bangs is that they suit a high forehead. They will cover your forehead and make it look smaller. Also, you can see how the bangs flaunt the thickness of the model's hair.
Wispy Layers Bangs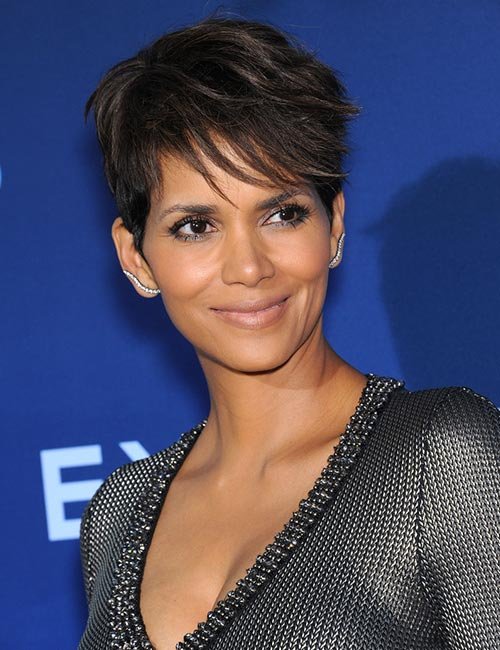 It is a good hairstyle that can transform you completely. With wispy layers bangs, you can get the right look that will highlight your facial features. But this type of fringe works best for oval faces. If you have an oval face, you should make wispy layers bangs.
Short Wispy Bangs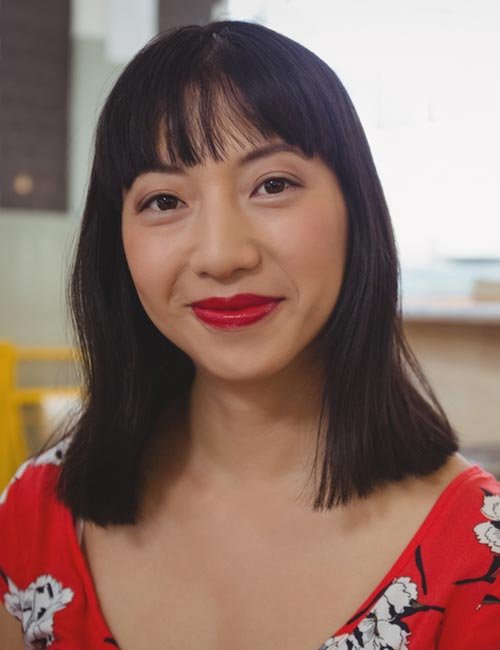 If you have a small forehead, you should try short wispy bangs. Cut your bangs just above your eyebrows, if you want them to flow better. But if you want your jawline to look broad and hefty then you should cut them at eye level.
Heavy Wispy Bangs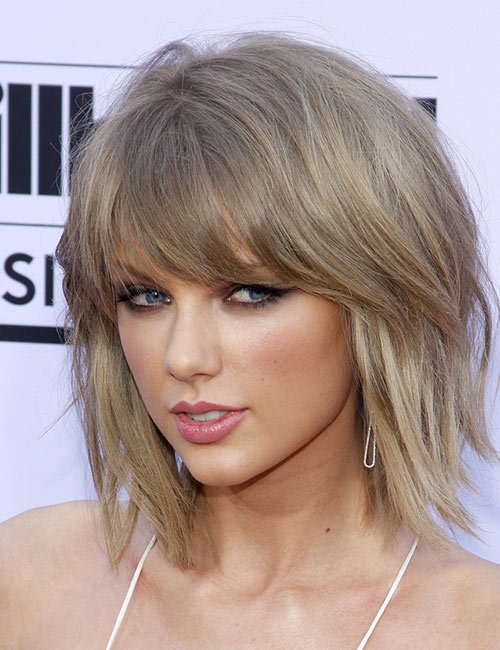 If you make heavy wispy bangs, your short locks will appear thicker. Also, it will slim down your face so you look chic. If you see the model, you will understand that this looks work best with a shag cut or a layered cut.
Blunt Wispy Bangs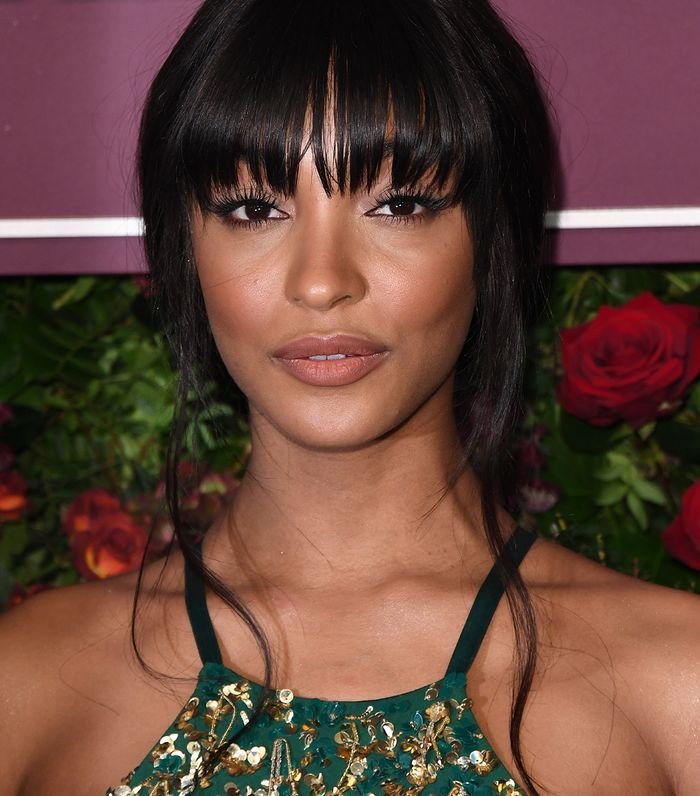 If you want a slimmer look then these blunt wispy bangs will suit your face. This hairstyle will make your hair look sleek. If you are a boss lady at the office, you will find this hairstyle just perfect for your needs. Look at the model for inspiration and try making these bangs at home.
For more information please visit our site at https://www.searchom.com/