15 Black And White Dressing Ideas To Try In 2022
Black and white dresses have sophistication no other garments have. And those who believe that black and white dresses look stale or outdated would be surprised to see different ways of wearing these dresses. If you can tweak your white and black dress a little, you can bring a difference to your dress.
Here're 15 different ideas for wearing black and white dresses. Check how fashion enthusiasts are playing with black and white pieces.
T-Shirt Dress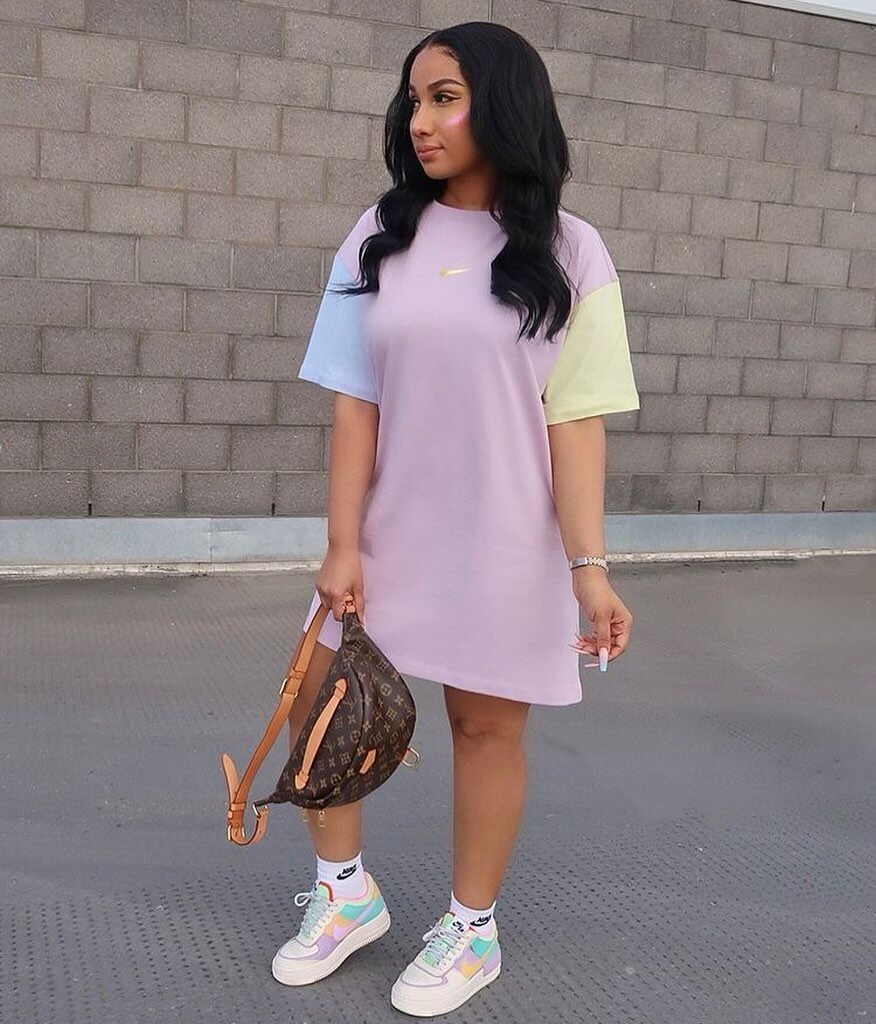 The model seeks comfort in the comfy long t-shirt dress. It is a long black round neck t-shirt with short rounded collars, a short zip at front, and white stripes on the sides. Also, the model has coupled her black dress with chunky white shoes to get a sporty look.
Sports And Blazer
If you have a blazer suit like the model in the picture and you want to give it a casual twist, you can take inspiration from the model. Your high-waisted mommy-style shorts would match well with a white top and striped blazer. Finally, you can put on white sneakers and white goggles to get a casual look.
Casual Stripe Suit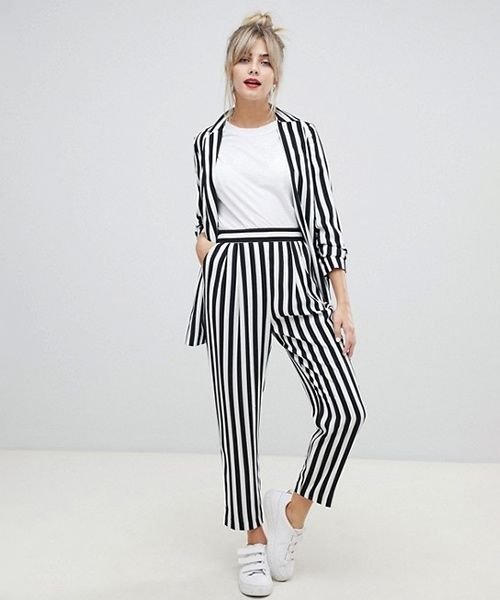 This black and white stripe suit could be a gamechanger if matched with the top and footwear. While the model in the picture is wearing a white t-shirt and similar color footwear, you can experiment with a black tee, a tank top, a crop top, or a silk blouse. Similarly, you can try footwear in different colors.
White Formal Suit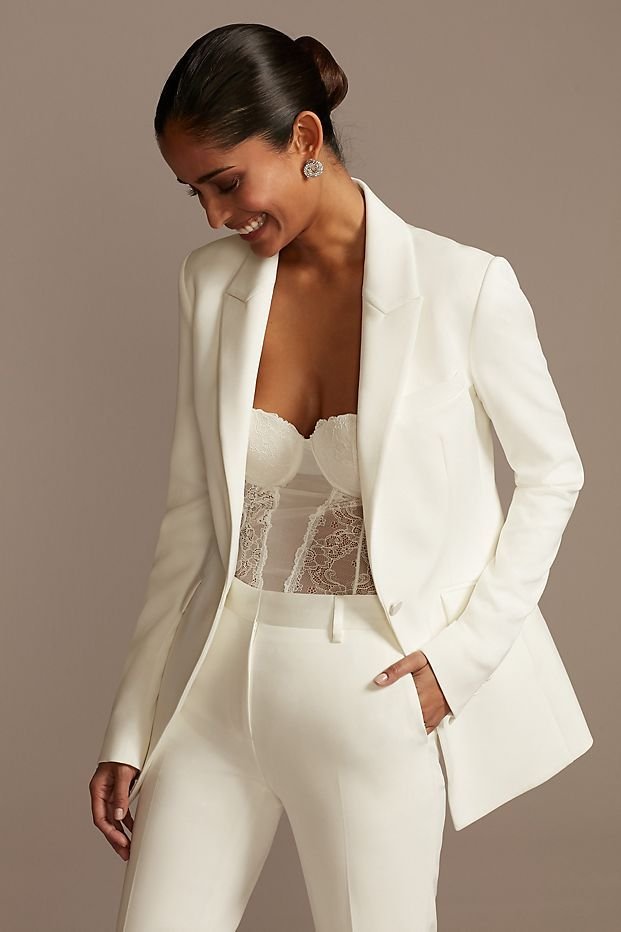 It is an all-white formal suit but the beauty comes with the black blouse and a similar color waist belt. The black blouse seems to highlight the white blazer. The footwear that will go well with this suit is pointed-toe heels. If you need a bag then you should choose a leather sling bag.
Black Skinny Pants And White Silk Trousers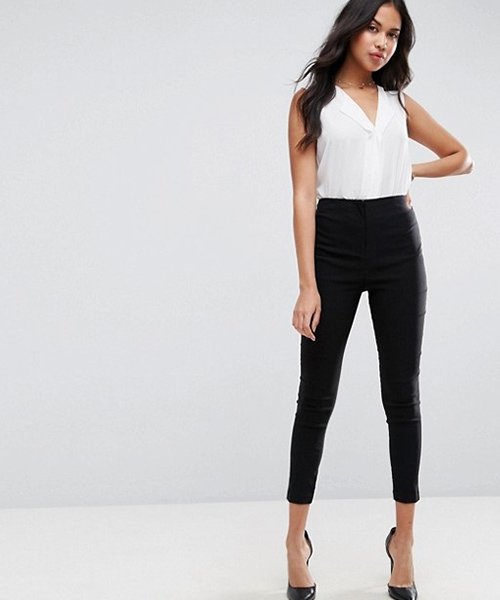 The model shows the power of formal dressing. The V-neck white blouse matches well with the black trousers and signature black pumps. For styling, the model has left her black tresses open on her shoulders. It is a minimalist dress with little to no accessories. It can get you ready for a quick assignment or date.
Culottes And Striped Shirt
Culottes are the new formals as fashion enthusiasts are experimenting with these outfits. For example, if you are dressing for work, you can wear a plain white shirt with black culottes, and if you are getting ready for a Sunday brunch, you can wear a striped shirt. Similarly, you can try eyeglasses, hairstyles, headgear, and different types of shoes.
Checked Formal Dress
If you are shopping for a cute dress but don't want to buy a stereotypical outfit then consider buying a checked dress like the one the model is wearing in the picture. The model is wearing ankle strapped heels with this beautiful dress. And her black leather bag is making the dress even more stylish.
Polka Dots Formals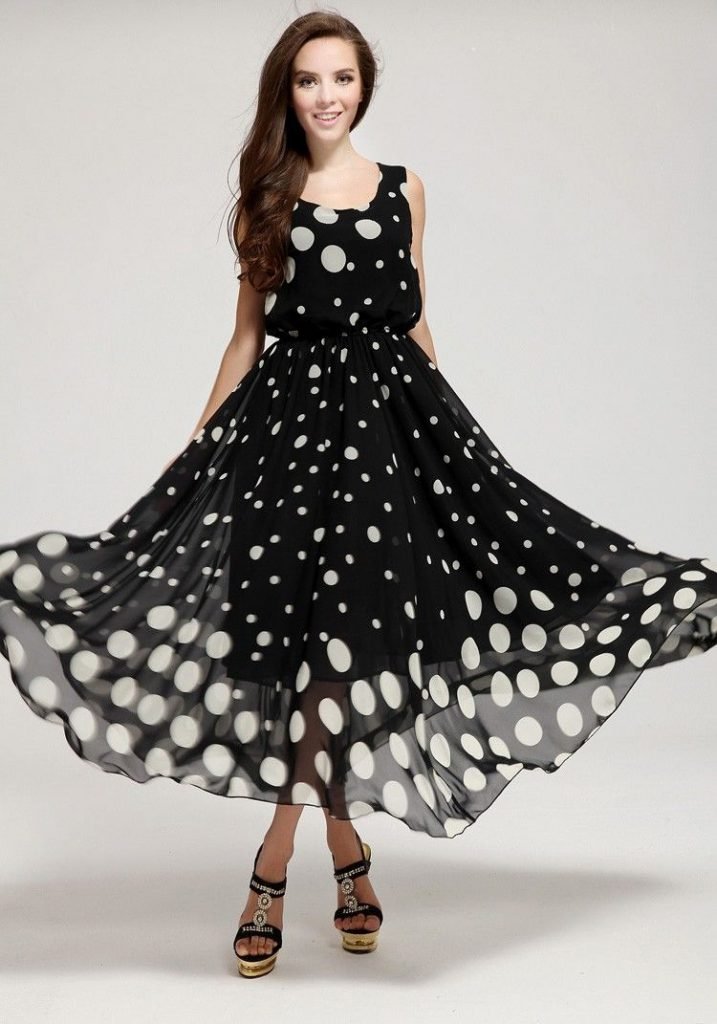 What this model wants to convey is that polka dots are never out of fashion and that you can never go wrong with these dots. Like the model, you can also try polka dots pants with a white blouse and throw a black blazer. And finish the dress with black pointed heels.
Vertical Stripes Jumpsuit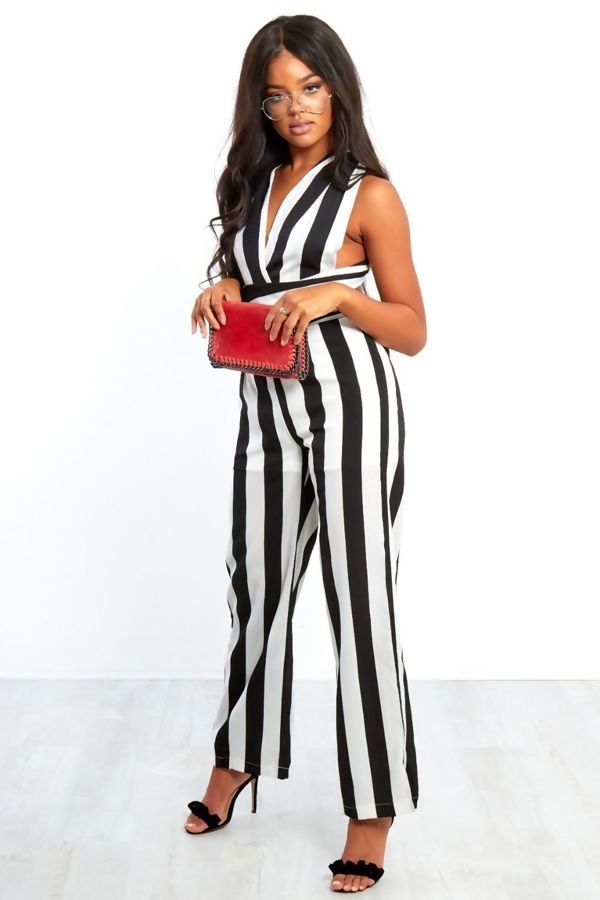 The vertical white and black stripes of this jumpsuit make it look too formal to wear for a party, but it can also become a party dress if you allow the jumpsuit to highlight its true colors. The model in the picture is wearing a striped jumpsuit and all other things are minimalistic.
Striped Palazzos
Sport black and white striped palazzos with a jet black bralette and throw a black blazer to give cover to the bralette. Also, you can improve your look with an open hairstyle and red lipstick. Round eyeglasses and black pumps would go well with this dress.
Black Trousers And White Shirt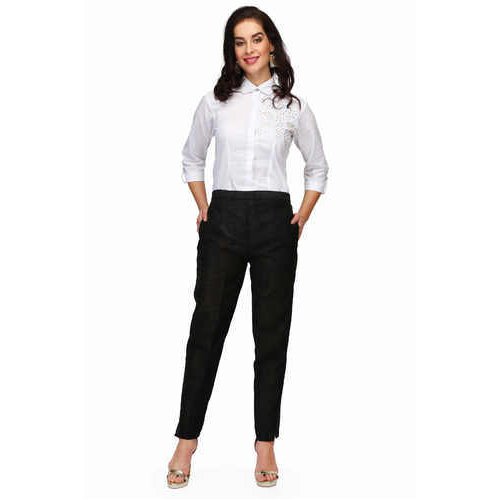 It is a beautiful black and white dress but with an edgy touch. The tapered formal pants, georgette shirt, and black blazer make the dress look edgy. The model has paired her dress with embellished edgy motorbike boots and she's carrying a black clutch to complete the outfit.
Winter Outfit
In winter, you need a layered dress that can give you both warmth and comfort. See how the model in the picture has layered black and white pieces to look stylish and remain warm. The black woolen leggings paired with a striped top and knee-high boots can keep you warm on winter days. For added warmth and style, you can throw a sophisticated wrap.
White And Black Preppy Formals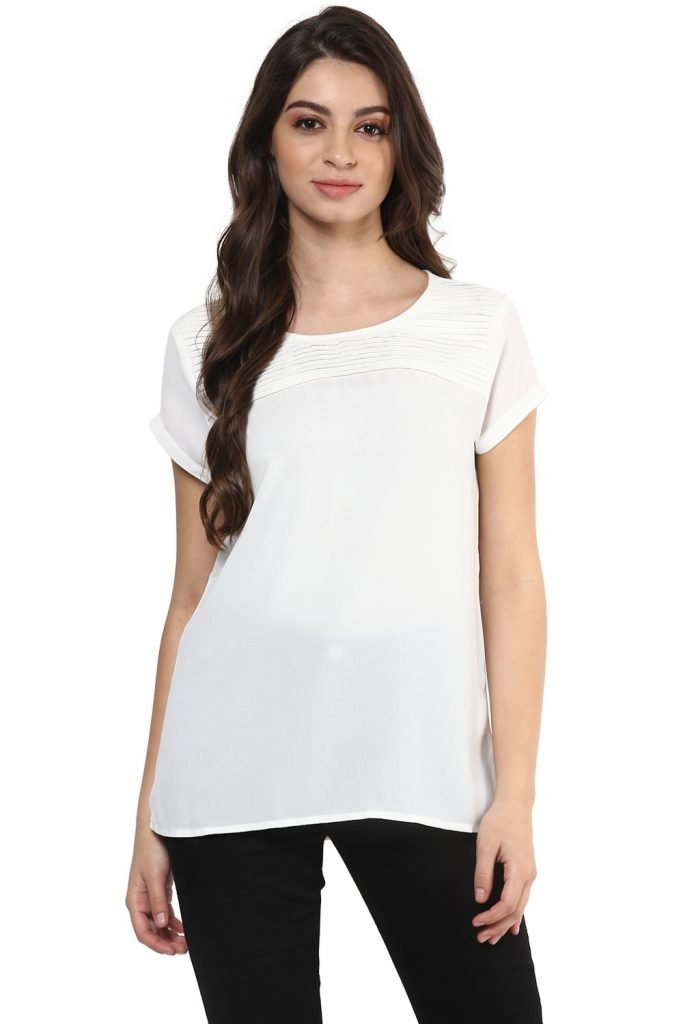 If you are dressing for a corporate event, you can choose this black and white dress. The model is showing how to accessorize the dress. Grab ankle-grazing trousers in black and a matching top. For the finish, you can buy a blazer of black or white color. The model is wearing leopard print shoes, but you can try some other prints. Similarly, you can hold a clutch instead of a bag.
White And Black High-Low Plaid Dress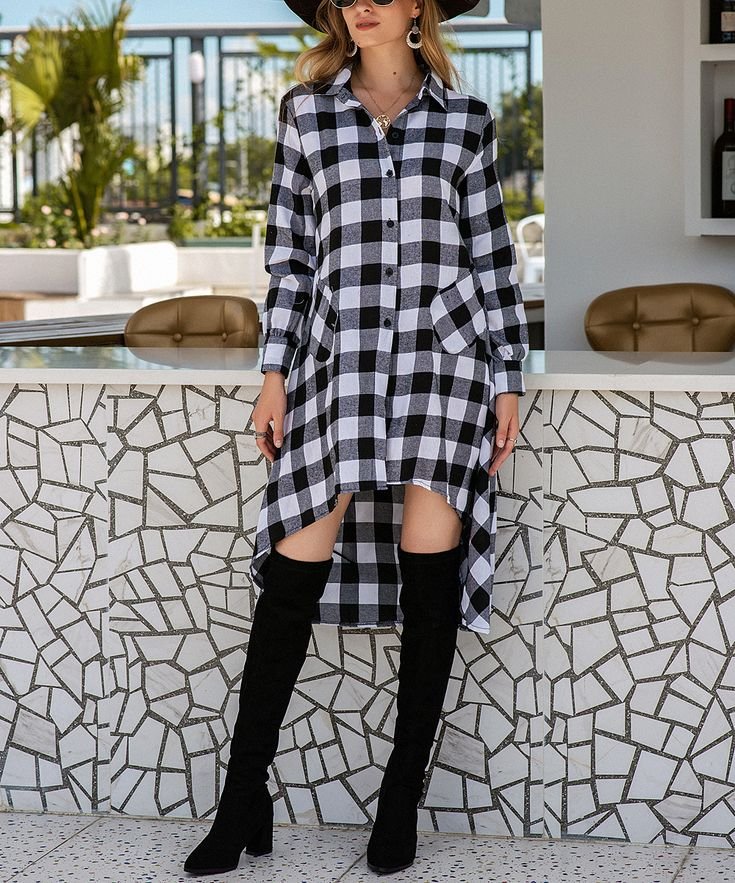 Plaid is always in fashion but what is more surprising is that fashion enthusiasts keep exploring different ways to improve the look and feel of plaid dresses. And the good thing is that plaid dresses look beautiful in every avatar. You can couple your plaid dress with ankle boots and a tote bag. In makeup, you can try a high bun and brown lipstick.
Plaid Skirt And Trench Coat Look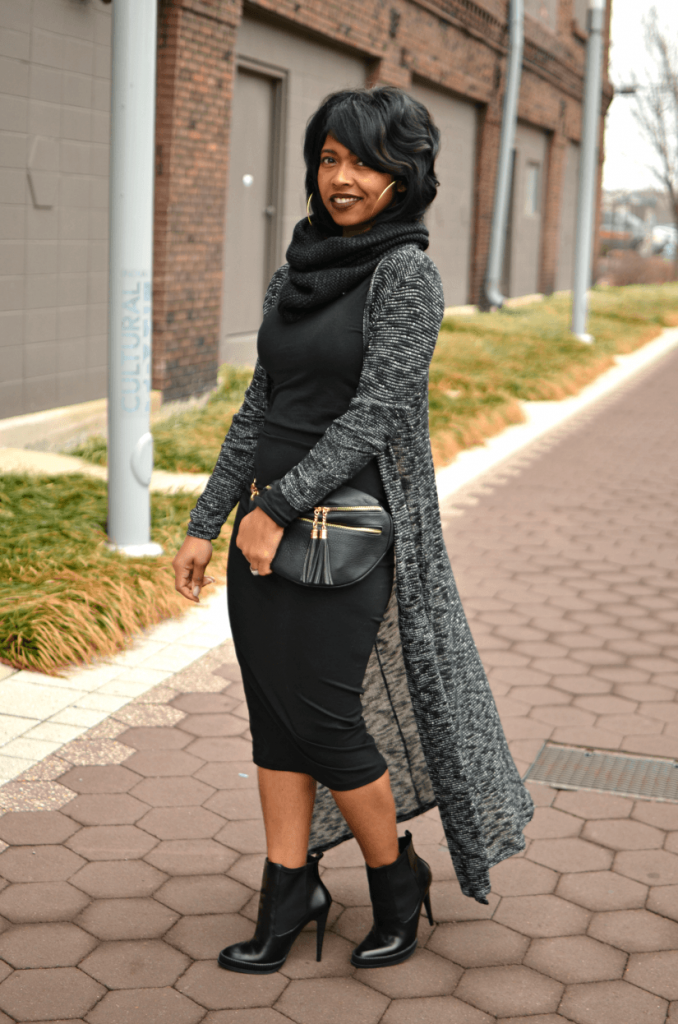 It is a hot dress just perfect for cool winter days. The model in the picture will guide you on how to ace your winter look with a trench coat. The mode has a checkered figure-hugging skirt paired with a black turtleneck top. But the beauty of this dress is the trench coat the model is holding in her right hand. In footwear, you can choose either ankle boots or ankle strap heels.
For more information please visit our site at https://www.searchom.com