Try These 10 Hipster Outfits In 2022
What is a hipster outfits in 2022? If your answer is ripped jeans, printed tops, oversized jackets, and long boots then you are half right. You are looking at one side of the coin. Ripped jeans coupled with matching tops create a hipster look, but there are many things you can do to improve the look.
Here're 10 hipster outfits in 2022 that can transform your look
Distressed Jeans And Neon Trench Coat Hipster Outfits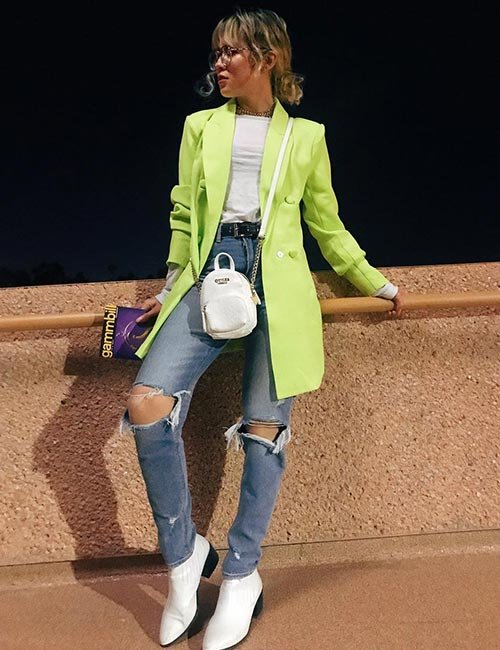 A simple pair of ripped jeans is a casual outfit but you can take it to the next level with a neon trench coat just like the model in the picture. The model is wearing ankle-length boots instead of chunky sneakers that is the usual trend. The white bag hanging down her waist is matching perfectly with the white top she's wearing under the coat. Also, she's made a loose bun and put on round eyeglasses to complete the hipster look.
Oversized Coat And Combat Boots For Winter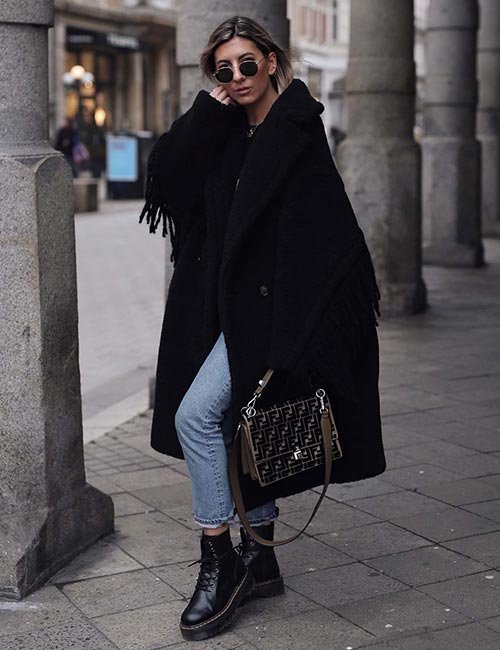 An oversized jacket will give you warmth while making you look stylish on cool winter days. Throw a warm oversize jacket over jeans and pair the jacket with a pair of chunky combat boots. The advantage of this dress is that it goes well with all types of hairstyles. You can choose to keep your hair loose or make a long braid. Similarly, you can wear round sunglasses to give a final touch to the dress. This dress would work for cool days.
Hipster Outfits For School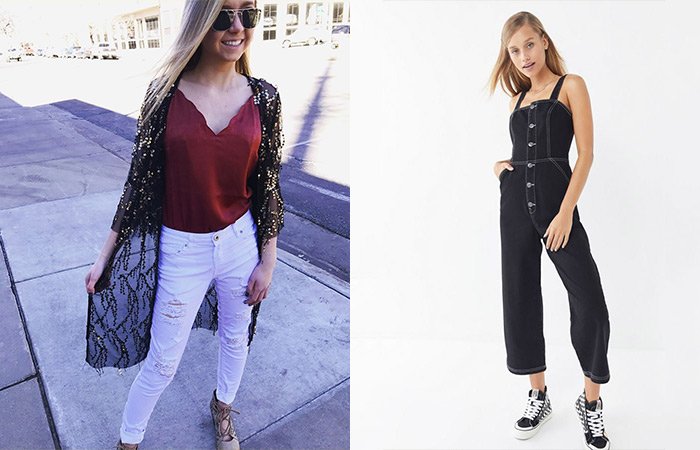 School-going girls will be surprised to know that they can easily get a hipster look without spending much money on new dresses. If you have ripped jeans and a rustic plain t-shirt, you only need to buy a sparkly kimono to complete your dress. Or you can simply put on a denim jumpsuit. A kimono would also work with a jumpsuit. In footwear, you can try boots or black converse sneakers. Matching eyeglasses would be an added accessory or you can simply go out with an open hairstyle.
Casual Hipster Outfit
Sometimes you prefer a casual look that is more on comfort than style. Usually, you wear ripped jeans with tees, but it won't give a casual hipster look. For this time, you can wear a cropped white t-shirt under a jumpsuit. It might not be in the trend, but it would make you feel comfortable. Look at the model in the picture for inspiration and try imitating her. Like her, you can also wear chunky sneakers to get ready for some outdoor action.
Vintage Skirt And Hat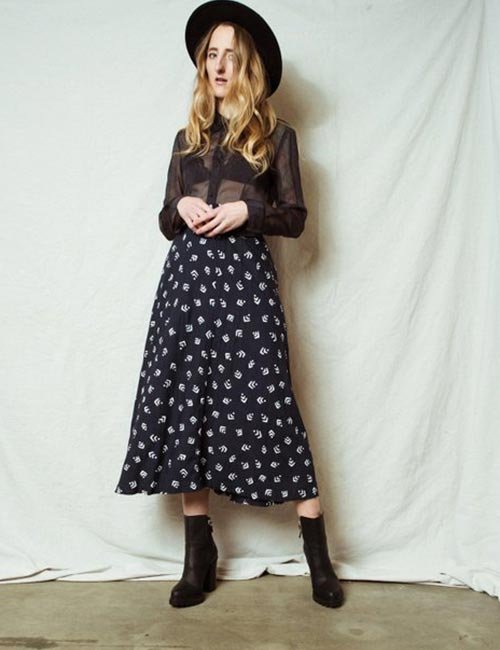 See what the model is wearing and how she's dressed. Her flowing georgette skirt will catch your attention and so is the blouse completing the dress. Also, she's crimson brown lipstick and a wide-brimmed hat. Finally, your eyes would get stuck on her ankle-length boots and you will start thinking of this dress. It isn't a trendy dress, but a vintage one. And you will agree that it is a good choice for outings with friends.
Hipster Party Outfit
If you want to surprise your friends with your choice of hipster clothes then you should look at this model for inspiration. Let your friends guess how you would dress for the next outing and you surprise them with a different hipster outfit. The model in the picture is wearing a bright animal print with ripped jeans. But it is the pink duster coat that completes the look. Also, you shouldn't miss the long boots the model is wearing.
Plaid Shirt And Distressed Jeans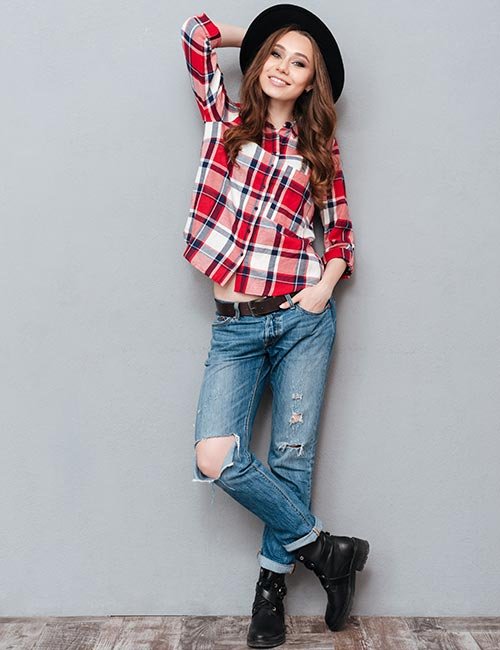 If you are looking for a dress that is both stylish and convenient then put on a plaid shirt over frayed jeans. For style, you can open your beachy waves and wear a floppy hat to tame the open locks. Also, you can accessorize the dress with delicate rose gold jewelry. And believe us, you won't go wrong with this dress. This dress would work when you want to dress up quickly, but you don't want to compromise on style and comfort.
Black And White Hipster Outfits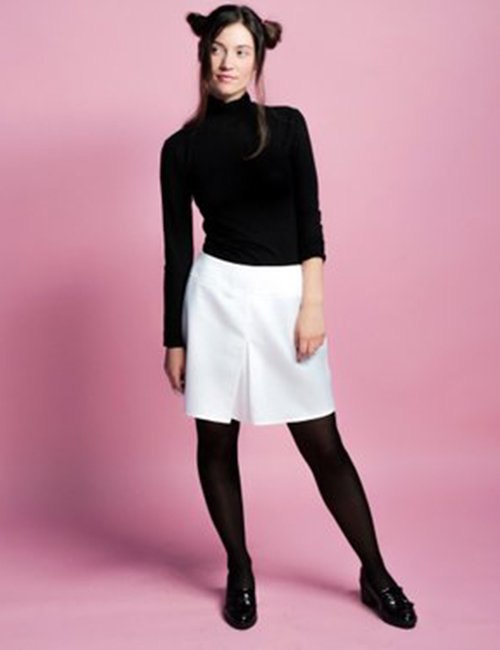 A hipster outfit doesn't need to be loose and flowing. The model in the picture flaunts a form-fitting hipster outfit, and you will agree that this outfit is stylish as well. It is an A-line skirt paired with a black turtleneck top. The model is also wearing black leggings to complete the dress. And instead of wearing accessories, the model has cat-ear buns that look perfect for this look.
Fit And Flair Hipster Outfit
This dress is for those who think that they can never look feminine in a hipster look. Just have a quick look at the model in the picture to understand how you can maintain your feminine look while wearing a hipster outfits in 2022. The model is wearing a striped maxi skirt with a simple tank top and some tribal jewelry. The only thing different in this dress is the floral designs on her hand. But you can wear floral jewelry instead of making floral designs on bare hands.
Denim Shirt And Checked Pants
If you are looking for an adventurous dress then consider this dress. The plaid pants look dashing with a denim shirt and chunky boots. It is a classy-vintage dress, but just perfect for an adventurous tour. But the model in the picture takes the dress a step ahead with a bandana as a hairstyle. But you can wear a tat instead of a bandana. And don't mind, if you need to buy some accessories for this dress.
Final Thoughts
A hipster outfits doesn't mean that you need to go shopping and spend a huge sum on buying trendy clothes. You can create a hipster look by pairing ripped jeans and skirts with matching tops in your wardrobe. And the only thing you need to do is to use your creativity. Also, you will need confidence that you would never go wrong with your dresses.
For more information please visit our site at https://www.searchom.com/