11 Polka Dots Dresses To Try In 2021
A polka dots dress is a timeless option for fashion-conscious women. Whether you are a college student or a working executive, you can rock in a polka dress and there are multiple options to enhance your polka dress look.
11 polka designs to try
Black And White Off-Shoulder Gown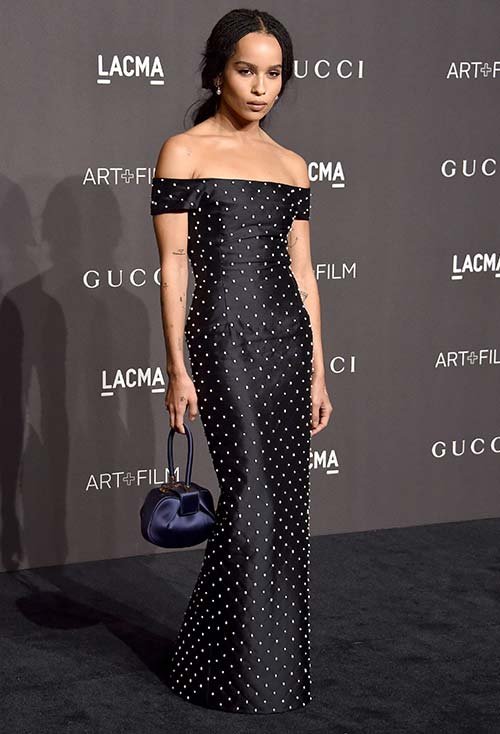 This beautiful gown can perk up a drab wardrobe instantly. It is an off-shoulder gown but it makes a playful pattern that can give you an energetic and fresh-faced appearance irrespective of your age. It is an ageless gown that you can wear without worrying bout your figure, skin tone, or hairstyle.
The model wearing the black and white off-shoulder gown has an average figure. Also, her skin tone is light, and her hairstyle is regular. But she looks attractive because of the off-shoulder polka gown that reveals as much as she wants.
Coral Polka Dot Gown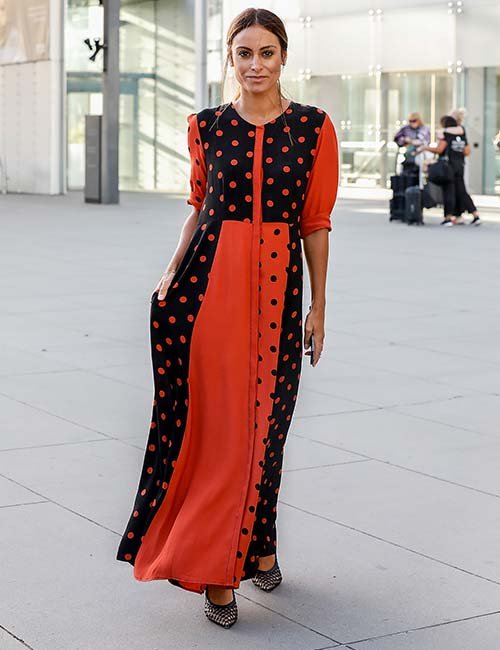 The polka dots in this flaming coral dress are surprisingly hot. And the model has mixed the dress perfectly with her pony hairstyle and shiny footwear. It is a full-length gown that covers the arms, so, you get added protection from the sun. also, it covers the neckline, so, you don't need added accessories.
If you are looking for an evening gown that can make you ready to go instantly then consider buying the coral polka dot gown. The red-and-black design makes it just perfect for evening gatherings and parties.
White Polka Dress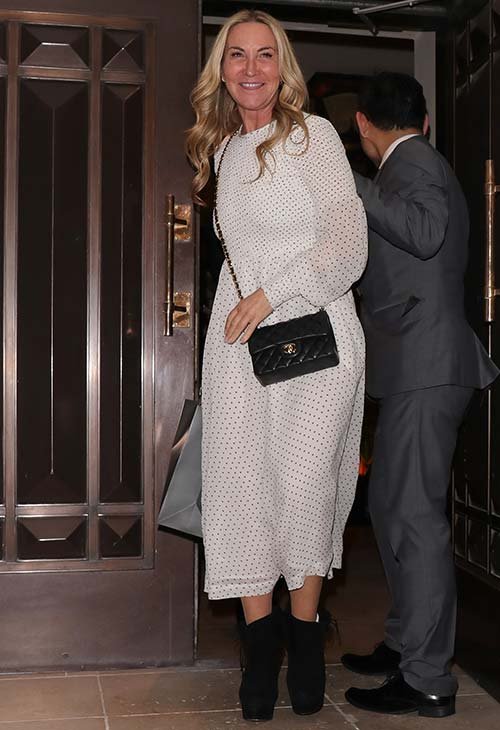 The beauty of this white polka dress is its high neckline and long sleeves that provide complete body cover. But it leaves ample space to showcase your footwear. Here the model has paired her gown with jet black ankle booties and a cross-shoulder leather bag.
The dress is clean-looking due to the white color and the black polka dots further enhance the color. Also, this white polka dress looks exclusive. You can keep it for special occasions like a movie night or outdoor dining. It is also great for business meetings.
Blue And White Polka Slit Dress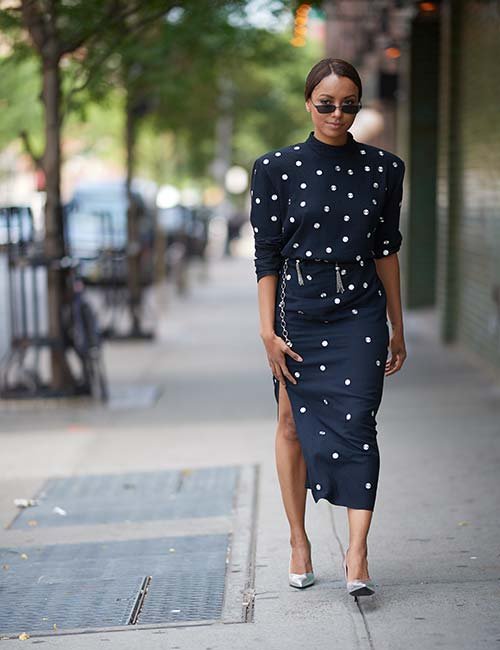 Go a little wild like this model to make a style image with a blue and white polka slit dress. Just look at the diva to know how much preparation she's done to complete her polka dress. It looks like a two-piece dress due to a difference in the polka patterns.
Like the diva, you can also try a matching hairstyle other than a bun; a belt, but it is optional, and silver pumps or you can try golden. This high-neck dress leaves little space for wearing a pendant, but you wear a bracelet to fill your empty hands.
Black And White Polka Dot Skirt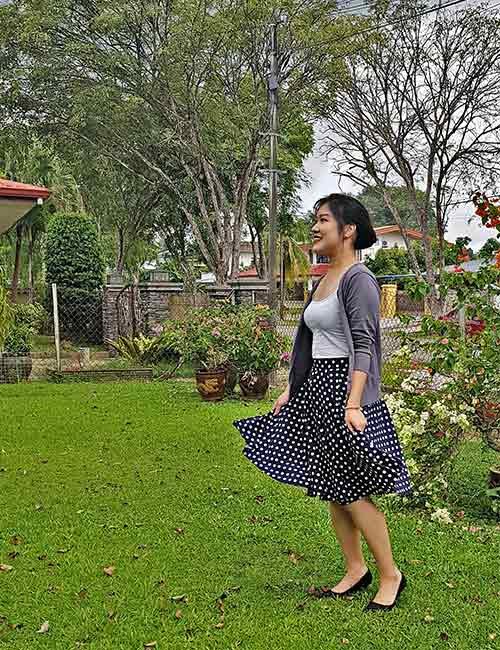 This black and white polka dot skirt is more flattering than any other dress. And it is amazing to see how easily this dress toggles from dressy to casual. It is as good with a silky blouse as with a tank top the model is wearing in the picture.
If you are looking for a dress that allows ample opportunities to spruce up your look with accessories then look no further than this black and white polka dot skirt. It is a nice choice as a weekend outfit.
Polka Dot Jacket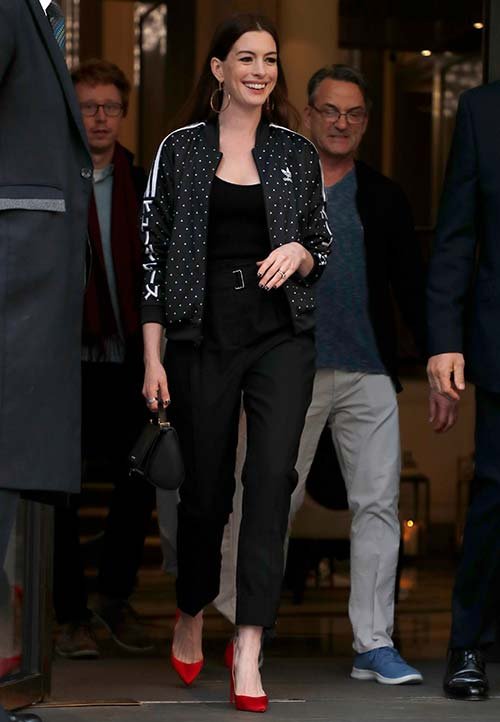 The model in the picture is wearing a polka dot jacket with a full black outfit. The dots on the jacket fill the void space of the neckline, waistline, and arms. It looks like the dots are rushing towards filling the empty neckline. Also, the dots cover the waistline.
If you are looking for an outfit that makes an immediate statement then this polka dot jacket is the right choice. It will mix well with any dress including black, monochrome, and other bright colors. Also, you can keep the jacked open or closed according to your needs.
Polka Tube Top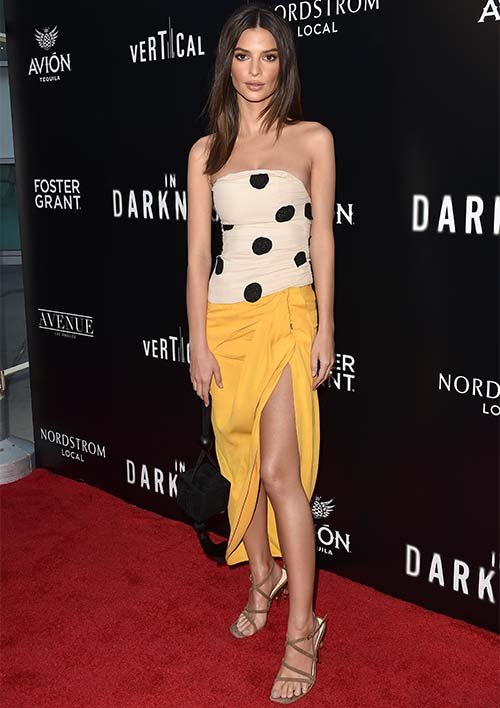 Look at the diva wearing a bright polka tube top with a matching dark yellow long skirt, and tan boots. And she looks awesome. She is posing for a brand whose name is visible in the background. It is the real party look with which you can amaze everyone.
If you are shopping for a party then consider a polka tube top that you can pair with a skirt, trousers, jeans, and even shorts. Also, you can keep your skin bare or accessories your neckline. Here the diva is using her shoulder-length locks to cover her hears and the neckline.
Polka Shirt And Suit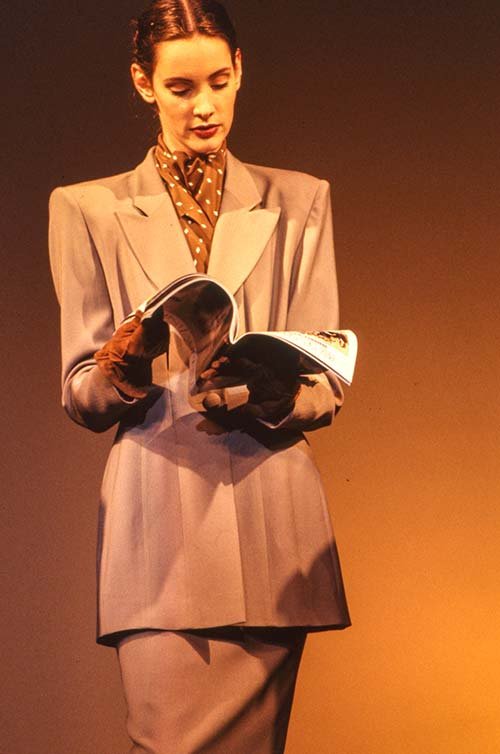 Would you like to wear an oversized suit just like the model in the picture? If your answer is NO then you should know that the well-fitted trousers and perfectly fitted blazers are no longer in trend. The model in the picture is wearing an oversized suit with a yellow polka dots shirt. Try baggy pants or a long skirt with a polka shirt and cover the dress with an oversized blazer to change your look from retro to modern.
Red Polka Dot Pencil Skirt
If you want to dress like a diva for a Friday evening party with friends then buy a red polka dot pencil skirt that you can couple with a white blouse or any other light-colored top. For makeup, you can wear red lipstick and your hairstyle should be shoulder-length. You will feel comfortable in this dress.
Pink Polka Dot Ruffle Dress
It is a nice outfit that you can wear anytime. Also, it is easy to put on. It is a complete dress from top to down, so you don't require any accessories. The model in the picture is wearing a black belt to highlight her waistline and a pair of ankle-length boots to gain some height. It looks like a beach dress but you can wear it when going shopping, dining, and movies.
Brown Polka Dress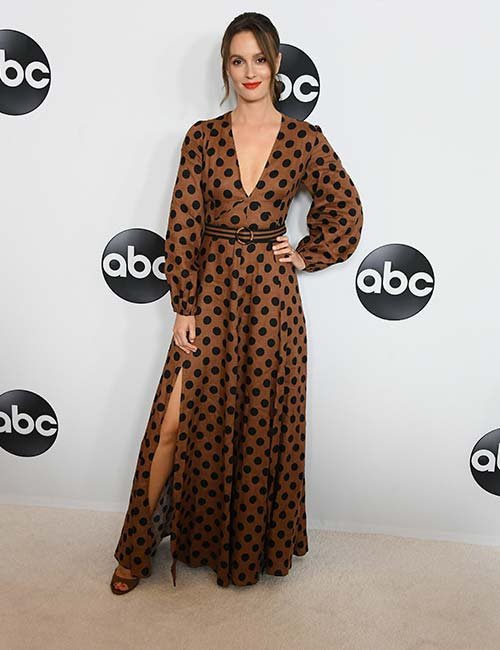 It is a full-size dress while others are minimalistic. Polka dots look amazing on the brown background. Also, the dress has a belt to enhance the waistline. It will cover your body leaving only the neckline bare but you won't feel the need to accessorize the neckline.
For more information please visit our site at https://www.searchom.com/