10 Trendy Fringe Bangs Haircuts To Try In 2022
Bangs hairstyle has an advantage in that is it provides ample room for recreation. Also, it gives a carefree feel as you won't need any hair accessories to keep your hair intact.
Check out these 10 bangs hairstyles to know what makes them different from others
Thick Fine Blunt Fringe
Are your tresses thicker than normal? If yes, then you should consider wearing this blunt fringe. An ideal way to flaunt the thickness of your hair, it would suit your face shape as well. Also, it is easier to design as you can see that the blunt bangs are cut straight across. Straight cutting would keep the bangs and layers separate which will further highlight the thickness of your hair. Like the model, you don't have to feather your locks at the end.
Thick Highlighted Bangs
See how the model has framed her face with her bangs. This style adds some soft highlights to her face. And these highlights act more like subduing elements. But the biggest highlight of the hairstyle is the large bangs covering the entire forehead. And it has a subduing effect on her face. The entire focus comes on the lower half of the face.
It is a good hairstyle especially for those who want to highlight their facial features. If your facial features are sharp like this model, you should go for this haircut. You can see the model is looking stunning even with minimal makeup in this hairstyle.
Side-Swept Fringe For Thick Hair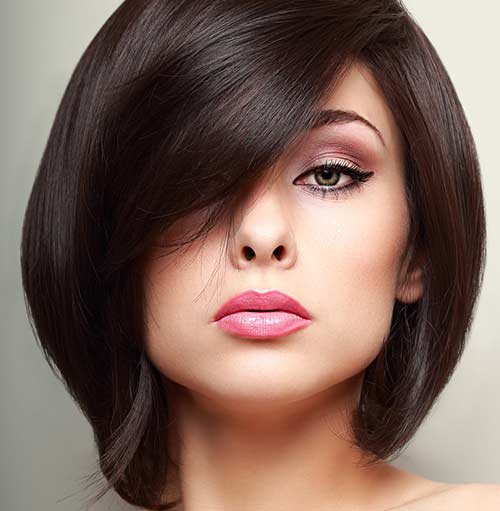 The best thing about side-swept bangs is their compatibility. They are suitable for all shapes. So, it doesn't matter whether your face is oval, round, or square, if you want to wear bangs, you can go for side-swept bangs without giving a second thought to your decision.
Look at the model in the picture to get an idea of what your face would look like with these bangs. First, the bangs would cover a larger area of your forehead, and second, they would make your face appear slender due to forehead cover-up.
Blinding Bangs Cosplay Fringe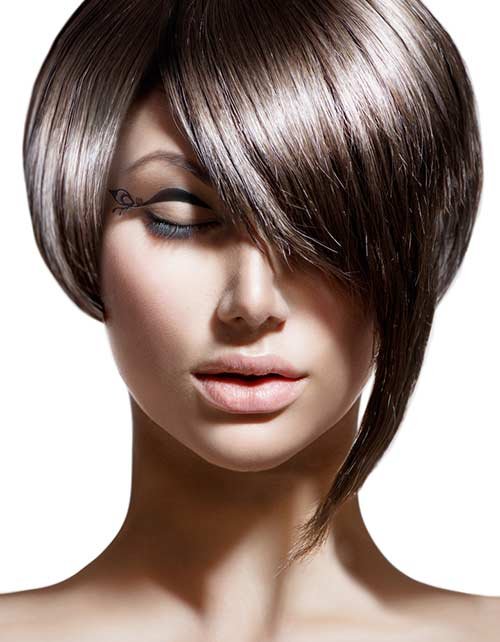 You could have seen this hairstyle in cosplay events, especially Japanese cosplays. But here you will wear this haircut in real. First, notice the feature that makes these bangs different from other hairstyles. These are slicker than others. Also, this haircut adds mystery and drama to the overall appearance of the face.
Also, you can become more creative with this hairstyle. Look at the eyes of the model. She's done cool eye makeup to match with this haircut. But you can try a different eye makeup that draws attention to the bangs.
Glossy Curved Bangs
It's a Barbie Doll haircut and the model in the picture looks like a real Barbie with these glossy curved bangs. And this cool haircut has many advantages like it provides thickness to thin hair. Also, it can make a round-shaped face appear a beautiful heart-shaped face.
A quick look at the model in the picture is sufficient to understand that this haircut brings attention to facial features like cheeks, eyebrows, lips, and chin. If you are looking for a haircut that can add details to your facial features then go for the glossy curved bangs.
Tri-Parted Side-Swept Bangs
Did you notice the subtle difference between these bangs and others? If not, then look at the model from close so you can notice that it is a little more revealing than others. Bangs scattered over the forehead provide a limited cover to the forehead.
Another advantage of these bangs is they can even out any asymmetry in facial features. But the model has no asymmetry in her facial features. If you have, these bangs can help. For further improvement, you can do some makeup like the model. She has highlighted her eyes and wore lipstick.
Full Thick Side Fringe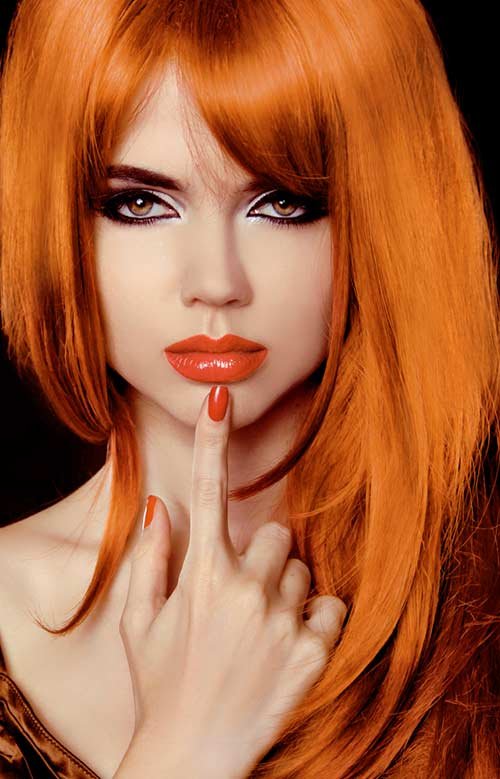 This is a hairstyle for makeup enthusiasts. It can highlight your makeup and this is evident from the model in the picture. She's colored her lips red and the haircut is highlighting her red lips. Also, she's got dark eyeliner. What is unique in this hairstyle is that the layers near the face are cut so it frames the face.
The bangs are paired with layers and this pairing brings the facial features into attention. But it isn't the hairstyle that you can wear regularly. It is for special occasions where you want to stun the gathering with your makeup style.
Thin Long Side-Swept Bangs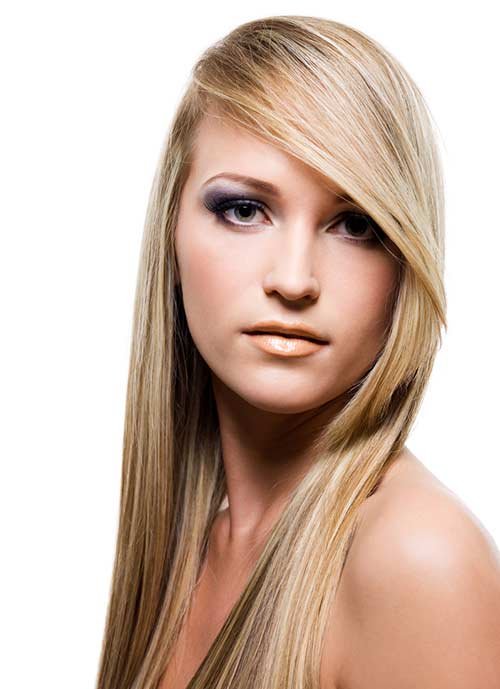 If your face is longer than normal then you should try these side-swept bangs. First, they would outline your face, so the attention goes to the facial features instead of the length of the face. Second, they would cover your face partially, so it appears a little smaller.
Look at the long face of the model. Her face appears a little bit small due to her long side-swept bangs. Also, the bangs accentuate the lower half of her face. And you can expect the same for your face.
Uneven-Ended Bangs
The advantage of this haircut is it provides both volume and thickness to fine hair. If your locks are fine, you should try these bangs. They have uneven ends, but they won't spoil your look. On the contrary, they would soften your facial features. The model in the picture would give you a better idea of what your face would look like after getting a haircut. You can also leave your bangs on your shoulders just like the model.
Heavily Layered Fringe
The model is Tyra Banks and the hairstyle is known as "Tyra Banks" bangs because it was Tyra that first flaunted the haircut. It is a short hairstyle but it covers a good part of the forehead. And it is clear that Tyra Banks wanted all the focus on her facial features, so she got this haircut. If you like short bangs, you can also go for the "Tyra Banks" bangs.
For more information please visit our site at https://www.searchom.com/