10 Galaxy Hair Color Ideas For 2022
Galaxy hair color is too cool to resist and it isn't necessary to wait for an invitation for intergalactic travel to get this color on your hair as you can get it whenever you want to look different. But first, have a close look at these exciting galaxy color ideas.
What Is Galaxy Hair Color?
Galaxy hair color is a blend of space-inspired colors like blue, green, purple, and pink. Galaxy hair color could be a mix of two colors or a rainbow of six colors. How many colors you use depends on the imagination and creativity of your hairstylist.
Attractive Galaxy Hair Color Styles
Blue And Pink
Pink and blue colors make a stellar combination. Since it is more on the lighter side, it is considered more suitable for women with fair skin tones. Like the model, you can also add a little bit of white to highlight the pink and blue shades. Also, you can try matching blue eye makeup and pink lip color to further improve your visual appeal. This hair color will be best on short shoulder-length hair.
Purple Dimensional With A Bit Of Blue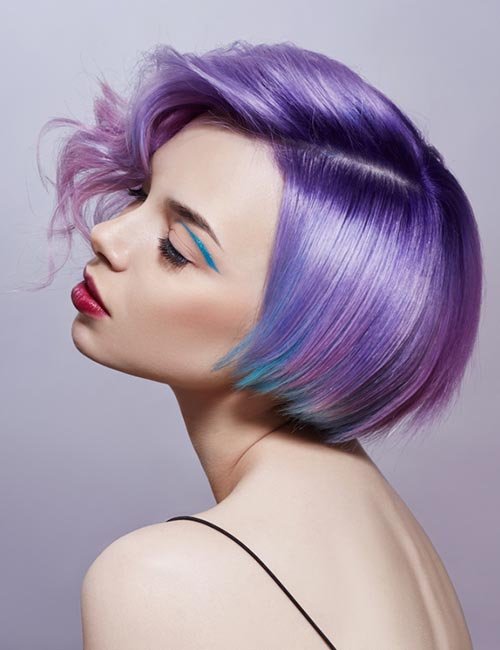 If purple is your favorite color, you should give it a galaxy twist by adding a little bit of blue color to the purple shade. Whether you like bright purple, amethyst, or lilac, adding blue to it will make a perfect galaxy color for your hair. Again, you can add a little blue to your eyelids and spread red color on your lips to get a perfect look. The model has a purple side-swept bang with a hint of blue.
Spring Galaxy
The spring galaxy color is simply amazing because it blends three space-inspired colors. Here you can see shades of green, yellow, and pink mixed to produce a rainbow of colors. And it is needless to say that you won't require doing any makeup after getting the spring galaxy color on your hair. If you see the model, you will feel as if the hair color is more an artwork than the work of a hairstylist.
Intense Pastel Shades
Pink and purple are an evergreen combination as pink signifies femininity and purple represents energy. The blend of these two colors will leave you in awe. The results are stunning as is evident from the picture. The model has colored her long flowing hair with a combination of pink and purple and the resultant shade is much more attractive than you can imagine. Also, you can go with nude makeup with this hair color.
Candied Galaxy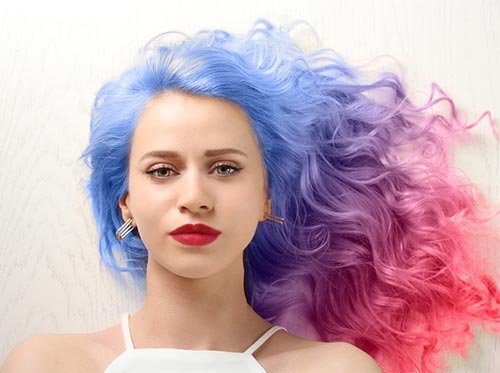 It is the fun side of the galaxy hair trend. This color looks like a candy color design. The hair color transitions from dark to lighter from roots to tips as visible from the flowing locks of the model. Also, the model has improved her lips with deep red color and has done light makeup to enhance her visual appeal. She has earrings and she's wearing a white gown-like dress.
Rainbow Galaxy
If you want to add more colors to your hair then go for a rainbow galaxy that is a mix of multiple shades including green, blue, purple, pink, and more. It is rightly called a rainbow galaxy because it mixes multiple shades into one. Also, you can make your locks curly to get a celebrity look. Talk to your hairstylist about this hair color so you get the colors you like most.
Forest Galaxy
It is how you will see a galaxy on Google. This color is stunning and it can make your long hair more beautiful. This color is cool and you will feel the calm emanating from your hair. If your eyes are blue then it is the best hair color for you. The model has blue eyes that match perfectly with her hair. Another important thing to note about this color is that it blends with a fair skin tone and a white dress.
Colored Bangs
If you love bangs then try colored bangs. Look at this shade created by mixing red, orange, and blue. It is vibrant and hence looks great on bangs. It is a shock of color on your hair. And you can go out with nude makeup as your colored bangs will make you look complete. If you want to further enhance your look, you can try some tribal jewelry like a beaded necklace.
Beachy Galaxy
Have you ever imagined what the Milky Way would look like from earth? If you could, you will find that it looks like this hair color. It has waves of colors emanating from the middle of the hair and flowing down to the roots. The color is lighter at the top but becomes darker at the end. If you have blonde hair, you must try this hair color.
Striped Galaxy
Look at this stunning color. It is a mix of pink and some other color and it looks like the hair is stripped of its pink shade. The advantage of this hair color is that you can mix two or more colors to get the perfect look. Like the model, you can also do matching makeup to further improve your visual appeal. If your locks are voluminous, you can try this shade.
Galaxy hair colors are amazing and they look perfect on all skin types, face shapes, and dresses. But the biggest advantage of these colors is they allow plenty of creativity. You can play with ideas to get a splash of colors on your hair. Also, there is little need to worry about maintaining your galaxy hair color.
How Much Does Galaxy Hair Color Cost?
Depending on the number of colors used, it could cost you around $300-$600. But it is a rough idea as the exact figure can be worked out only after considering factors like your hair type, volume, and length. While you can try it at home but it is better to go to a hairstylist to get the perfect galaxy hair color.
Disclaimer: The above information is for educational purposes only and the readers are advised to get galaxy hair color only after considering the pros and cons of hair coloring.
For more information please visit our site at https://www.searchom.com/