Red Carpet Welcome Of Stars At The 64th Annual Grammy Awards Function
The 64th Annual Grammy Awards ceremony concluded with much fanfare at the MGM Grand Garden Arena in Las Vegas on 3 April 2022. And the world witnessed the nominations for the biggest awards in the film industry with awe. Also, the celebrities came dressed in colorful attires to receive a red carpet welcome.
Here's How Celebrities Showed Up At The Event
Justin Bieber and Hailey Bieber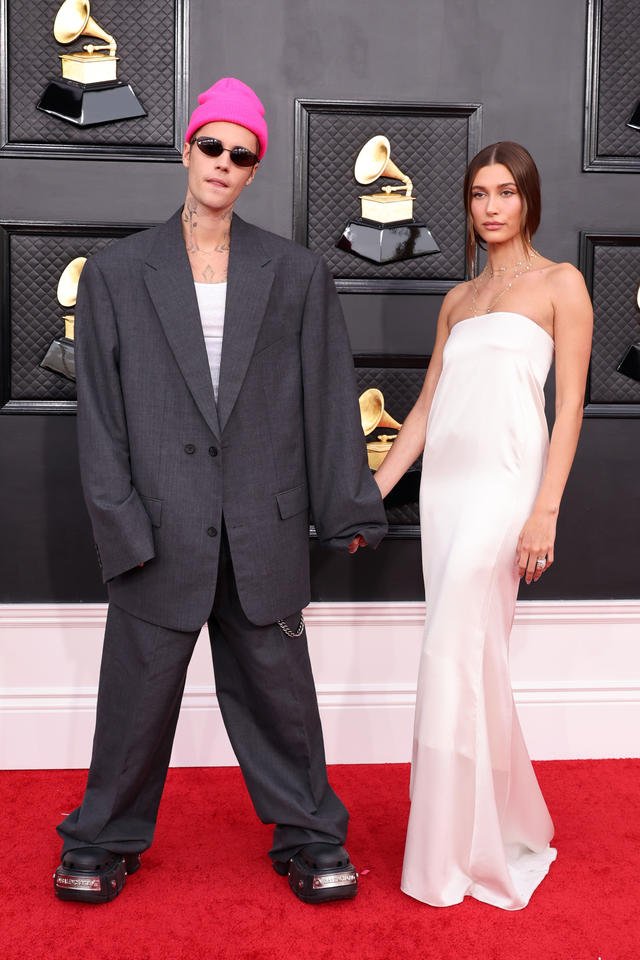 The first one is the Canadian singer Justin Bieber and his wife Hailey Bieber. Spotted in an oversized suit with matching Crocs by Balenciaga, the singer looked quite cool. While Justin Bieber had a pink cap and dark goggles, his wife was in a white off-shoulder gown.
Lady Gaga
One of the best-selling music artists in the world, Lady Gaga knows how to enhance her appearance in a big event like the Grammys. Dressed in a black-and-white off-shoulder gown, Lada Gaga was co-nominated for record of the year at the 64th Annual Grammy Awards. Standing with her hands joined at her abdomen, she simply turned right for a photo shoot.
Olivia Rodrigo
The 19-year-old American singer-songwriter and actress posed for a cute photo after receiving the award for the best pop solo performance for her viral hit "Drivers License". Dressed in a black bodysuit gown with glittery lines, an open hairstyle with side bangs, and minimal makeup, she looked quite confident and a deserving candidate for the award.
Chloe Bailey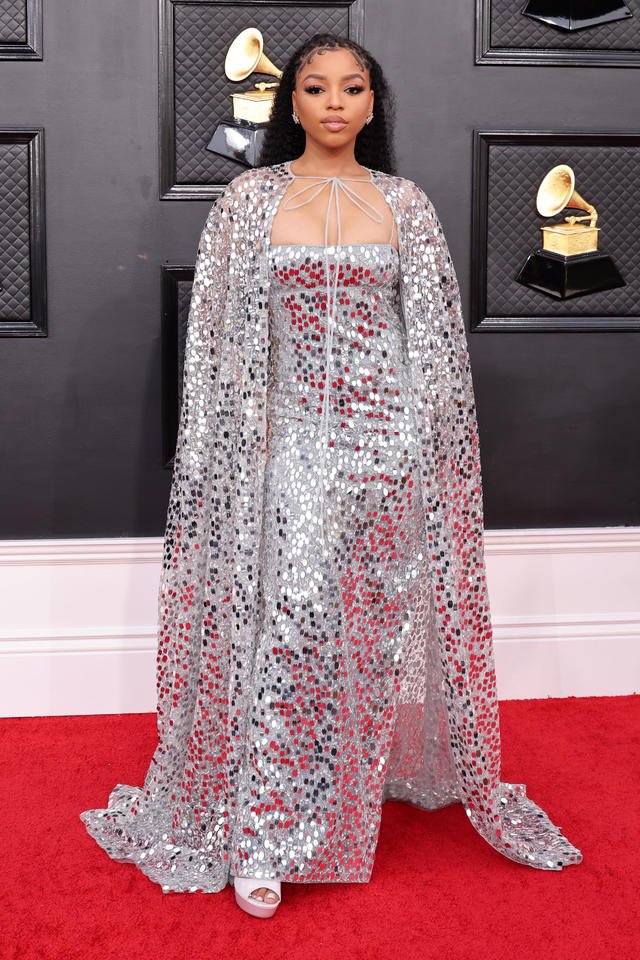 The American singer and dancer, Chloe Bailey, has earned five Grammy Award nominations since 2015. She also showed up at the 64th Grammy function in Las Vegas and she showed up big in a shimmering silver dress studded with colorful stones. It is an off-shoulder gown paired with a matching shoulder cover.
Megan Thee Stallion
The American rapper gave a dancing pose to reveal her happiness of getting nominated for the best rap performance award. Clad in an animal-print gown, she looked bold at the 64th Grammy function. For the photo shoot, she brought her right leg out of her dress and raised her arms to show her bangles. Also, she gave a broad smile to the world audience.
Billie Eilish
The American singer-songwriter already has seven Grammy Awards and she was also running for record of the year at the 64th Grammy function. It was certainly a proud moment for her and Billie Eilish made it memorable by wearing an all-black dress. She had black gumboots and she had also thrown upon an oversized black coat. Her hairstyle was also different and her goggles removed the need for any makeup.
Dua Lipa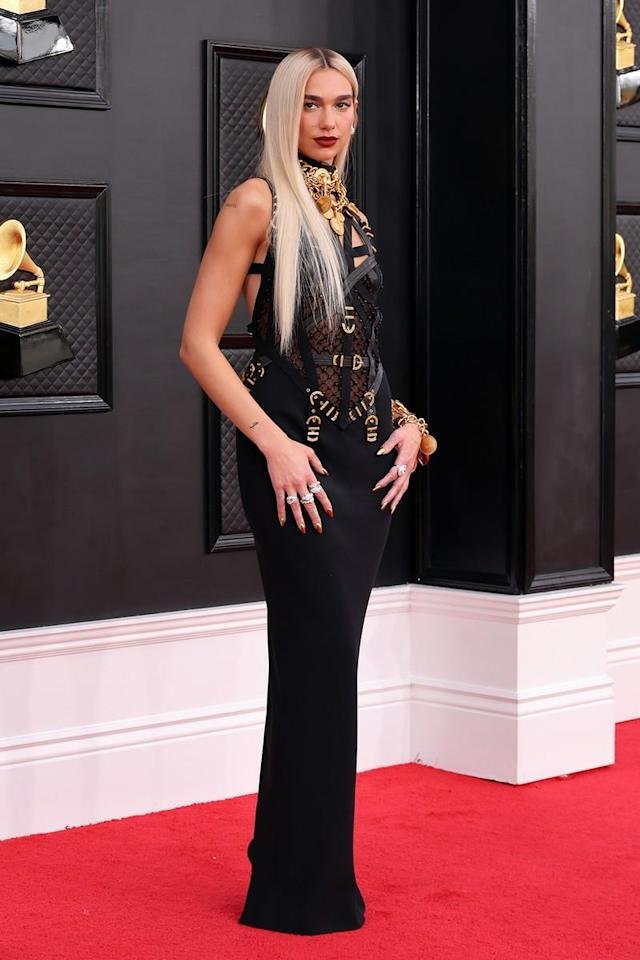 The English singer-songwriter was provided the opportunity to become a presenter at the 64th Grammy Awards function at the MGM Grand Garden Arena in Las Vegas. And she appeared in a black outfit with golden embellishments and tribal jewelry. Her highlighted hair with a side-swept style further enhanced her attire and look. Also, she wore dark red lipstick to highlight her facial features.
H.E.R.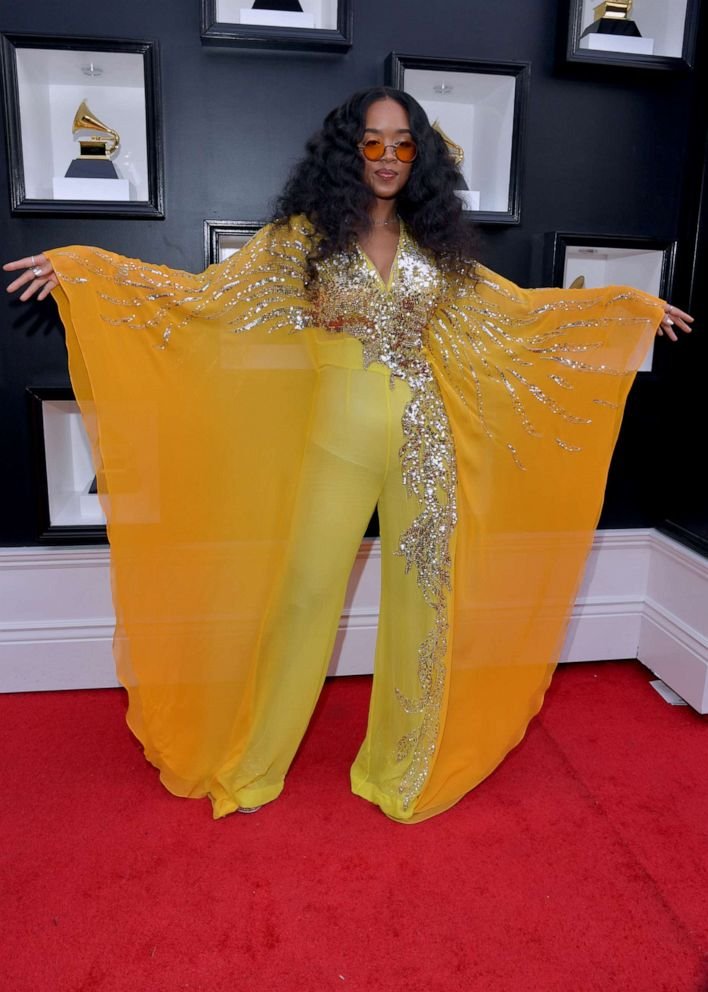 Look who's posing in this yellow attire and pink goggles at the 64th Grammy Award function. She's the recent Oscar winner H.E.R. and she was up for the album of the year at the 64th Grammy Award function. The 24-year-old Filipino-American R&B singer stunned everyone with her yellow outfit embellished with silver designs all over. And she opened her hands to show the dress and the silver embellishments while posing for a photo.
Saweetie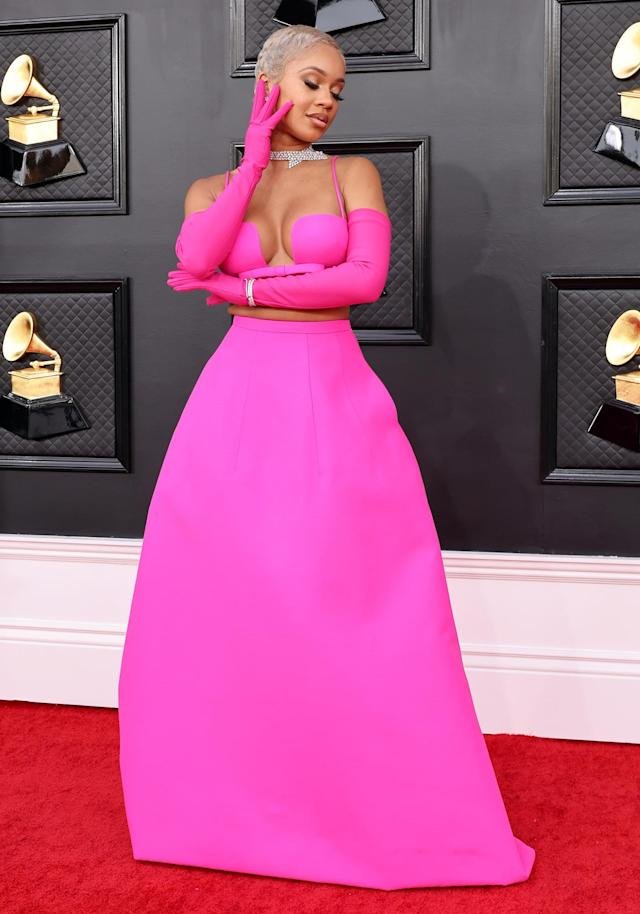 The American Rapper Saweetie was up for the best new artist at the 64th Grammy Awards night. And she showed up in a pink outfit with a bodycon top and a loose flowing long skirt. Also, the dress includes long gloves extending up to the upper arms. She had short highlighted hair and a shiny necklace.
SZA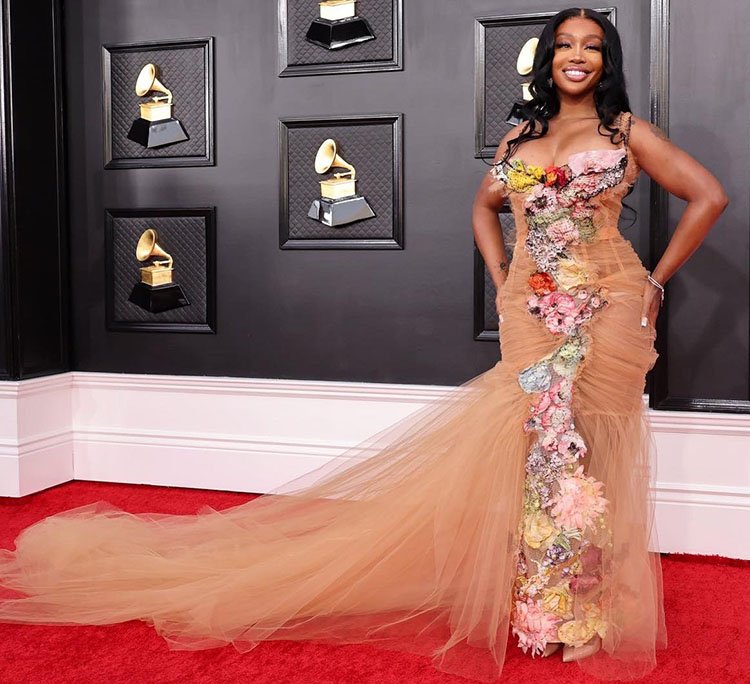 Look who this beautiful girl is in a floral gown? She's 32-year-old SZA and it won't be an exaggeration to say that she looks much younger than her age in this colorful outfit. It is a long flowing gown in skin color and it has a floral design in the middle. She had been nominated for the Academy Award for Best Original Song.
BTS
The members of the South Korean boy band stunned everyone with their colorful attire. They were running for the best pop group performance at the 64th Grammy Awards. They have won two Grammy Awards earlier in their career.
Chrissy Teigen and John Legend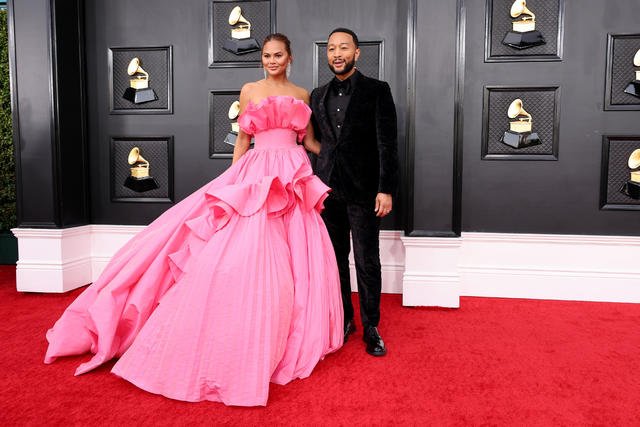 The American model and television personality Chrissy Teigen showed up in a large pink gown. She came and posed for a photograph with her hubby John Legend who showed up in beautiful black attire. Chrissy Teigen received the Recording Academy Global Impact Award.
Ahmir 'Questlove' Thompson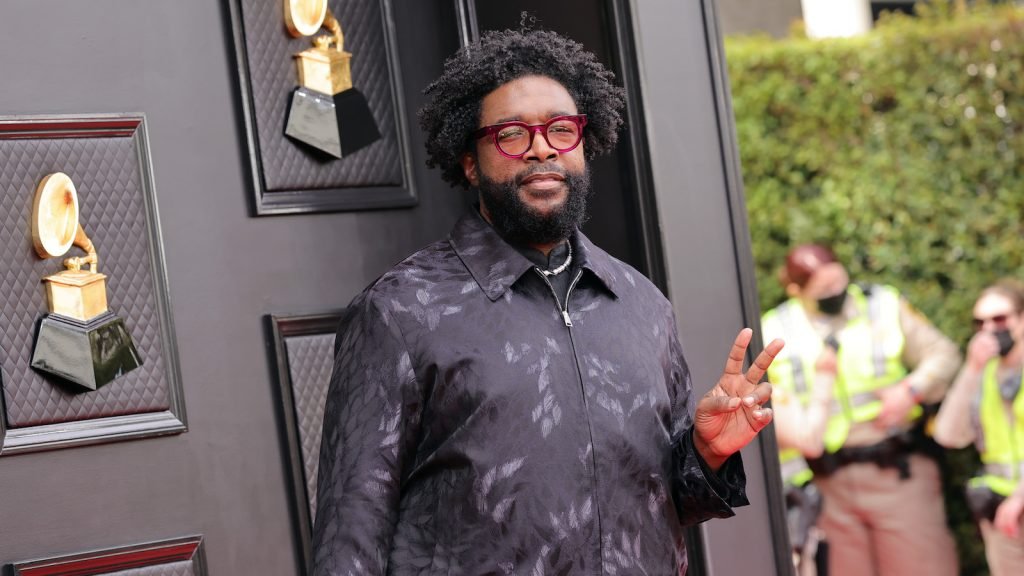 Questlove has a versatile personality but his dressing style is simple. He showed up in black pants, a black printed jacket, and greenish boots. Also, he wore large round-framed glasses. He also won an award for best music film at the 64th Grammy Awards function.
Kourtney Kardashian and Travis Barker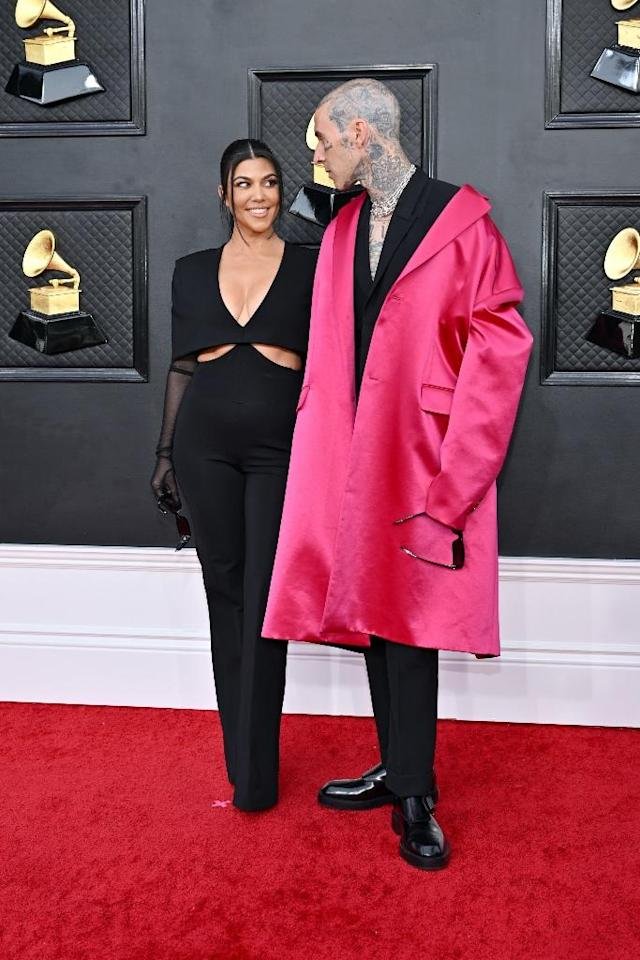 The American media personality and socialite Kourtney Kardashian showed up at the 64th Grammy Award function with Travis Parker in a beautiful black dress. She looked cool and calm while posing for a photo. Her all-black dress with black goggles enhanced her personality. Travis Parker also wore a black dress but he also threw upon an oversize pink coat. He also wore a silver necklace to highlight his tattoos.
Jack Harlow and Lil Nas X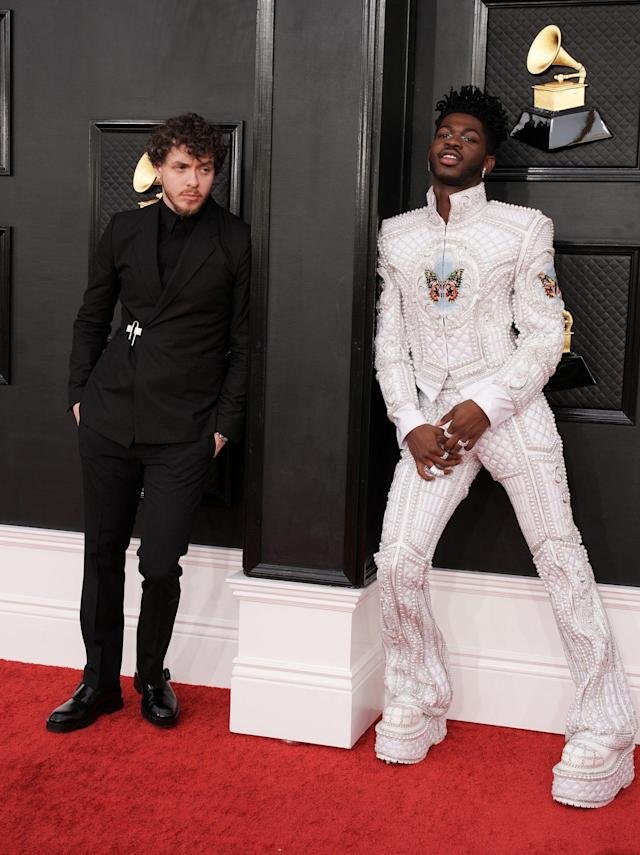 Jack Harlow and Lil Nas X also showed up at the 64th Grammy Awards and it is needless to say that it is Lil Nas X that stunned the audience with his dress and performance. He was up for record of the year and his all-white attire looked like a robotic dress. The dress consists of white pants and a matching jacket and it has etched designs all over. But Jack Harlow kept things simple with a black suit. Together they made a black-and-white pair.
For more information please visit our site at https://www.searchom.com/