How To Look Like Blake Lively?
Blake Lively, 34, looks beautiful in every makeup and she's developed different styles. Women of her age and even those younger and older than Blake, follow her makeup style.
The Gossip Girl is a Hollywood diva, a seasoned actress with numerous accolades, and a caring mom to three cute kids. Also, she's an inspiration to many who want to dress and look like her.
Here we are detailing four popular makeup styles of Blake Lively for you to follow
The Casual Look
Blake Lively is caught in a casual look at the premiere of Grace of Monaco in Cannes. Her gorgeous burgundy gown coupled with sultry, smokey eyes, pink lips, and a high ponytail makes her look stunning even in this casual style.
Face:
• Start with cleansing your face with an extremely gentle and light oil cleanser
• Once the cleansing is done, use an oil-free primer to even out your skin tone, hide blemishes, and get long-lasting results
• Now is the time to contour your face using a quality bronzer
• Apply the bronzer from the hollows of your cheeks towards your temples
• A touch of soft rosy pink blusher is needed to maintain that healthy glow, but use only a quality product
• Finally, you have that beautiful silky blush of Blake Lively
Eyes:
• You need a lighter berry tone eyeshadow to get the eye makeup of Blake Lively. Choose a product that gives a creamy and rich eyeshadow
• To enhance the eye shape, Blake has lined her lash line and waterline with a quality eyeliner in black
• Apply two coats of mascara to lengthen your lashes to complete the stunning look
• Use a brush with extra-long bristles to save your curling time
Lips:
• Give a touch of light pink to your lips to your casual look
• Choose a pink that matches with that of Blake Lively
The Neutral Office Look
Blake Lively chooses a low-cut grey tank top and dazzling Burberry skirt to mute her bronze skin, blush tones, and shimmer nude pinks. And she looks just perfect in wavy hair and matching Christian Louboutin pumps.
Face:
• Begin your skin routine with an all-natural and soothing cleanser but from a brand
• Take a pore minimizing primer and start applying it all over your face
• Now, contour your picture-perfect face with a subtle highlighter that can hide the blemishes
• Follow it with a matte finish foundation and blend it well to match your skin tone
• Once the foundation is done, give a touch of pink blush to the apples of your cheeks
• Now, you have the rosy glow like Blake Lively
Eyes:
• Blake Lively prefers a light champagne eyeshadow on the eyelids to get natural-looking eyes
• Try a light champagne eyeshadow to get that look
• Also, enhance your lashes by defining and curling with a real mascara from a leading brand
• Once done, check the natural look of your eyes
Lips:
• Simply give a touch of natural shade to your lips just like Blake Lively does to her lips
• Make sure that your lips look smooth and supple
The Date Night Look
Blake Lively is a Hollywood beauty who knows how to look stunning. Most fashion-conscious women follow her makeup style to look stunning like her. The Gossip Girl was seen in a hand-embroidered black gown with nude tulle design during the premiere of Savages. And this beauty guzzled all the limelight.
Face:
• Take a light and smooth cleanser and start cleansing your face for that stunning complexion
• Now, is the time to apply a primer from a leading brand. It will add radiance to your skin and hide blemishes as well
• Once done, you need to dab a long-wear foundation to support your makeup
• Start lending the foundation from the middle of your face and keep blending until it matches your skin tone
• Using a good blusher is the secret of getting a fresh look and maintaining a healthy glow
• Give a touch of soft colors to the apples of your cheeks
• Use a quality cosmetic to create a healthy flush
Eyes:
• Blake's eyes have a subtle shimmery shadow
• Start your eye makeup from the base of your eyelids
• Apply a coat of lighter eyeshadow to the base
• Blend the eyeshadow with gentle strokes towards your brow bone
• Follow it with a quality black gel eyeliner over the outer area of your upper lash line and waterline
Lips:
• Give a touch of dark red lipstick to your supple lips
• For inspiration, look at Blake's lips
The Wedding Makeup Look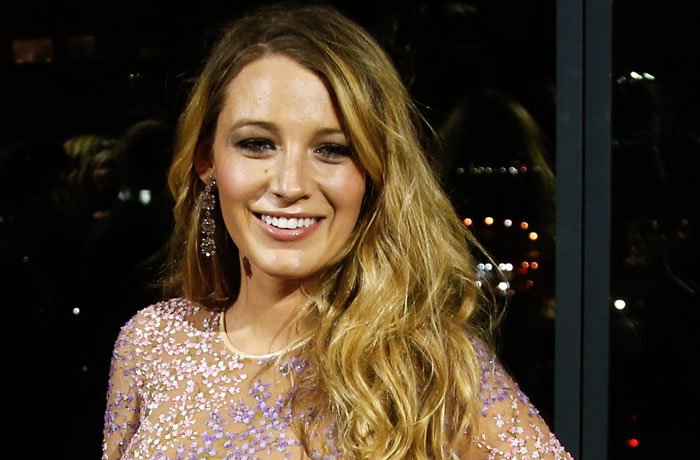 Blake Lively is dressed in a princess-style gown for a wedding makeup look. Her expensive floor-length Michael Kors gown looks stunning with Lorraine Schwart jewelry. But it is her simple bronze makeup that is doing the real magic.
Face:
• Since it is simple, you can continue with your regular skincare routine
• First, use a cleanser followed by a moisturizer and then apply a primer to get a clear and perfect skin
• Now, apply a long-wear bronzer all over your face
• Use your fingertips to blend the bronzer evenly on the skin
• Apply the bronzer across your cheeks, nose, and forehead to contour your skin
• Finally, it is time to touch your face with a good blusher
• Take a blusher and glide it smoothly through the apples of your cheeks
• It will give you a natural-looking skin
Eyes:
• To get the subtle eye makeup, you should start with enhancing your lash line and waterline with a kohl pencil
• Once done, blend your eyeshadow into the eyelids
• Now, apply a wash of metallic eyeshadow to the base of your eyelids
Lips:
• Now, finish your look by wearing lipstick matching with your skin tone
• Look at Blake Lively for inspiration
Blake Lively tries to keep things simple and she creates stunning looks every time. Her makeup routine shows how she maintains her youthful look with minimal makeup. But she always prefers brands. Her makeup routine is so simple that anyone can follow it. But you need to have healthy skin like hers.
For more information please visit our site at https://www.searchom.com