5 Types Of Aerobic Exercises To Boost Your Physical And Mental Well Being
Dancing to stay fit is a great idea. It provides both health and entertainment. It can help burn excess fat, improve flexibility, and enhance coordination between body and mind. And you can dance at home without requiring any additional accessories.
A dancing session can help burn from 300 to 500 calories in an hour. Additionally, it will boost your metabolism, reduce stress, and enhance your mood. Exercising three to four times a week is sufficient to stay fit.
How To Choose A Dancing Exercise?
For exercising, you can choose aerobics like ballet, jazz, Zumba, and others. They are different forms of dance but are referred to as aerobics workouts. Their advantage is that they are good for people of all ages including pregnant women. Another advantage of aerobics is that you can increase its intensity to boost your blood circulation, rejuvenate your system, and feel good from the inside.
Here're Some Dance Forms And Their Advantages
Zumba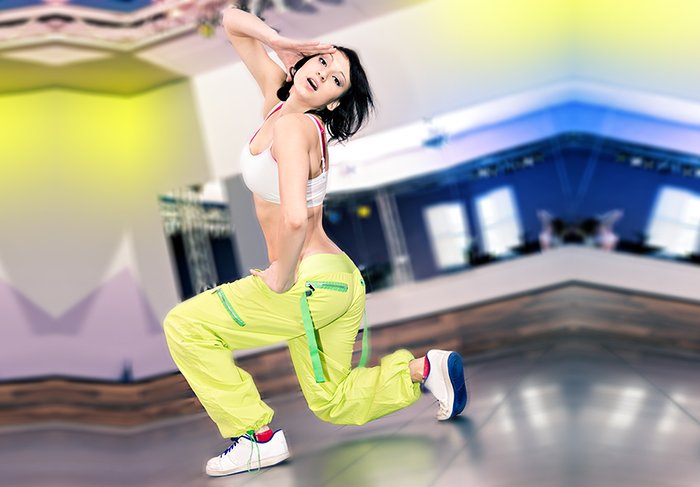 The combination of Latin, International, and Salsa music makes Zumba an amazing and fun-filled aerobics exercise. You will keep burning calories with its slow and fast alternating rhythms. Also, it isn't just for dancing enthusiasts but for everyone. You will love the heart-pumping effect of the steps and enjoy the workout as it can help shed calories.
Health Benefits:
a) Zumba contains all muscle-building moves like squats and lunges. It will engage your muscles and joints and tone them from head to foot.
b) It is a great exercise for your body and mind. It isn't something that you find repetitive. The fun element in the exercise will divert your attention and, in this way, de-stress your mind.
c) You will feel encouraged to practice this dance form. The fun element of Zumba and the results achieved with this will give you a reason to dance again.
d) Zumba gives exciting results and the results are visible within a short time. You won't have to wait for a long time to get the results.
Jazzercise
If you are looking for exercise that can boost your cardiovascular system then go for Jazzercise. It combines cardio and resistance training. Its advantage is that it works for all bulky sections of the human body. Famous since 1976, Jazzercise has become popular in every country. You can easily achieve your fitness goals by practicing this exercise a couple of times a week.
Health Benefits:
a) A Jazzercise session lasts for almost 60 minutes and it works more on the cardio system. It will boost your cardiovascular health and reduce the risk of heart attack considerably.
b) An hour-long session of Jazzercise will make you energized from the inside. It will have a positive impact on your performance at the workplace. It will boost your stamina as well.
c) The biggest advantage of Jazzercise is that it works well for the entire body. You will feel the pressure on your abs, glutes, arms, and inner thighs after a session.
d) Jazzercise will lower your stress level so you feel relaxed. You will love the energetic feeling you will get after practicing Jazzercise for an hour.
Ballroom Dancing
It is for couples and if you are looking for exercise that you can do with your spouse then go for Ballroom Dancing. It is a proper dance form that you will enjoy only when your partner is as excited as you are. It is a slow exercise but it gives exciting results. Also, you will need a little training for this exercise.
Healthy Benefits:
a) It is a slow workout but it doesn't mean that it has no benefits. You will be surprised to know that it can tone your muscles and make your body fit.
b) Depending upon the intensity of exercise, you can burn from 200 to 400 calories with this dance form. It involves moving your entire body including the lower back, neck, legs, and shoulders.
c) Ballroom Dancing improves bone density and joint flexibility. A session of this exercise will make you feel healthier and stronger.
d) The happy and healthy feeling you will get from this dance form will boost your confidence. It will de-stress your mind, make you feel energized, and give you a feeling of wellness.
Belly Dancing
It is a solo dance form and it demands more attention because of its steps. Today it is divided into different forms according to the origin of the dance. And each form has a unique style. It is an energetic exercise that can help shed weight and improve your mental and physical fitness.
Health Benefits:
a) Belly Dancing works well on stomach muscles and lower back. If you have stubborn fat on your waist, you can burn it with this exercise.
b) Belly Dancing will improve your flexibility. It will work on each muscle and move each joint so you feel great.
c) Belly Dancing will boost your spirit. It will give you the confidence you need to take on challenges.
Masala Bhangra
It isn't an aerobic dance but it can also help burn calories and improve your physical and mental well-being. It belongs to India and it is a group dance. If you love exercising in a group, you can practice Masala Bhangra. Or you can make an exercise group for this exercise.
Health Benefits:
a) Masala Bhangra can tone your muscles. It works for all sections of the body. You will feel healthy after the exercise.
b) Masala Bhangra can help you lose weight in the long run. It can help burn fat from the inner thighs, waist, arms, and neck.
c) Masala Bhangra is fun dancing as it is practiced in a group. It will make you feel happy and de-stressed. You will have a feeling of wellness after each session.
Final Thoughts
Choose your dance form and start exercising from day one. You can join an exercise group, health studio, or practice dancing at home. For training, you can hire a personal trainer or take inspiration from DVDs.
Disclaimer: The information provided in the blog is for educational purposes only and the readers are advised to take training before exercising.
For more information please visit our site at https://www.searchom.com/