20 Edgy Braided Mohawk Hairdos For 2022
If you are looking for a cool hairstyle that is unique as well then consider a braided Mohawk. While making a braided Mohawk seems tricky, it makes maintenance for hair easy. In fact, it will protect your hair from everyday pollution, weather conditions, dirt, dust, and grime.
Here're 20 Edgy Braided Mohawk Hairstyles You Should Try
Twisted Mohawk
It is a level-up in twisted hairstyle. See how the sides are aligned close to the scalp but the hairstylist has left the Mohawk to lose on top of the head. If your hair is also jet black, silky, and long, you should try this hairstyle.
Ponytail Mohawk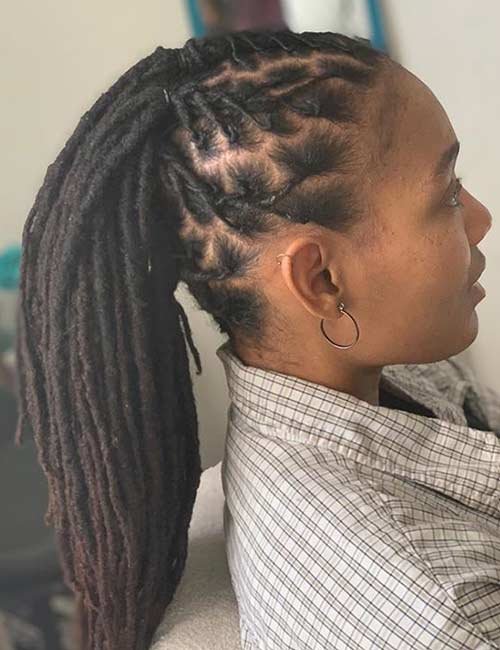 If you love ponytails then this hairstyle is for you. Multiple twisted dreads when arranged together create a super cool hairstyle. The dreads start thin at the scalp and grew thicker towards the Mohawk. And it is easier to create a beautiful design with thin dreads.
Braided Mohawk Updo
African women prefer braided Mohawk hairstyles to protect their hair from pollution and bad weather conditions. Another advantage of this hairstyle is that it keeps hair away from their faces. And it is in addition to improving their overall look and feel.
Intricately Looped Mohawk
If you think that Mohawk is simply collecting your locks on top of your head then you are mistaken. Look at this hairstyle. It shows the elegance of the Mohawk hairdo. It is both stylish and chic. And the way the locks are braided and collected shows that it is a formal haircut.
Aligned Mohawk
Do you love these clean lines on the scalp? It is stunning. Isn't it? The Mohawk begins thin and grows into long braids towards the end. Another important feature of this hairstyle is the different line patterns. It is a perfect alignment that reflects both style and elegance.
Curled Mohawk
Oh! The curls at the end look very stunning. The tresses are perfectly braided in medium-sized cornrows and then curls are made at the end. It is a beautiful blend of two hairstyles. You get both aligned cornrows and attractive curls in one style. And a supercool Mohawk is created by joining the curls.
Long Curls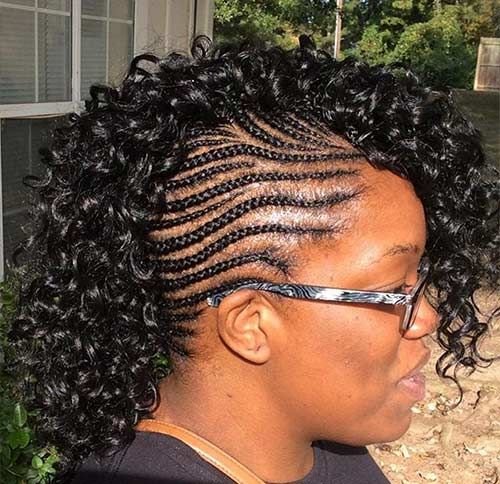 Take the Mohawk curls to a level up with long curls. Cover your head with braided cornrows and leave the lower half of your locks loose. Now create a beautiful Mohawk by joining all the loose ends of your hair. Also, apply a curl-defining cream and cover the curls with a scarf at night. It will add definition to kinky curls.
Close Braided Mohawk
This exclusive hairstyle is designed with hair extensions that provide both length and thickness to natural hair. And here the extensions are used to their most advantage. Its advantage is that you don't have to color your hair. The beauty of this hairstyle is the loose curls that fall to the side.
Big Braided Mohawk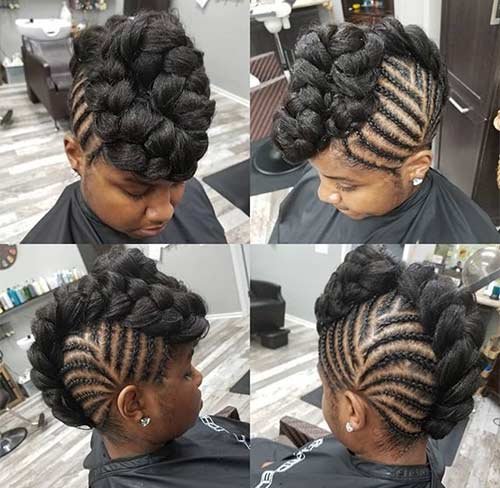 Mohawk, especially big braided hairstyle is in fashion. You can check this chic hairstyle with properly aligned cornrows. Thin braids at the beginning add definition to the cornrows and the big braid at the end makes it super cool.
Sewn Braids Mohawk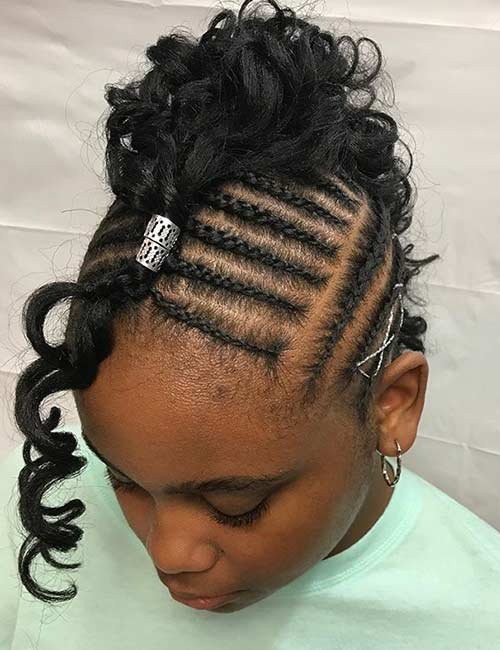 It is a Mohawk design enhanced with silver accessories. A silver clip is fixed on the left side cornrow and two clips are placed on the Mohawk. The clips seem to be controlling the curly end. The end part of the hair passes through the clips and curls down to the right side of the face.
Front-To-Back Mohawk
If you are of the opinion that long hair isn't suitable for making a Mohawk hairstyle then you need to change your opinion. See this braided hairstyle. The model is flaunting her long braids in Mohawk design. It features elegant cornrows and beautiful braids flowing down the back.
Attached Braided Mohawk
It is a unique design because it has a discipline. Here the braids are made close to the scalp until the top and once at the top, the braids are made normally. Each section is twisted to create Bantu knots and these knots are fused with bobby pins or U-pins.
Patterned Braided Mohawk
If you want to take your Mohawk hairstyle a level up then you should learn to create a pattern of cornrows. Use your creativity to get a unique design and create a Mohawk that looks stunning.
Feed-In Braided Mohawk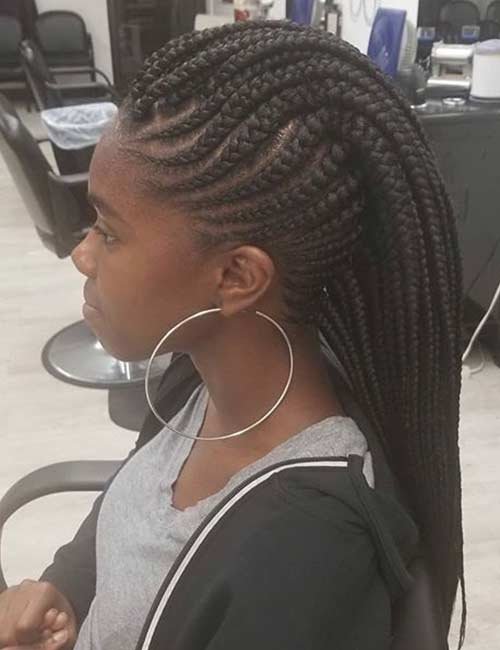 Try keeping your braided Mohawk smaller and light. You will agree that a subtle Mohawk can make a big difference to your hairstyle. It is both chic and protective. It is an exclusive design you will want to wear on specific occasions.
Colored Braided Mohawks
The big crochet braids make this hairstyle look gorgeous. The Mohawk created is surrounded by thin cornrows. Also, you can throw some colored extensions to add definition to the hairstyle.
Tied-In Braided Mohawk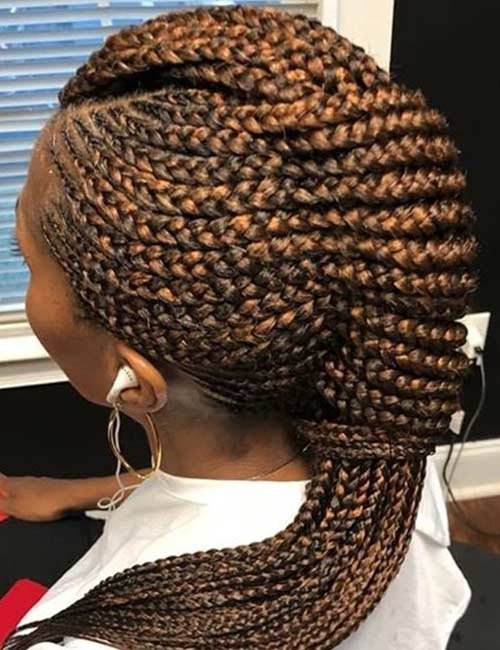 This Mohawk hairstyle is great for formal dresses. It is both simple and sophisticated. If you are looking for an edgy look for your work then consider this Mohawk hairstyle.
Single Braided Mohawk
Super easy to achieve, this Mohawk requires some strong-hold hair gel. Bring your locks upwards and raise the tresses in a braid. Also, take the style a little up with cornrows on the sides.
Stretched Mohawk
You can make this rock 'n roll hair look when going out for a full day vacation with friends. Commonly known as frohawk, it looks pretty cool. Another advantage of this hairdo is it is suitable for short hair.
Double Braided Mohawk
Check out this Mohawk hairstyle. It features a braid on top of a braid and both the braids join at the nape to make a single braid. Also, the sides are shaved off to add definition to the look.
Folded Braided Mohawk
It is the most beautiful Mohawk design of all the designs discussed above. It combines everything from hair extensions and accessories and together these things make a hairstyle that is simply outstanding.
For more information please visit our site at https://www.searchom.com