Hailee Steinfeld's Trainer Dad Is The Secret Of Her Perfect Body
It is only Hailee Steinfeld that can boast of performing 3,000 crunches a day because of her trainer dad, so she have perfect abs. Her father, Peter Steinfeld, is a personal trainer. Also, her paternal uncle, Jake Steinfeld, is a personal trainer. So, fitness runs into her family and there should be nothing surprising in her doing thousands of crunches a day.
Hailee Steinfeld stands 5 ft 9 inches tall, weighs around 59 kg, and her body measurement is 34/27/35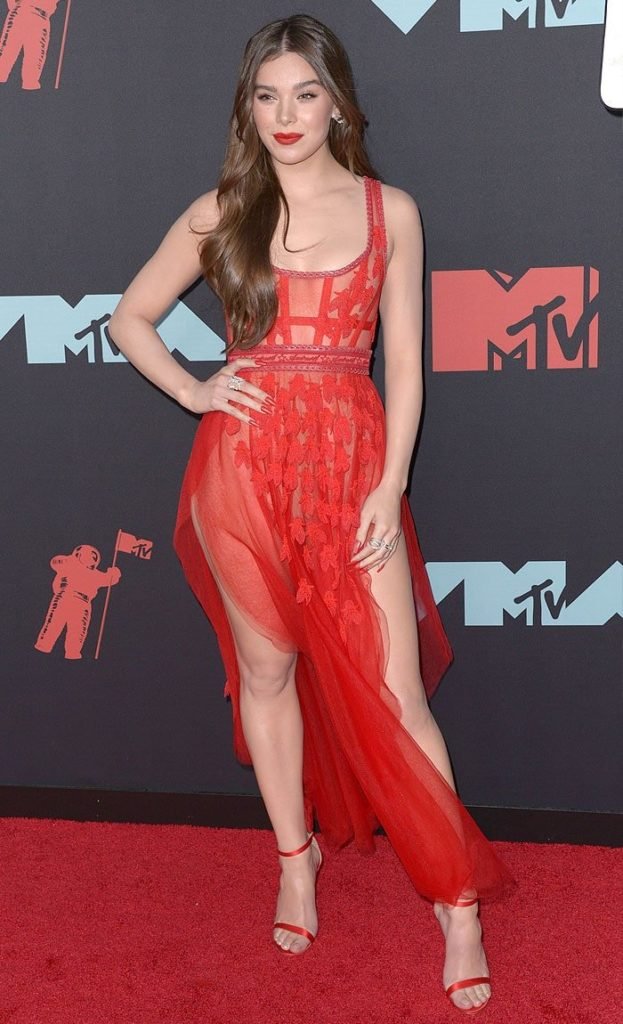 The Oscar-nominated actress gives the credit of her fitness and attractive body shape to her trainer dad. She said that she always had a pretty relationship between fitness and health. She further said that her father had a positive influence on her since she could remember.
Hailee Steinfeld said that for her it was about feeling good first and looking good second. She said that she looked good if she felt healthy from the inside.
Hailee Steinfeld started acting at a tender age (10) and since then she has been living a hectic life running from one shoot to another and promoting brands and her upcoming films. And she gets all the energy from the workouts she practices daily. Her trainer dad helps her tone her body and stay active.
Hailee Steinfeld has well-toned legs, arms, and abs and it is possible only when she sweats out regularly in a gym. While others could have to struggle a lot to get their body in shape, Hailee Steinfeld is lucky to have a trainer father who can help her with all his knowledge and experience as a celebrity trainer.
But Hailee Steinfeld doesn't seem to be too enthusiastic about workouts as she once said that running wasn't her favorite exercise. But she was fine in the gym, said Hailee. It is only her dad who can tell how does she maintain her fitness.
What is Hailee's opinion about her fitness?
Hailee once said she did 3,000 crunches a day. Also, that she could run a marathon faster. She even compared her speed with that of Shalane Flanagan, the Olympic medalist, and New York City Marathon champion. These revelations look crazy but she's serious about her opinion.
To keep things simple and make her revelations realistic, she said that she kept everything she loved in her mind to keep going. In other words, she always has a positive mind that keeps her energy level high all the time. Crunches are good for abs and her abs are fully developed but then even Jennifer Lopez who also has beautiful abs never made claims about doing thousands of crunches.
What does Hailee learn from her father?
Hailee said that she worked out with her father and during workouts, she used to tell her father the goal she wanted to achieve. And her father helped her achieve those goals. One day she asked her father to suggest exercises to develop abs and her father suggested doing 3,000 crunches a day, but it is only an assumption.
Hailee Steinfeld posts pictures of her beautiful legs, abs, toned thigs, improved calves, and well-developed shoulders on her Instagram profile, but she never posted any video of doing crunches. Her hectic lifestyle proves that she's full of energy and her Insta pictures prove that she's a beautiful body, but it is never proved that she does many crunches a day.
Hailee Steinfeld abs & workout routine
She said she tried to workout 15 minutes per day at least and she tried to maintain this routine even when she is traveling for shoots and brand promotions. Also, her trainer dad is there to help her in achieving her fitness goals. Here's her full-body workout routine.
Cardio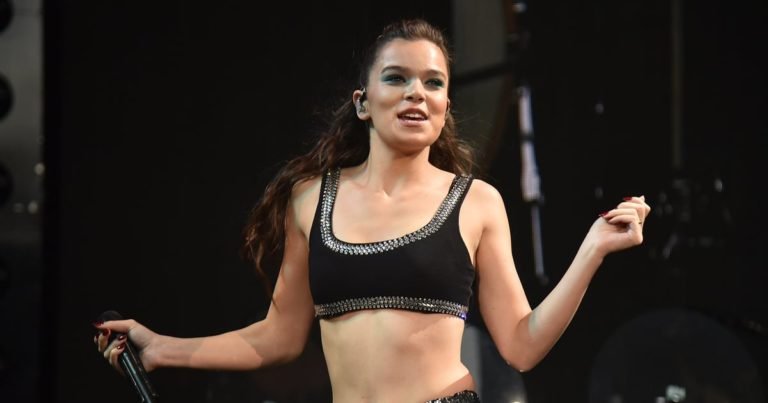 Hailee admitted that she doesn't like running but running on a treadmill is included in her cardio exercises. But she also tries biking, elliptical machine, and water rover, etc. to improve her cardio. She does cardio exercises for 15-20 minutes.
Kickboxing
It is what she loves most and this is evident from her Insta videos where she's seen sparring with a speed bag. Her viewers like her kickboxing videos because she does this exercise with full dedication. And it is needless to say that she learned kickboxing and boxing from her trainer father.
When she's time, she loves doing kickboxing all the time. She likes it. Also, it is a great exercise. She once said that kickboxing helped her burn the calories earned throughout the week. She loves burgers and fries and eats lots of chicken and rice for lunch. And this heavy meal requires an intense workout session to burn calories.
Dancing
Hailee Steinfeld is a singer as well and as expected, she travels a lot for stage shows. And sometimes, she travels 7 days a week. She dances while singing to encourage the audience to follow her steps. For dancing, she gets energy from cardio exercises and kickboxing.
Cardio activities keep her energized for a long time. She can keep singing and dancing even for hours on the demand of her audiences. With kickboxing, she burns the calories to keep her body toned so she can wear different attires to improve her dancing steps.
Dancing is itself an activity that has a positive effect on the body and mind. It is a mild cardio exercise as it makes the heart pump blood faster. Also, it helps in burning calories. And Hailee loves dancing so much that she never misses an opportunity to dance.
Hailee Steinfeld Abs & Full-Body Workout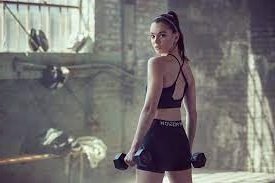 Hailee Steinfeld has a well-thought plan for a full-body workout for the time when she is traveling. And she finds 20-30 minutes from her busy schedule to tone her body. She does burpees, squats, jumping jacks, planks, jump rope, push-ups, and mountain climbers for a full-body workout.
It is a simple workout session and her trainer dad has advised her to do a rep for 30 seconds with 10 seconds rest between each rep. Also, he has advised a 1-minute break between two exercises. Her father is always with her guiding and monitoring her fitness program. He makes sure that she remains committed to her workout routine.