How Adriana Lima Became Victoria's Secret Angel?
It won't be an exaggeration to call Adriana Lima, the most successful of all Victoria Secret's models as she's retained the coveted title of Angel for nearly two decades. Also, she's conferred the title of "the most valuable Victoria's Secret Angel" in 2017. Presently, she's ranked as one of the "New Supers" by models.com. let's also discuss Adriana Lima diet and exercise secrets.
Adriana Lima's success in earnings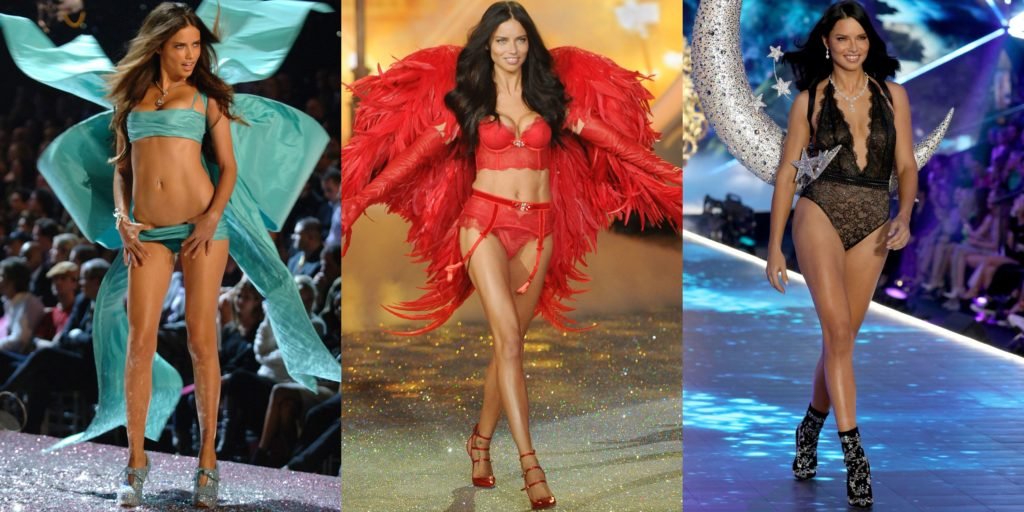 Her earnings kept increasing with her beauty and fitness. In 2012, she was 4th on Forbes ranking with $7.3 million; in 2013, she was 3rd but the ranking improved to 2nd with $8 million earnings in 2014. Since then, she's retained the 2nd position in 2015 and 2016 with $9 million and $10.5 million respectively. She's been the second-highest-paid model since 2014.
Adriana Lima gets paid for branding. She is a brand ambassador for IWC, Puma, Maybelline, and Chopard. Also, she worked for clothing brands including Desigual, Calzedonia, and Sportmax in the past. This leggy Brazilian has been the lingerie giant's longest-running spokeswoman and the most sought-after supermodel in the industry. And the secret to her successful modeling career is hidden in her physique.
In 2012, Adriana Lima surprised everyone when she returned to work to participate in her fifth VS show just two months after giving birth to her second child.
How did Adriana Lima do that & manages diet & exercise routine?
The answer to this question lies in an interview she gave to The Daily Telegraph in 2011. She said that she used to live only on protein shakes for nine days and no liquids for 12 hours before Victoria's Secret Fashion Show. She even faced criticism for this interview and was forced to defend her quick crash diet.
She gave another interview to E! to defend her crazy diet. She said that since she had an athletic body, she was used to those kinds of diets. She further said that she followed those diets only for specific events or shows. Also, that she returned to her normal diet after the event.
And after that interview, Adriana Lima diet & exercise became one of the top five most searched diets in 2012. And the trend continues. Adriana Lima said that she followed a specific diet to achieve something special.
She defended her diet by saying that her athletic body allowed her to live on protein shakes only. But her main focus is always on maintaining the ideal body weight and she mixes dieting and exercising to maintain a beautiful figure.
Let's check out her diet and exercise plan
Breakfast: Oatmeal with egg white and raisins is her favorite bur sometimes she tries Muesli with honey or yogurt. She also takes a latte or cappuccino regularly and uses honey to sweeten the drink. It is a control portion diet with the number of calories decreasing with each passing day.
Mid-morning snack: Her mid-morning snack includes fruits and veggies like carrots and cucumbers. But she prefers eating veggies in raw condition. Also, she takes 1 teaspoon of honey or sometimes a small piece of chocolate with snacks.
Lunch: Her lunch constitutes mostly of proteins. She fills her plate with protein-rich food like fish, chicken, red meat, and grilled veggies. Protein gives her the power to stay active all day. Also, it keeps her full and free from hunger pangs.
Afternoon snacks: Her afternoon snacks include dried cranberries, raw almonds, and cashew. The advantage of afternoon snack is it keeps her full and recharged till dinner time when she gets another bout of a delicious meal.
Dinner: It is the last meal of the day hence Adriana Lima wants to keep it light so she can go to bed with a healthy feel. Her dinner is largely focused on toning and weight loss. She wants to wake up fresh and feel healthy in the morning.
Post-dinner snack: Adriana Lima takes a special beverage make of buckwheat every night before going to bed. Buckwheat is hemp milk and it is sweetened with honey. And it is an advantageous drink as it boosts metabolism and satisfies sweet cravings until morning when Adriana Lima gets her breakfast.
Buckwheat helps burn calories while you take a sound sleep. It will help your body in digesting your meal and in debloating. Buckwheat is her bedtime drink after which she retires to bed for healthy sleep and to wake up refreshed in the morning.
A healthy diet provides her the nutrition she needs to keep working and maintain an ideal weight. Also, the nutrition gives her the power she needs to exercise.
High-Intensity Interval Training (HIIT): Adriana Lima starts a high-intensity workout followed by a period of low-intensity exercise. She jumps rope to improve her cardio capacity and maintain her athletic activity. Also, rope jumping helps in losing weight and toning her athletic body.
Muscle building: While muscle building isn't her objective but it helps her sculpting body movements. She does abdomen workouts and squats to keep her body in the right shape. And she doesn't rely on weights and machines for muscle building. She performs high-intensity exercises manually.
Other exercises: Adriana Lima doesn't want to leave any stone unturned when it comes to maintaining her figure. She does HIIT and muscle building. But those are just one of the many exercises she practices.
The supermodel believes in yoga for mental peace and flexibility. Also, she practices Capoeira that is a fusion of three arts – music, dance, and martial arts. But Adriana Lima doesn't stop here and goes for jogging and spinning as well.
Sports: Adriana Lima loves boxing and she does complex drills to achieve a high level of mental and physical fitness. Also, boxing helps her in maintaining a fine balance while making brisk movements. It isn't that she doesn't love other sports but that she loves boxing more.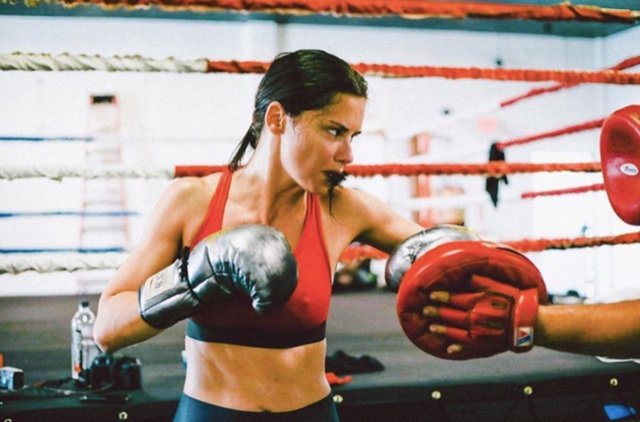 Adriana Lima is blessed with a beautiful body and she has an intelligent mind as well. Her mind guides her on how to keep fit. She takes a healthy diet and enjoys cheat meals as well. But she also keeps burning calories to stay fit.