Weather Themed Style Guide For Fashion Conscious People
Spring is a beautiful season for shopping because the weather becomes warm in the day. And you can keep the heat off your body by choosing the right outfit. Similarly, you should choose the right dress for other seasons.
Here's is a detailed style guide for different occasions, seasons, and reasons
Casual Wear
It is Sunday and you want to spend the day hanging out in a mall or go out for an early morning coffee with a close friend. Here you should choose a casual dress like a hoodie that will be the right dress for Sunday morning outing. The hood will keep you warm without making you feel muggy or heavy. Or you can put on a flattering ruffle dress covered with a matching jacket. You can even accentuate the dress with a side body bag if you want to highlight your presence.
Semi-Formal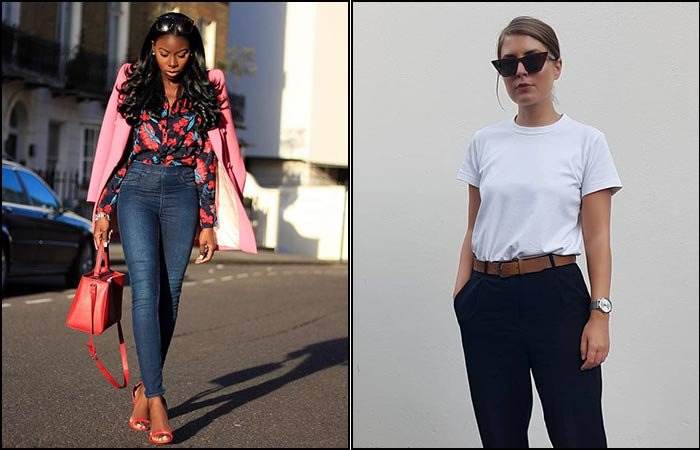 Corporates nowadays choose relaxed clothing like faded skinniness and airy trousers. Also, business organizations don't expect their executives to dress formally like in suits. Like the models in the picture, you can also try skinny jeans paired with a colorful shirt. Or take out your loose trouser and top it with a loose t-shirt that allows fresh air to keep you cool at high temperatures. Similarly, you can choose footwear that is both matching and comfortable. Regarding hairstyle, you can choose to keep your locks open to flow with the air or pin them up in a bun.
Partywear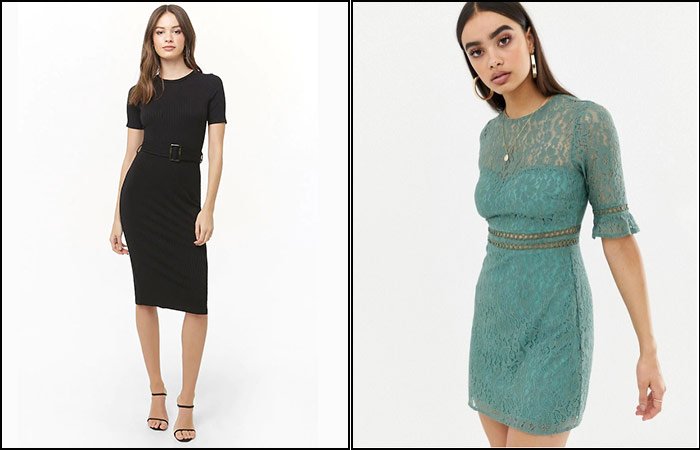 Dressing for a party but worried about the hot weather that can play spoilsport. If yes, then shed your worries as there are amazing ideas for your party dress. Choose a dress that provides maximum coverage and keeps you warm as well. A little black would be a great choice or you can choose a suave lace dress like the model in the image. To complete your look, you can pair your dress with a long trench coat or leather jacket. In footwear, you can try ankle-strap heels.
Boat Attire
A special occasion like a cruise party demands special attention to your dress. Here is a suggestion for you. A jumpsuit like the model in the picture is wearing would suit the occasion. Or you can try a wraparound skirt and blazer. You can see the second model in the picture is wearing this dress. Both outfits are just perfect for a boat ride. Also, you can accessorize these dresses with any footwear. Women with medium length and lean bodies would find these dresses more suitable. And you simply don't have to worry about your hairstyle while wearing a jumpsuit or wraparound skirt.
School Outfits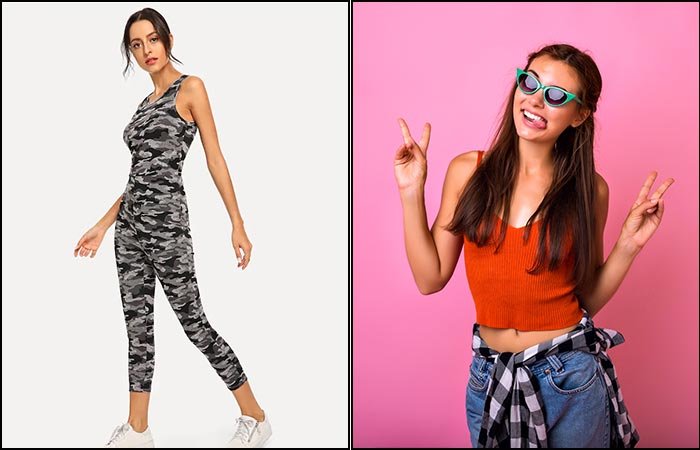 Sometimes ditching a regular jumpsuit is a better option especially for the love of camouflage. Try a skinny camo jumpsuit that you can pair with denim or a milky-white shirt that you can take off as the weather gets warm. The camouflage jumpsuit design is a casual outfit but it looks uber chic. Or you can try a design that never goes out of style. Try skinny jeans paired with a plaid shirt that you can also take off on feeling warmer. And there is little to worry about choosing footwear for both these dresses.
Running Outfits
If you are an active person, you need an outfit that provides both comfort and convenience. Here you have two options. First, is shorts mesh leggings coupled with a filmsy hoodie that you can remove as the weather gets hotter. A zipper jacket will also blend well with mesh leggings. The second option is to choose a mesh top that is both stylish and breathable. If shorts are your first choice, then you should choose a mesh top and braid your locks in two to complete the look. For footwear, you can choose sports shoes.
Beach Outfits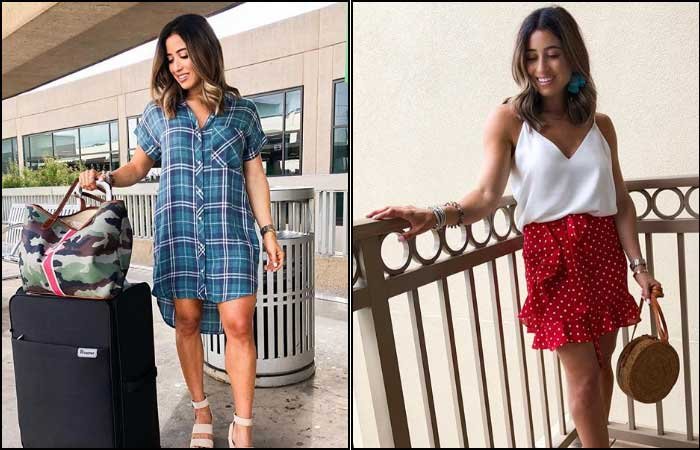 If you are heading for a day at a beach, you can carry a shirt as a cover-up after your morning swim and enjoy your day in the shirt. You can walk around in the down in the covered shirt and even go shopping like the model in the picture. For dinner or night parties, you can dress in a beautiful ruffle skirt or tops that will enhance your mood while making it convenient for you to enjoy the weather. The good thing about a beach is that morning and evening never become unbearable.
Rainy Day Outfits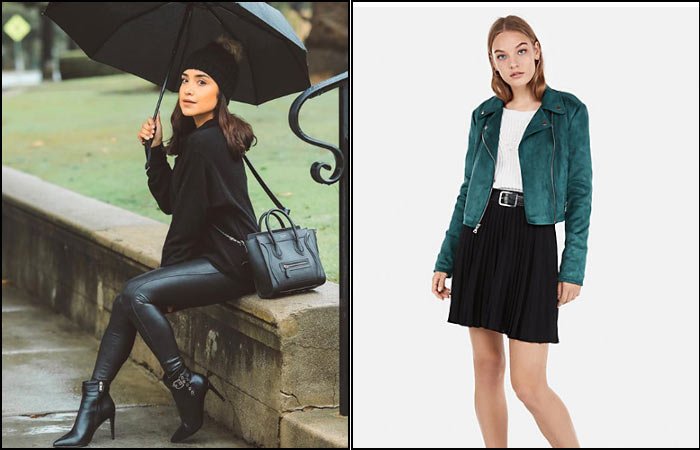 You need a different outfit for rainy days. Jeans or jeggings won't work when it is raining, but leather pants could. You need an outfit that dries faster and it is better to dress in layers. Leather pants with a high-low sweater and ankle-length boots would be fine in the rainy season when the raindrops could wet your outfit. For a change, you can try a ruffle or georgette skirt paired with a leather jacket. Also, never forget to carry a stylish umbrella that will compete with your dress and save you from raindrops as well.
Chicago-Kind-Of-Weather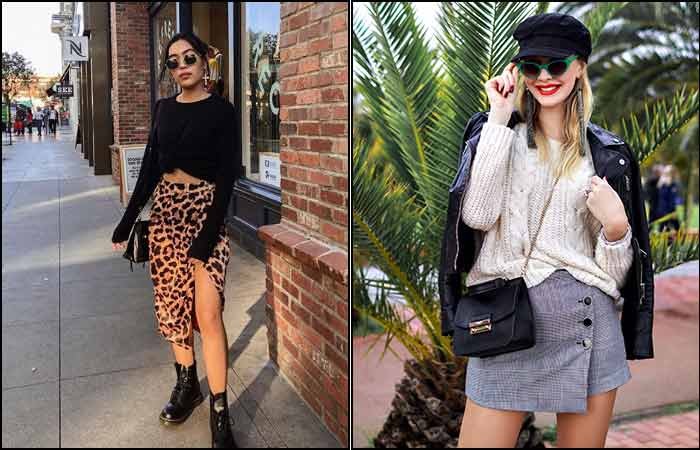 You need a fancy that is comfortable as well when you are in the mood to shop around. There are many things to see and do around the Navy Pier and the Millennium Mile. But the high temperature in the day could play spoilsport. But you can keep the heat off with a short pencil skirt and a casual blazer. It is a fancy dress and if you want to add more highlight to your dress then go for an animal print skirt, crop sweater, and boots. Also, you can throw cat eyeglasses around your eyes to keep your eyes cool.
New York Times
It is New York where you will experience all types of weather conditions from the crazy blizzards to unbearable summer. But you also have some pleasing days on which you can explore the city. Try a pair of shorts with a full-sleeved t-shirt and walking shoes to go on a walking tour of the city. Or you can try a suave one-piece linen dress and flats.
For more information please visit our site at https://www.searchom.com/