Doing Makeup Like Angelina Jolie
If you want to get a perfect Angelina Jolie to look then you should start with your eyes. Angelina Jolie has arched eyebrows, bigger lash lines, and fuller lashes. Her eye makeup is a secret that you can learn in this blog.
Let's unfold the makeup & eyebrows secrete of Angelina Jolie
Start with the base….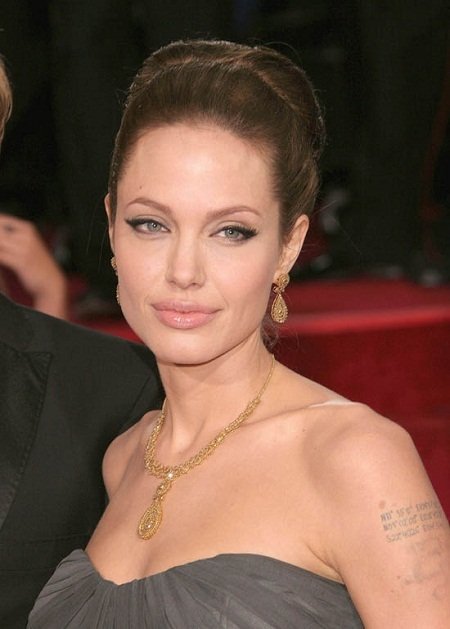 Keep it simple like Angelina Jolie eyebrows. She likes a normal base with moisturizer, concealer & foundation. And you don't need to become creative with the base.
Follow the arched eyebrows of Angelina Jolie….
First, clean up the eyebrows to make way for an arch, and second, brush the cleaned eyebrows to get the desired shape. For perfection, you can use hairspray on the brush before applying it to the eyebrows. Finally, outline using a brow pencil to enhance the color.
A quick look at Angelina Jolie eyebrows is sufficient to tell that it isn't regular makeup but a revolutionary one, but it is difficult to guess the secret of her naughty eyes.
According to experts, Angelina Jolie uses a makeup technique called tight lining of eyes or invisible liner. It makes eyes look fuller and lashes darker.
Let's reveal the secret of Angelina Jolie eyebrows….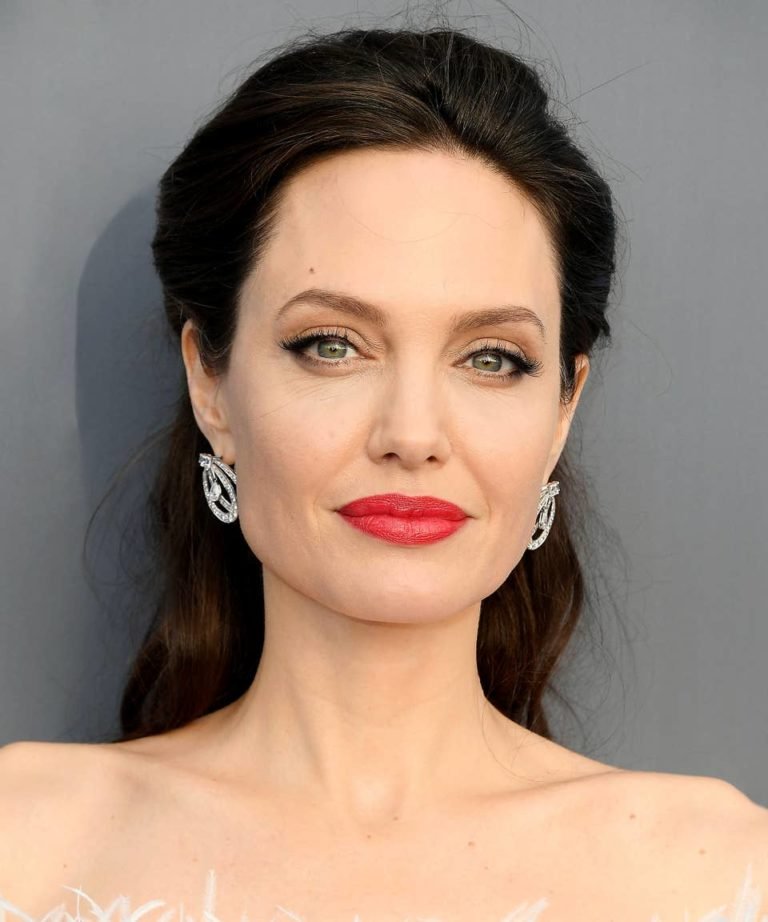 Things you need include a black gel liner or a cake liner according to your convenience. Also, get a push brush, pencil liner, and liquid liner.
You will start with the upper lid
Pull up your upper lid to expose the gap between the lid and the eye and fill in that gap with the liner pencil. Here you need to be very careful to prevent pricking your eyes with the pencil. As a beginner, you are likely to prick your eyes in the rush of filling the gap. Be careful with the pencil liner.
Put the pencil down when it is done and take the liquid liner to fill the gap by pulling your upper lid. Again, you need to take care with the gel liner as it could also harm your eyes.
Now it's time to give the final touch to the upper lid. Take your flat brush, dip it into the gel liner or cake liner, hold your upper lid, and run the brush into the lash line.
You're done. Your eyes look fuller and your lashes larger. The mirror before you will tell the truth. Also, it will highlight smudges over and around the eyes. Remove those smudges with a moistened brush before the color dries.
Take a Q-tip brush and moisten its tip to remove the smudges. It should work well. And if doesn't then you should use a makeup remover. But you should use only a quality makeup remover. Also, remove each smudge mark completely and carefully.
Give your eyes a matching shadow….
Your eyes need a thin line drawn with a liquid eyeliner starting from the inner end to the outer and passing the edge of the eye in a tapered extension. You can do it quickly with the help of black liquid eyeliner but you shouldn't make it very broad. Try keeping it as thin as possible.
Nor focus on the bottom rim of the lashes. It needs a finishing touch that you can give with a pencil eyeliner. Finish the bottom of lashes with the eyeliner, and also add mascara to enhance the volume of lashes. Here you can curl your lashes using a curler. Curled lashes look voluminous & lengthy.
Note: You can add false lashes to add thickness to your original eyelashes even after finishing your eyes with eyeliner and mascara. And you can make an opinion on whether to use false lashes after checking the thickness of your original lashes.
The lash extension will be a great option if you feel uncomfortable with false lashes that need to be glued to the lids. Here a lash extension can work well but you will need to visit a beauty clinic for this special treatment.
Fuller lips that look luscious….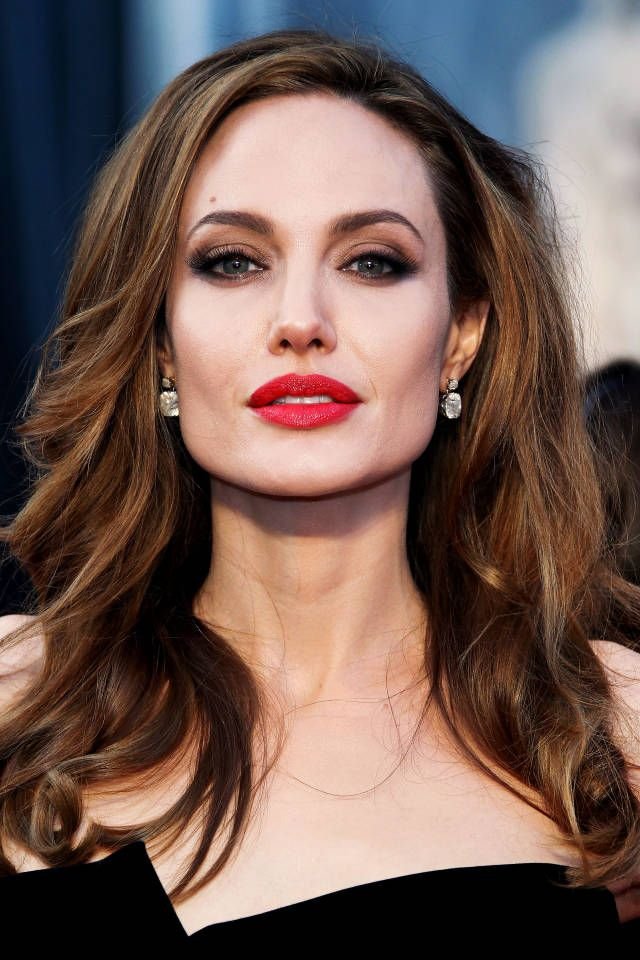 Once the eye makeup is done, you should shift the focus to lips where you need to start with preparing your lips for the beauty treatment.
The first thing is to clean the lips for which you need to exfoliate them. Rub your lips in a circular motion with a cotton cloth moistened in lukewarm water. For better results, you can use a lip exfoliating scrub preferably made of ground sugar and honey.
Treat the clean lips with a quality lip plumper after which you can line the lips with a nude liner. Remember that Angelina Jolie uses nude colors. Also, keep the line slightly outside the natural line of lips.
Take a nude lipstick and fill the line. Here you can also take a flesh-toned lipstick that blends well with the liner. It is an important step as it will make your lips appear fuller.
Apply a compact powder to the lipstick. It will make the lip color last longer. Here you can use a brush to apply the powder.
Finally, give a finishing touch to the fuller lips with a lip gloss and you should go for a transparent one. The advantage of transparent lip-gloss is that it will boost the plum appearance of the lips.
Contour blushing for cheeks….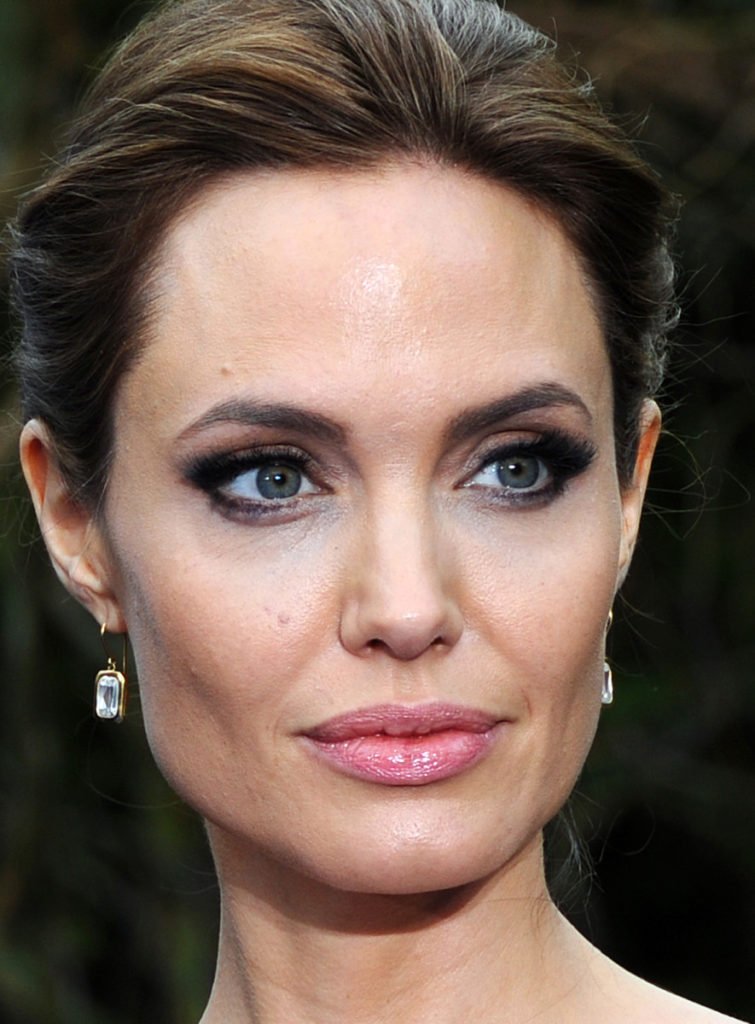 Use blush powder darker to your skin tone for contour blushing. Apply the powder using a blush brush and let your cheeks soak the powder. Spread the powder all over the cheeks to get a sculpted look. Angelina Jolie's looks well sculpted because of contour blushing.
Not it's time to appreciate your look. Have a good look at the image of your face in the mirror to check whether there any smudges left or mismatch of color. But there will be none if you take the help of a professional.
Angelina Jolie's makeup isn't a secret now but it demands perfection. While you can give it a try at home but it is better to get the treatment with seasoned hands that can enhance your eyebrows, fill lash lines, fill the lips, and improve cheeks.
Disclaimer: The above information is only for educational purpose and readers are advised to follow the beauty tips only under the supervision and guidance of an expert.