10 Hairstyles For Your Short Length Hair
Short hair shouldn't discourage you from styling your hair as there are many hairstyles that you can choose for your short haircut. Also, you can choose the best style for your colored hair. And if you are considering coloring your hair, you have a wide range of hairstyles to choose from.
Whether you are dressing for an official party or it is a family gathering, you can style your hair to match well with your dress. Also, you can find a haircut that allows you to go out with nude makeup.
Explore the 10 best short hairstyles you can try with your dresses. Also, you can experiment with the hairstyles to make them look modern.
Queen Braid Crown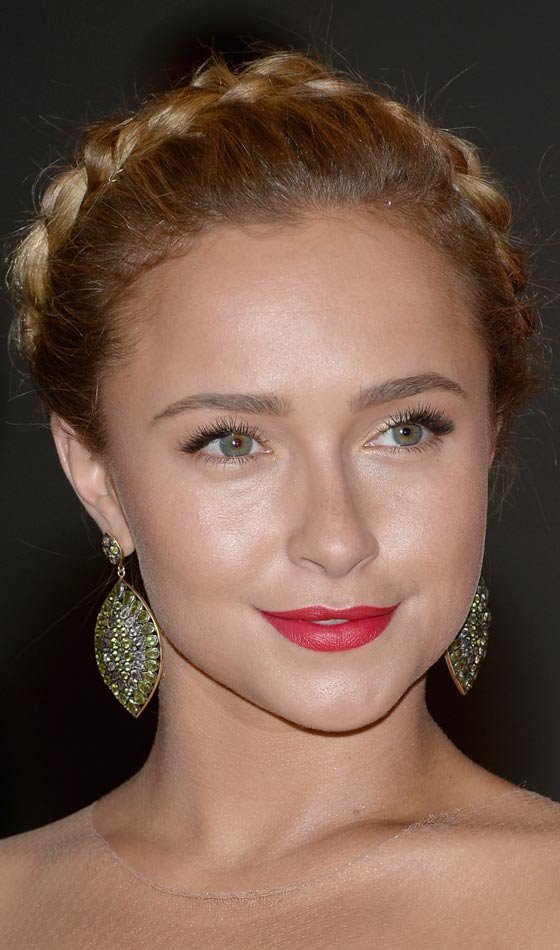 Turn your short hair into a Queen Braid Crown by simply braiding your locks from the outer corner of your left eyebrow to around your face and behind the ear. Now you are left with a few loose ends that you can fix with hairpins and you can use glitter effect hairpins to fix the braid. Finally, sprinkle a few drops of a quality volumizing spray to your hair so the braid is flattened down just like the braid of the model in the picture.
Fairytale Braid
If your locks are short and curly, you should try the Fairytale Braid. See how the model has brought her tousled hair to make a hairstyle and pinned the locks down with a pretty headband. And this hairstyle will go well with natural makeup. Just like the model, you can also wear light shades to highlight your facial features. And you won't need anything like volumizing spray or gel to hold the hair together. Simply buy a beautiful headband for the job.
Sleek Low Knotted Bun
It is a classic hairstyle that looks good even without any additional accessories. But you can glam it up with accessories like a flower behind your ear, or a few glitter clips here and there. But if you like it simple, you can try making the bun like the model in the picture. See how the blonde hair is tucked and rolled at the back of the head. If you are looking for a bun hairstyle for your short hair then this Sleek Low Knotted Bun would be just perfect.
Pompadour
Short hair could be turned into a hair-raising Pompadour hairstyle if you want to look confident. The hairstyle features a voluminous pouf made at the top and slicked-back sides. To complete the hairstyle, you will also need to wear matching earrings. The model is wearing tear-drop earrings. Also, she has done lightly natural makeup. The advantage of this haircut is that it highlights all facial features. Also, it provides volume and length to the hairstyle.
Intricate Updo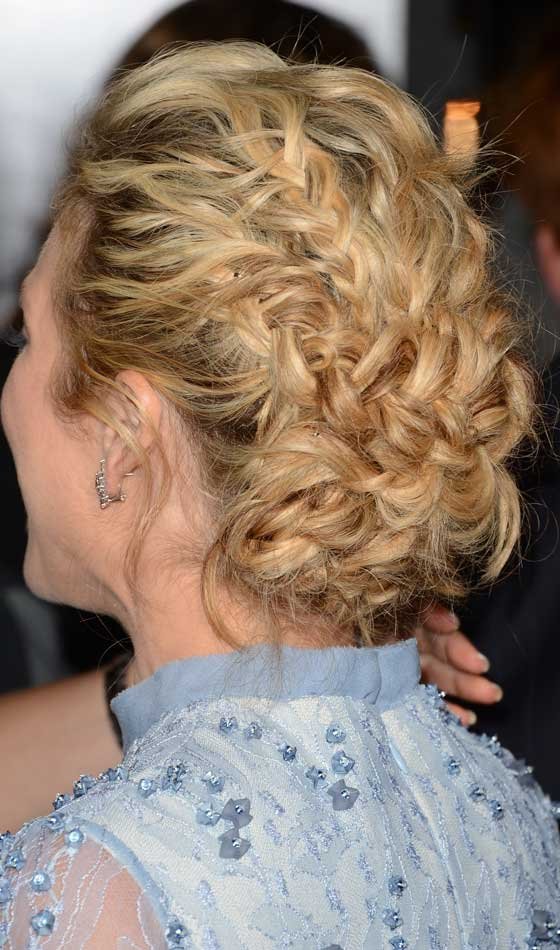 Oh! This is awesome. It is an intricate of small braids turned into a hairstyle that looks unique from every angle. Multiple braids are carefully woven into tone hairstyle and it definitely requires perfection. While celebrities have their hairstylists, you will need the help of a professional to get this haircut. You can take inspiration from this model and get this hairstyle made by a professional. And believe us, your short hair won't discourage you from making this haircut.
Braided Bun With A Headband
If you think that short hairstyles are only for celebrities or it is only celebrities that can make short haircuts then you are wrong. If you have short hair, you can also go out with a Braided Bun with a headband. Here the model is wearing a fairytale headband, but you can buy any chic hair accessory. It could be a floral headband or you can try clips. Make a tightly braided chignon with a deep mid-section and accessorize the hairstyle with a fashionable headband.
Braided Bun With Bangs
If you have short and dark hair, you can try this braided bun. A thin braided bun with long bangs falling all over your forehead and temples will flatter your look. And it will look great on dark hair. If your skin tone is fair, then you must try this bun. And there is little to worry about your face shape as it goes well with every face shape. Also, you can pair it with natural-looking nude makeup.
Wildflower
It is a romantic braided bun that can frame your face with its wispy side bangs. It is a classic hairstyle but the model has given it a modern touch with graduated hair color and a jeweled headband that looks perfectly matching with the hair color and the hairstyle. If you are considering changing your hair color then you can try this hairstyle. It will look beautiful on round, and rectangular face shapes. Also, you can wear a floral headband instead of a regular accessory.
Rolled Updo
It is a decent hairstyle as is evident from the picture. The model has taken a good section of her short hair to get this haircut. And the locks are rolled and twisted to one side. The model has collected her roll to the right side, but you can try it to the left. You will need a few bobby pins to secure the hairstyle. Or you can look for more ways to make this hairstyle more glamorous. Since it is easy to make, you shouldn't require any helping hand.
Messy Updo
It is a side-swept hairstyle for which you will need a volume-boosting product and a curling iron. First, damp your hair a little, and then spray the mousse to give your hair a volume. Use the iron to make curls and secure the hair in a chignon at the side. Also, you need a strong hairspray that can help keep the hairstyle intact. Your short hair would look chic and stylish in this haircut.
Making a hairstyle shouldn't be a hassle if you know which haircut to wear and how to make the hairstyle. Also, you could require some training or experience in making some haircuts.
For more information please visit our site at https://www.searchom.com