Bob Haircuts Jennifer Aniston Likes Most
Jennifer Aniston or Rachel Green of Friends television serial wears many hairstyles. But she loves bob haircuts most. Bob is the haircut Jennifer Aniston has tried and experimented with most. Here she's seen in eight different bob-cut hairstyles. Each hairstyle is different in design and look.
Check Jennifer Aniston bob haircut styles and try one for today's evening or an upcoming event
Choppy Bob
It is a bad haircut turned into a hairstyle. Jennifer Aniston was seen wearing a choppy bob haircut at the end of 2013 and she received much appreciation for this haircut. But her fans weren't aware of her chopping her locks.
This hairstyle is the product of hair therapy gone wrong. Jennifer chopped her locks up to her chin to cover the loss from the hair therapy. And her hairstylist chopped those locks completely to give them a definite shape. The new choppy bob haircut has short hair at the back but the size of hair increases towards the chin.
Jennifer Aniston Bob Haircut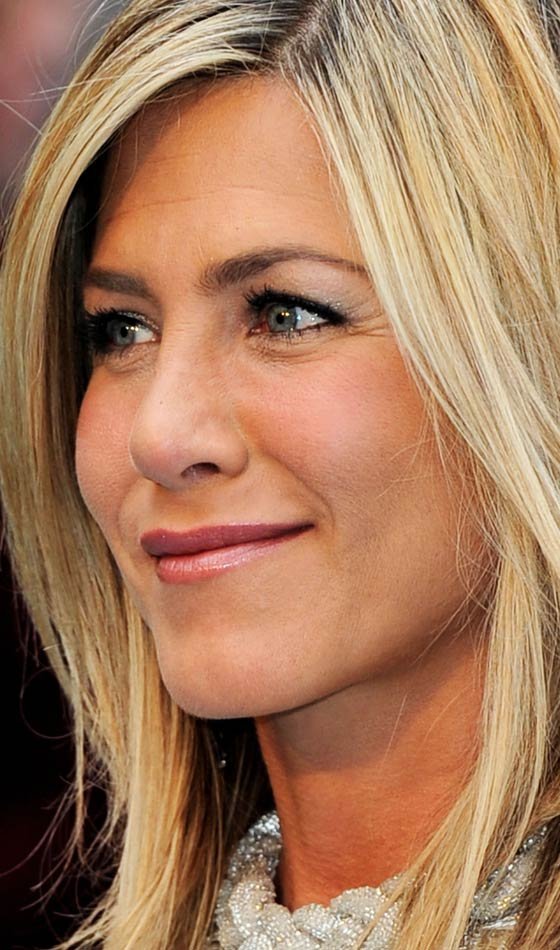 Bob cut is a perfect hairstyle because it blends well with every face shape; suits every body type; matches with all dresses, and is suitable for all seasons, reasons, and occasions. Also, it is easier to manage and maintain. It doesn't require frequent touching if you want to wear it all day.
Jennifer looks more attractive in bob cut hairstyle. This haircut brings out the youthful charm hidden in her personality. And it won't be an exaggeration to say that she looks much younger than her real age in bob cut hairstyle. While bob cut is already popular but here Jennifer looks like a trendsetter for this hairstyle.
Side-Swept Bob
The haircut you see in this picture is a side-swept bob but it looks different on Jennifer. The photo was clicked on the set of Squirrels to the Nuts. While Jennifer was dressed for the shoot, she looks prepared to get clicked by photojournalists for media coverage.
One would describe Jennifer as absolutely innocent, cute, and dazzling in this side-swept bob. At the same time, she looks sporty and adventurous. She is a multifaceted personality and it is evident from her acting career. This picture in a new haircut isn't a masterpiece but it is certainly one of her best pictures.
The Short Bob
Jennifer loves experimenting with her hairstyles because she knows that changing haircuts is the right way of showcasing the different colors of your personality. She doesn't hide her age but her youthful appearance keeps her fans guessing about her real age.
She is trying a short bob haircut in this picture and as expected, she looks younger and full of youth in this hairstyle. While for common women, a short bob is just another haircut, but for Jennifer, it is a way to highlight her face shape and features.
Shoulder-Grazing Shag
Oh! She is beautiful is how you will react to this photo. Jennifer Aniston is posing for the camera in a shooting location and this is certainly one of her new and stunning avatars. The glow on her face and the cute smile says many things about her confidence. The hairstyle she's wearing in this picture is shoulder-grazing shag.
Shoulder-grazing shag isn't a new haircut but the way Jennifer wears it, it looks new. And it will become a trend as soon as this photo goes viral. Her shiny tresses look complimenting the glow on her face. Women with long straight hair can try this hairstyle.
Layered Mid-Length Bob
Do you remember the famous television series "Friends"? If yes, then you won't take much time in recognizing this hairdo. Jennifer used it for the character of Rachel Green in Friends. And she instantly became famous and the hairdo became a rage during those days.
Just have a look at the picture to get the real feel of the hairdo and understand what a hairstyle can do to your face. Here the layered mid-length bob is framing the beautiful face of Jennifer. It seems as her face is peeping from behind the golden tresses. Here Jennifer proves that she's right in changing hairstyles. Also, she inspires her fans to try new hairstyles.
Chin Length Bob
It is an old picture clicked sometime in the year 2001, but Jennifer looks young, fresh, and full of energy. She's wearing a high-neck gown and a beautiful pendant to fill the void. But it is her hairstyle that is gathering eyeballs. It is a chin-length bob and it is only Jennifer that dares to experiment with different hairstyles.
Here it can be said that Jennifer Aniston looks more desirable in this picture. Her tresses are covering her head from top to chin and it seems that her locks are highlighting her face. Jennifer Aniston has chopped her long hair up to the chin-length to get a fresh bob haircut look. She was spotted at an event as is evident from the background image where guests can be seen greeting each other.
Jennifer Aniston Wavy Bob Haircut
It is a classic hairstyle as is evident from the hairdo. Curl in the length reminds me of the hairdo actresses used to wear many years back. Here Jennifer has reduced the length of her hair and made them curly to make way bob. The locks seem to be coming in the form of waves down to her chin.
It isn't a new hairstyle but made new by making waves in the hair. You can see the curvy frame the locks are making over her face. The tresses direct the eyeballs to her facial features and the glow. Also, her smile looks broader in this haircut. And it can be said that she looks stunning in this hairstyle.
Jennifer Aniston has been featured in many beauty magazines. Also, she has been included in prominent lists of the Most Beautiful Women of People and FHM's 100 Sexiest Women list multiple times. She's an actor, producer, and businesswoman. Also, she's a trendsetter, especially of haircuts. And she rocks in every hairstyle.