Prom Makeup Ideas For 2022 Prom Nights
Prom is more than a gathering. But here we'll keep our discussion limited to the dressing part of the event. If you are preparing for prom, you will certainly invest some time and money in selecting the best dress. Also, you will do some makeup to enhance your skin tone and glow, so here are best prom makeup ideas..
Makeup is also a way to hide ugly spots like acne marks and dark eye circles. But it is better to cure those skin issues before your prom. Just like the dressing part, you should also be conscious about your makeup. A beautician can give many ideas and even suggest the best makeup for your skin type and tone.
If you are a DIY kind of person and want to choose and do your makeup at home.
You can choose one of the following prom makeup ideas.
Natural Prom Makeup
Natural prom makeup ideas stands for bringing out natural beauty. It doesn't mean any cosmetics, but highlighting your facial features with light makeup.
How To:
• Begin with a tinted moisturizer followed by a light foundation
• Choose a soothing color that matches your skin tone
• Highlight your eyes and lips with this color
• Do highlighting and contouring only with feather-light touches
• Gel the brows to add drama to your look
• Coat the lashes with mascara
It is an easy-breezy makeup with dewy cheeks, fuller lips, and mascara-loaded eyes. You will look like a princess from a fairytale.
Simple Prom Makeup
Simple is a flawless and elegant look with minimal makeup. Follow your regular makeup routine but take it a notch up to get the prom look that makes you stand out.
How To:
• Start with preparing your skin with your favorite moisturizer
• Apply a foundation matching your skin-tone
• Darken your brows a few shades more and feather the brows up
• Glamorize your overall appearance with a neutral-toned eyeshadow
• Try peach, nude, or taupe eyeshadows
• Draw a precise thin line with eyeliner
• Top the lashes with a load of mascara
• Finish the look with soft matte lipstick
You can see nothing extra is needed or used for the simple makeup but it is enhanced with a few extra efforts. The focus on simple makeup is enhancing the feel.
Makeup For Dark Skin
Does your dark skin tone discourage you from getting the best prom makeup? If yes then you should get ready to enhance your look from a nude to calm prom to a bold and bright skinned.
How To:
• Start with adding warm tones to your eyes and lips
• Line your eyes with a flat eyeliner brush
• Add a pinch of kohl to the waterline
• Enhance your lashes with black mascara
• Highlight your nose bridge, cheekbones, and forehead
• Pop up your lips with a dark red shade
Play with glittery and shimmery eyeshadows and be a dark-skinned beauty wearing bold and peppy colors. Use gold to illuminate your face. Mix it with bronze and brown shades to stand out. Also, you can try falsies winged with eyeliner and mascara for added drama.
Smokey Eye Prom Make-up
Whether you are dressing for a festive party or a night out with friends, Smokey eye makeup is just perfect for every occasion. The biggest advantage of this makeup is that it allows experimenting with vibrant shades in addition to traditional black and blue colors.
How To:
• Start working with the shape of your eyes
• Begin with applying eyeshadow on your lash line
• Apply the eyeshadow to the outer like as well
• Now blend the color towards the interior area
• Keep the eyeshadow lighter
• Now you have Smokey eyes
It is a timeless look that you can get by working with contemporary colors like gold and metallic or lilac shades. Doing the makeup at home could feel tricky in the beginning but it is your easiest bet to make Smokey makeup.
Gold And Rose Gold Prom Makeup
Black, blues, and pinks are the colors of yesteryears as today people try gold and rose gold. They want to look chic and they are ready to experiment with vibrant colors. They need highlighters, eyeshadows, bronzers, and blush to create wholesome looks for proms.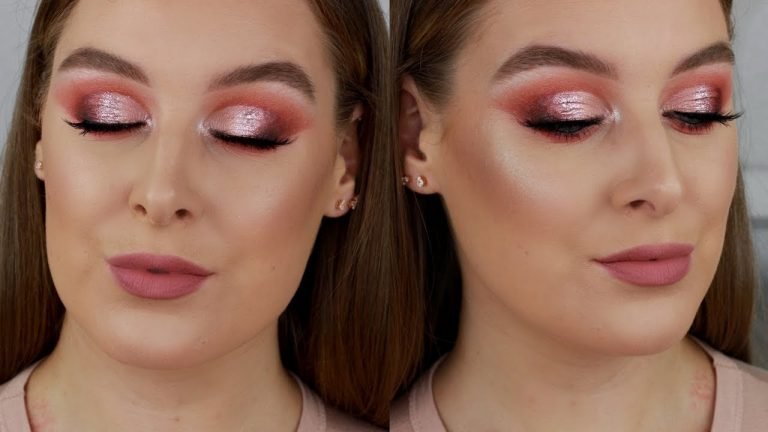 How To:
• Start with making a gold base on your eyelids
• Follow it with a rose color at the creases
• Take the lighter color of this shade for your cheeks
• Blush your cheeks with the color
• Pop up your lips with somber colors
Choose a shade that doesn't overpower your eyes and cheeks. You can try a matte hue of rose or mauve. And don't forget to apply eyeliner, kohl, and mascara to your eyes. The final look will make you stand out at the prom.
While makeup plays a crucial role in enhancing your prom look, you should be cautious about the silly mistakes you can make while enhancing your look and feel.
Prom Makeup Ideas & Tips:
• Decide what you are wearing on prom night as your makeup should match your dress.
• Explore as many styles as possible so you can choose the best makeup for your prom night.
• It is advisable to conduct a makeup test a night before the prom night. The test results will give you confidence in your makeup skills.
• Also, conduct a photo check to see how you look in pictures. If you find a difference in the skin tone of your body and skin, you can make it uniform by using a bronzer.
• Moisturize your skin well and leave the moisturized skin for 15 seconds so the skin cells soak the moisturizer.
• Start early so you have enough time for last-minute touching. And avoid making the last-minute touches in a hurry.
• Keep your makeup supplies full and brushes ready to work on your skin and improve the look and feel of your skin.
• Maintain a healthy skincare routine to keep you healthy and ready to get the prom look.
Final Note
Reading through the prom makeup and tips will make you excited to take your makeup brushes and start enhancing your look. But you should follow a routine. First, you should choose a dress and then select a look that enhances the final look and feel.
Disclaimer: The information provided in the blog is for educational purposes only and the readers are advised to consider their skin type and allergies while choosing makeup.
For more information please visit our site at https://www.searchom.com/