6 Resistance Bands Recommended For Beginners
The first thing that will come to your mind when you think of exercising is a resistance band. Once used for providing physical therapies for musculoskeletal problems, these bands have become exercising accessories for strength training, muscle toning, and body sculpting.
Resistance bands help in increasing muscular strength and for this reason, they are considered a weight alternative. And you will be surprised to know that everyone from beginners to Olympic athletes uses and recommends these bands.
Here're 6 top resistance bands that you can consider for exercising
Arena Strength Fabric Booty Bands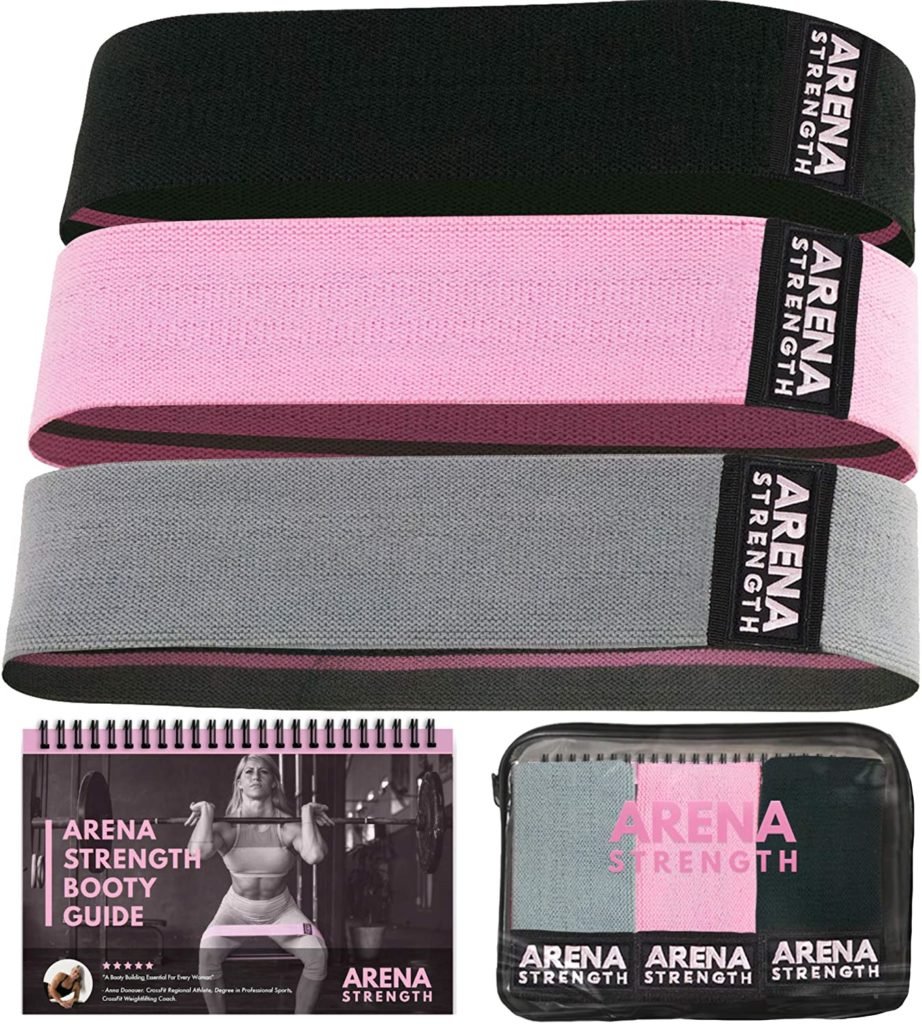 It is a set of three bands for body strengthening and warming up muscles. While the bands are of the same size, they vary in strength – light, medium, and hard. Also, they come with an elegant carry case and a detailed warmup program developed by experts.
You will like its anti-slip design. Also, its anti-grip feature won't allow the band from rolling during workout sessions. You can have a hassle-free workout experience with these bands. The company also claims that the bands won't slide or break. The bands have been tested thousand times by users and all are happy with these bands.
These bands can increase glute activation, tone muscles, and improve posture. Also, it can be used on bare skin. But it isn't suitable for smaller body frames.
GymB Resistance Booty Fitness Bands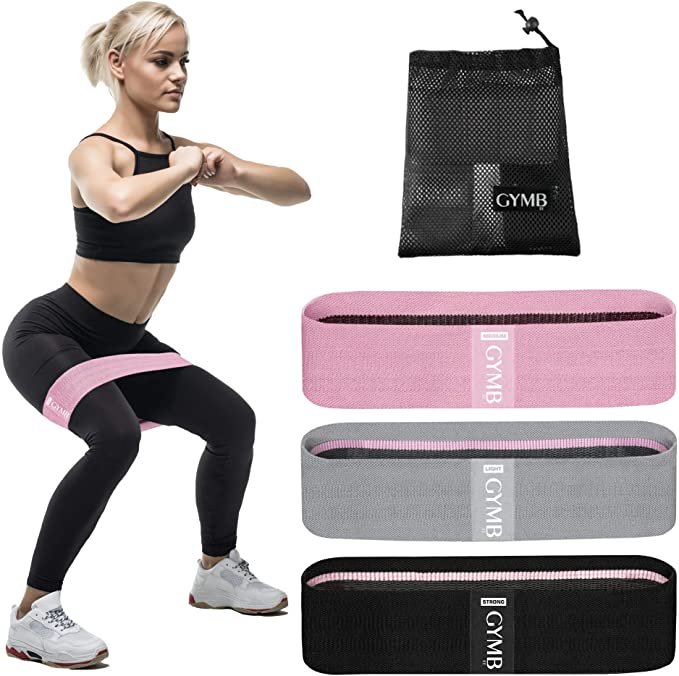 Women looking for bands for strength building and muscle toning will these bands more than others. Wider than any other band, these bands measure 14 inches in width. Also, they possess the properties of elastic and fabric that provide the required elasticity and make them comfortable as well.
Whether you are a beginner or a pro, these bands are just perfect for your needs especially for hip thrusts, squats, deadlifts, hamstrings, and toning thighs. The soft and stretch fabric is safe for all skin types and the premium fabric makes the bands more durable.
Together with these bands, you get an exercise booklet and access to tens of workout videos that can help in strength building and muscle toning. But these bands aren't suitable for plus-size individuals.
GymB Resistance Pull Up Bands Set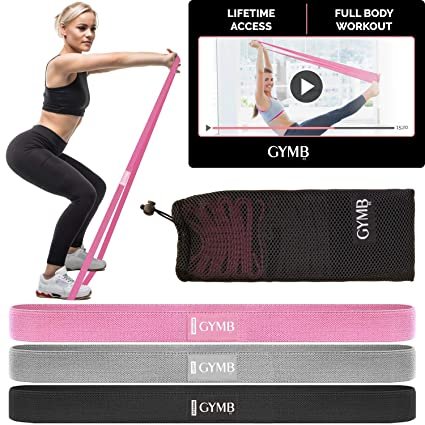 If you are looking for bands that can help in full-body sculpting then these GymB Resistance bands are just perfect for your needs. This set of bands is the best bet as it is suitable for both beginners and professionals.
It is a set of 3 long resistance bands with an excellent stretching power that makes them suitable for toning the entire body including arms, legs, core, hips, abs, and booty. These bands can stretch up to 40 inches that make them just perfect for strength training and body sculpting.
Available in three resistance levels, these bands are ideal for multiple types of strength-building and toning exercises. They are slip-resistance, latex-free, non-snapping, and non-breaking bands. They are super durable and they provide lifetime access to workout videos for strength training.
Peach Bands Hip Bands Set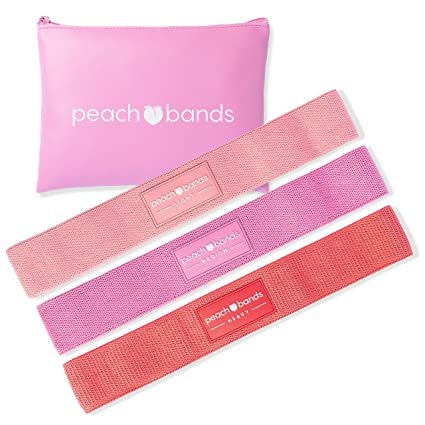 If you are looking for strength training bands that have high resistance then look no further than these Peach Bands. It is only with these bands that you will be able to perform high-intensity workouts without feeling any pressure on your body or mind.
This hap band set can sculpt your body perfectly. It is made from thick and durable fabric that provides added strength. You can go on stretching the bands to the maximum level without any worries. The non-slip design will support your strength training and the tear-free material will allow you to focus on your warmup exercises.
You will get three resistance bands for light, medium, and heavy strength training packed in a zipper pouch for the convenience of carrying the bands and their safety. But these bands aren't suitable for plus-size women.
RE3Fit Fabric Resistance Bands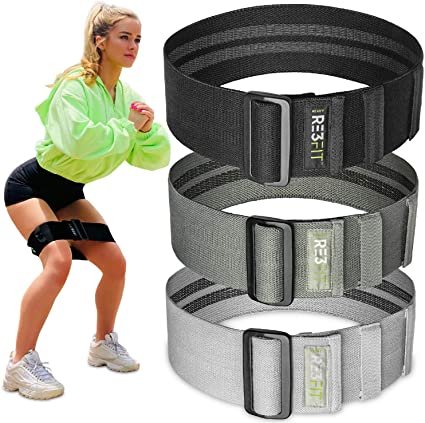 If you are looking for stretch bands for toning and stretching then consider buying the wide and thick RE3Fit bands. It is a set of three bands that you can customize to suit your needs. They are both durable and comfortable for strength training, muscle toning, and body sculpting exercises.
These bands range 12-18 inches in size but they have plenty of user-friendly features like an ergonomic adjustable buckle that allows fitting adjustments according to the comfort level of the user. Also, they provide a better grip to prevent the bands from slipping or sliding. Whether you use them on your gym clothes or bare skin, there is nothing to worry about.
Trusted and recommended by Olympic athletes, these bands can accommodate your strength training need in a hassle-free manner. Also, you will get a travel bag containing an exercise booklet and workout videos of professionals to learn from. Like many others, you can also pose your trust in these bands.
Ruby Stretch Fabric Resistance Bands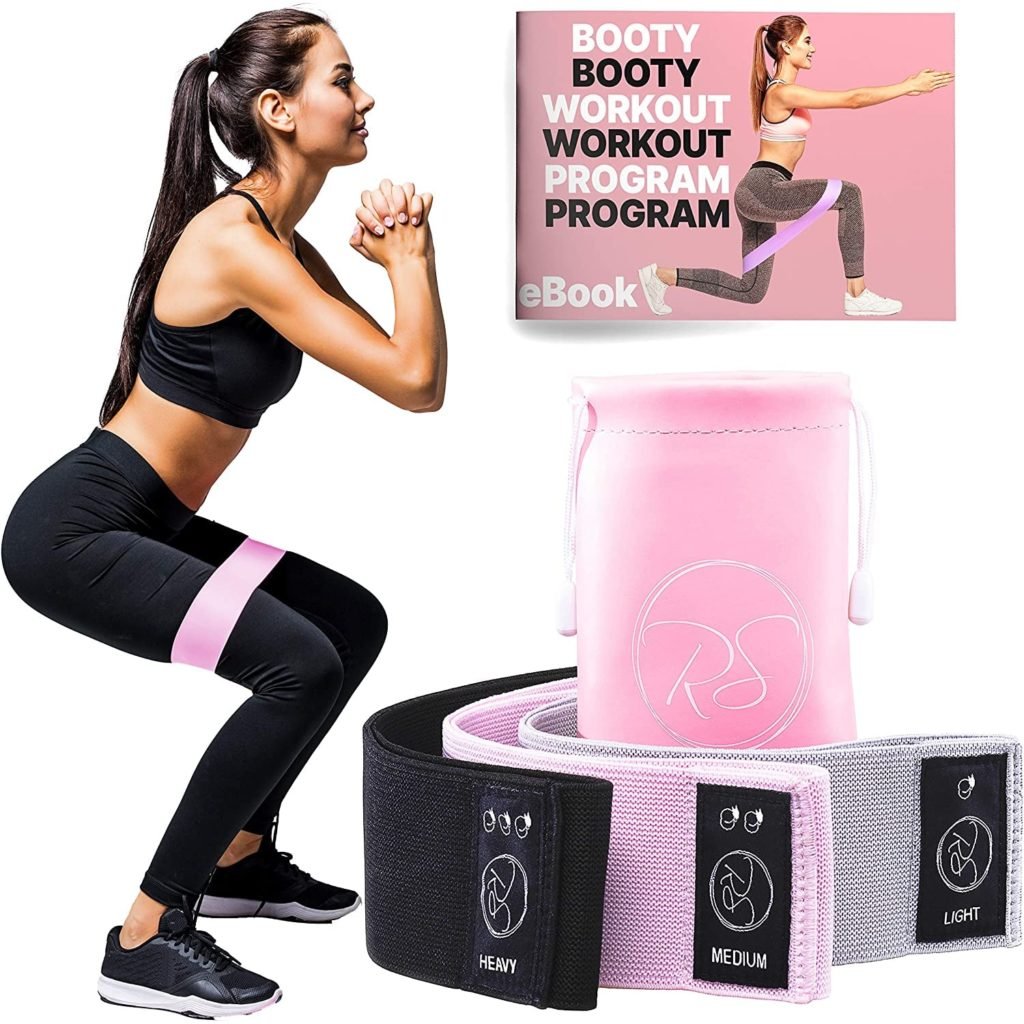 If you have just begun to exercise and looking for resistance bands for beginners then don't look further than Ruby Stretch bands. Available in 12 inches length and 2.5 inches width, these bands are wider and more effective than other bands of their class. Also, they are made up of a fabric that is soft on the skin.
These super stretchy and slip resistance bands are easy to use. Their length, width, and resistance power make them just perfect for muscle toning of arms, legs, and abs. But they are more effective on leg exercises like squats.
What is more exciting is that you get a workout guide with these abrasion resistance bands. You can plan an exercise routine with the help of this guide. While these bands are non-slippery but they could slip when used for leg exercises.
Conclusion
Resistance bands could be a great addition to your exercise accessories as they can provide real help in strength training and muscle toning. Also, they are easy to use and keep. You can start with a band that is good for beginners. Also, you can consider customizing options before making a choice. Since most bands suit all skin types, you can choose any of the above-mentioned bands.