Spice Up Your Love Life With Romantic Picnic Ideas
If you want to break the monotony of your married life and spice up your relations then take your part to a picnic. It will be a short but rejuvenating break from the monotonous activities of daily life. And you don't need to go out or spend lavishly on a picnic to make it romantic.
What Is A Romantic Picnic?
A romantic picnic is all about things you enjoy most. For example, you can play games or simply sit and gossip. If you both like adventure, you can spend some time together playing interesting games or you can simply time talking about your hobbies, achievements, likings, and dislikes.
Picnic Ideas For Couples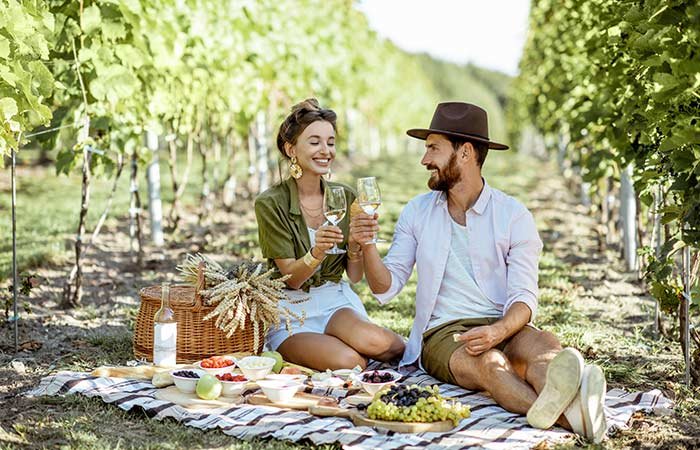 Everyone enjoys food and for this reason, most people go to hotels and restaurants for enjoyment. But you don't need to spend money on restaurant food for a romantic date. There are plenty of ideas to plan a tasty picnic meal.
Healthy Snacks: If you have little time to spend, you can choose fruit salad, frozen fruit pieces, unsalted nuts, fruit bars, and other healthy snack items.
Light Food + Drinks: If you are planning some activity like walking or games, you will need some soft drinks to energize your tired self. Also, it is better to keep some healthy food items to feel energized. Chickpea salad sandwiches, egg salad, spring rolls with drinks like lemonade, and unsweetened iced tea are good options.
Nutritious Meal + Dessert: If you want to spend a whole day at a picnic spot, you will need a full-course meal to enjoy your day. Depending on your taste, you can take barbecued chicken, cheese flatbreads, or pasta salads with dips. For dessert, you can choose coconut date rolls, cookies, and brownies.
Beach Picnic Ideas For Couples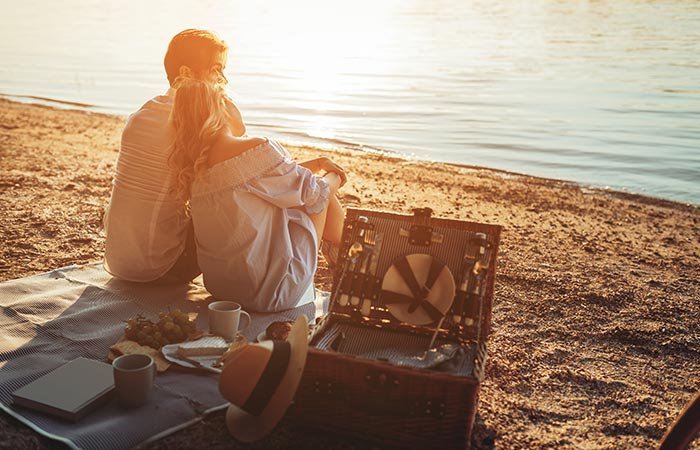 Beach is a romantic place. Here you can spend a day bathing in the sun and enjoy activities like volleyball, swimming, and boating. Also, you can think of romantic activities as follows.
Get Some Wine: Click wine glasses with your partner and enjoy your favorite alcoholic beverage with tasty snacks like chicken wings and salted nuts. Enjoy a mesmerizing sunset with wine, if drinking alcohol is allowed on the beach. Check with local authorities whether you can drink wine on the beach.
Read Together: If you love reading, you can spend some time reading some good poems or stories together at the beach. Or you can read a poem or story to your partner and explain the content. The peace and tranquility at the beach will help you focus on reading together.
Dance To The Tunes: Find a secluded place on a beautiful beach and enjoy dancing to your favorite tunes. For music, you can use your Smartphone or take a portable music system. And if you get closer, don't hesitate to steal a kiss or two.
Picnic Game Ideas For Couples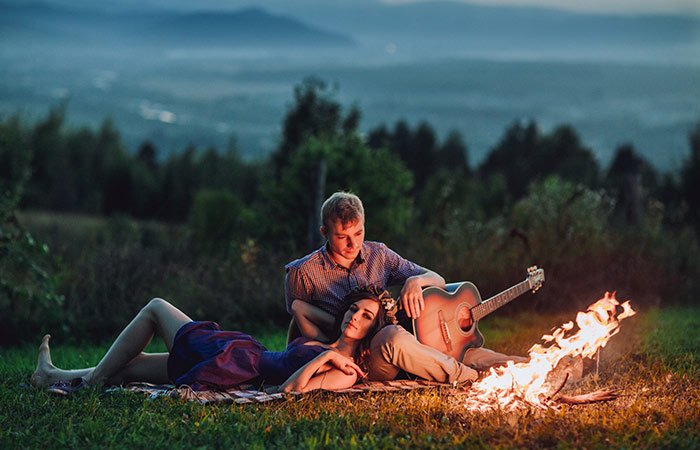 Winning a game is more romantic than food, drink, and dance. And there are plenty of games that you can play to make your picnic more romantic. You can discuss games with your partner to find the best.
Never Have I Ever: It is a game that everyone loves playing because it involves asking interesting questions to know more about your partner. And you can play the game anywhere including the beach and public parks.
Treasure Hunt: Think of a surprising but interesting treasure hunt for your partner. Also, leave clues for your partner to reach the treasure. But the biggest thing is to choose a treasure like a movie night, a candlelight dinner, or a long trip. The treasure should be beyond the imagination of your partner.
Role Play: If you want to try a different game then choose role play like two strangers or characters from a book or movie. The idea seems naughty but it can spice up your love life.
Indoor Picnic Ideas For Couples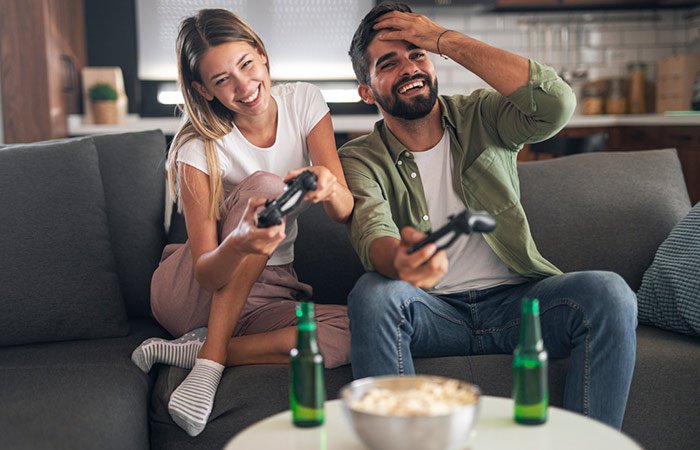 If you love privacy then you should spend some private moments indoors. Close the door for all visitors so you can spend time without any distractions. At home, you can enjoy food, drinks, and games.
36 Questions: New York Times has 36 questions for couples. These questions will strengthen your bond. And it won't be surprising if you develop a never-before feeling for each other.
Karaoke: If you have a karaoke machine, you should take advantage of it. But never worry if you don't as you can download a karaoke app on your mobile and enjoy the music to the full. But the volume is low so you don't disturb others.
Video Games: Playing indoor games is a great idea to spend some romantic time together. And there are many games that can make your time romantic and memorable. You can play Guitar Hero, Portal, Wii Sports, Warcraft, Super Smash Bros, Mortal Kombat, Tekken, Minecraft, Mario, or Overcooked.
Outdoor Picnic Checklist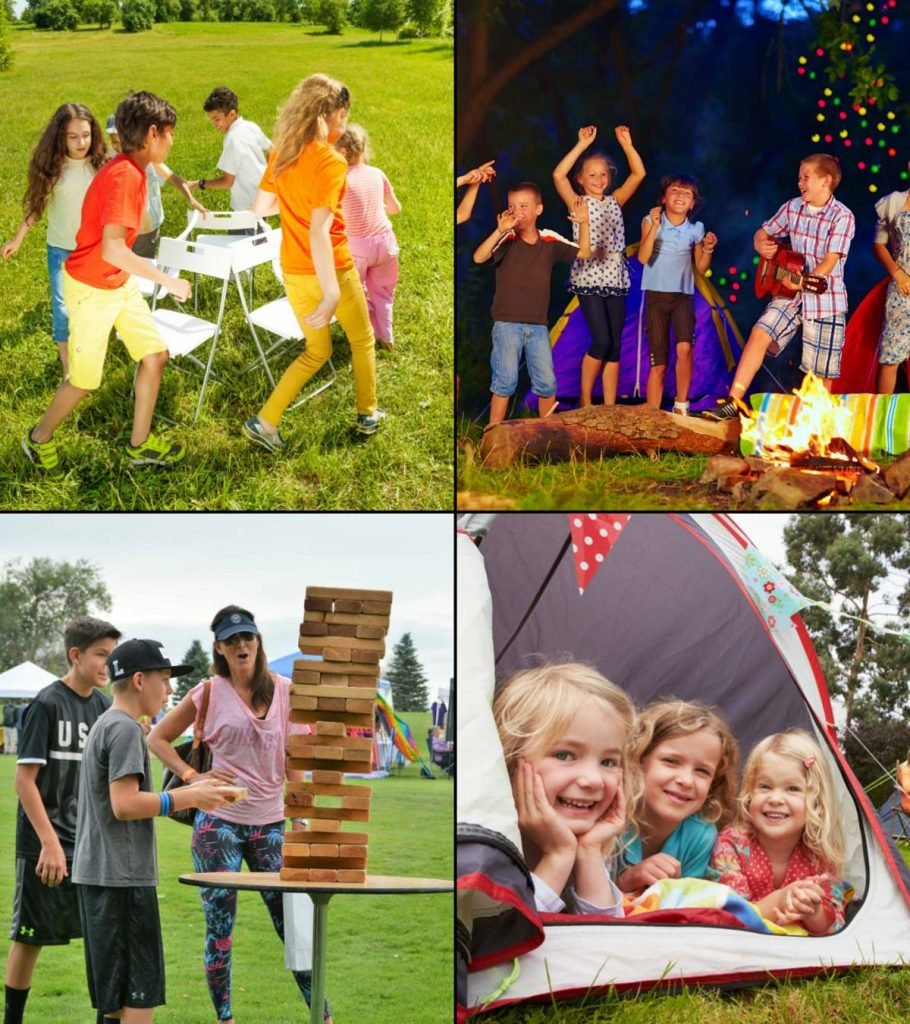 If you are planning to go outdoors for a picnic then you should be careful about choosing a day, time, and place for a romantic picnic. For example, a heavy downpour can spoil your outdoor plans, if you are unaware of the rain forecast.
Here's your checklist for outdoor picnic:
• Check the weather forecast for the day when you want to go for a picnic
• Choose a place that is close to your home so you don't waste time in traffic
• Bring home-cooked food to get the food of your choice
• Carry potable drinking water, soft drinks, and beverages
• Pack disposables and cutting and food service tools
• Take garbage bags to collect the leftover items and clean up the place before leaving
A picnic is a great idea to come out of the monotonous life. Also, it is an opportunity to know each other and strengthen your bond. And there is little to worry about picnic as it shouldn't be an expensive affair. There are many ideas to plan a picnic at a pocket-friendly price. Also, you can plan an indoor picnic to be more focused and save your time and money.
For more information please visit our site at https://www.searchom.com/