Emily Ratajkowski Tells What To Eat To Get A Toned Body
Emily Ratajkowski stunned the audience with her chiseled figure at the Netflix Golden Globes After Party (2017). She appeared in a gold-stain thigh-high slit dress but the people were more interested in knowing about her secret of a beautiful figure even after achieving motherhood.
She stands 5 feet 7 inches tall and weighs 54 kg which is an ideal weight according to her height. Her hair is brown and her skin color is olive. Also, she is blessed with a pair of dark brown eyes that make her look innocent. She is so beautiful that every celebrity magazine wants to interview her.
Her beauty secret lies in her Instagram account where Emily Ratajkowski has shared details of her diet and exercise routine.
Emily Ratajkowski's Diet
Breakfast (Coffee And Carbs):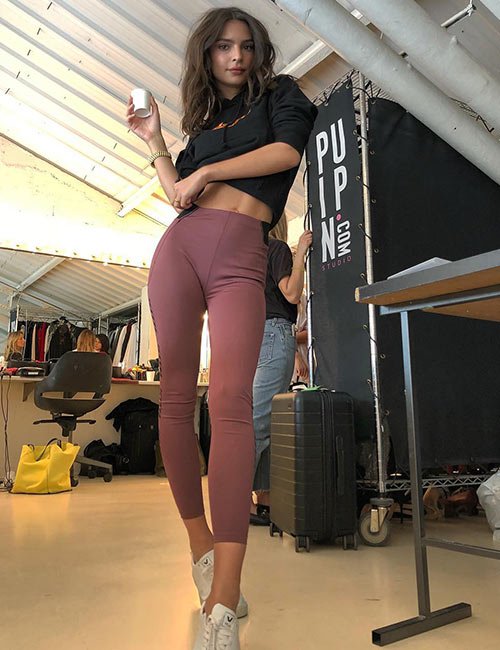 Emily takes kouign-amann with black coffee for breakfast and she goes to Blacktop Coffee to get her pastry every day reported Harper's Bazaar. But kouign-amann isn't a regular pastry. According to New York Times, it is "the fattest pastry in Europe". Sometimes she also tries coffee with toast or granola with yogurt for breakfast.
Lunch (Salad Or Sandwich):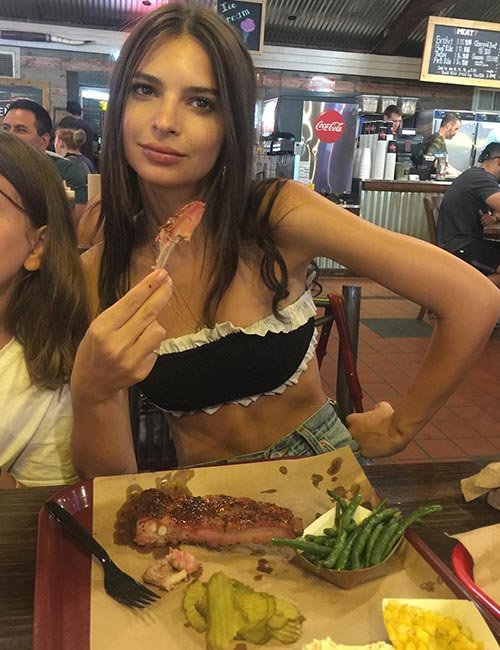 Emily is a carnivore and she revealed her food choice to Elle. She said she liked to eat meat. But she always pairs the meat with green. She prefers taking salads and sandwiches for lunch. But you will never see her eating plain salad. She balances her diet to get the energy she needs to keep going.
Emily revealed that she liked to cook her meals instead of buying stored packed food items that are high on carbs, fats, and sugar. Harper's Bazaar once reported that Emily liked to control the food she consumed. She told the magazine that when she wasn't on set, she had catering. But she was well-behaved with that stuff. She knew that it was easy to go crazy with food. The catering staff knew how to feed people.
Snack (Juice):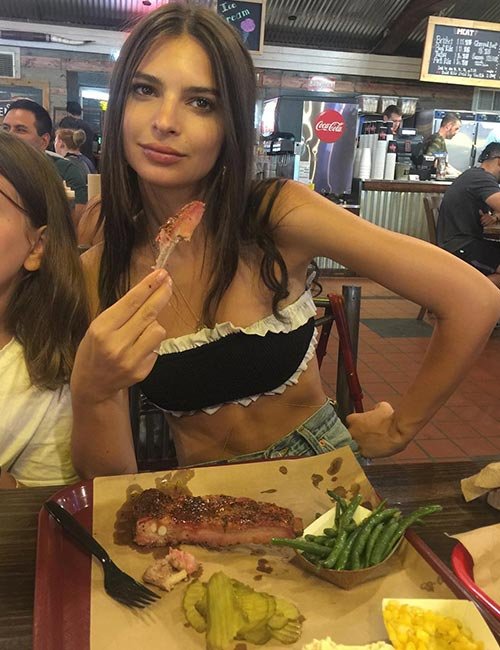 Healthy veggies/fruits are her snacks but she prefers juice, especially turmeric and beat root. The secret of healthy and glowing skin is revealed in snacks. The juice she sips contains turmeric which is a natural antioxidant. It flushes out toxins. For beetroot, she gets dietary fibers that keep her digestive system intact. Also, beetroot contains vitamins and minerals that are beneficial for body metabolism and skin.
Dinner (Takeout Or Restaurant):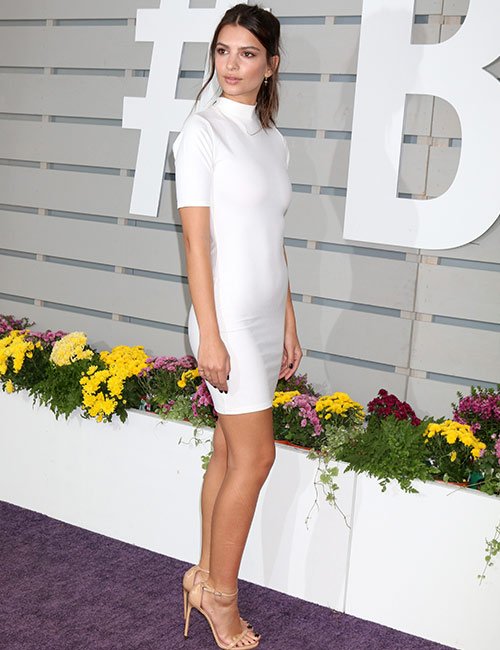 Emily uses dinner time for socializing with family and friends. And she prefers going to local restaurants. Harper's Bazaar reported that Emily loved an Italian restaurant downtown called Bestia. She said that the restaurant had good cocktails and wine.
Depending on her mood, she sometimes visits a tiny place called Mako in Little Tokyo to savor sushi. When she is at home, she orders food from takeaways. She also has a business relationship with Postmates. Also, she mostly orders either Indian food or Thai food from takeaways.
Emily is a good cook and she often tries her kitchen skills to cook a healthy meal that can help her keep a check on her salt and sugar consumption. But she didn't reveal anything about her cooking skills or the recipes she likes most.
What Does Emily Say About Dieting?
She says she likes to keep her diet balanced to give her body energy and also be healthy. And she agrees that eating is more about balancing and portion control. She further says that only a balanced diet can save one from spending money and time sweating out at the gym.
Dessert (Yup!): One thing that Emily loves most is dessert. She has a sweet tooth and this is evident from her Insta pictures. Her social media feed is filled with pictures of half-eaten cakes. Also, she revealed to Elle that she loves cupcakes. She further said that sometimes she thought it was really important to give her a break.
What Is A Food Break?
Taking regular breaks from your weight loss diet helps achieve your weight loss goals faster. Your body becomes immune to a specific diet and stops losing weight. But taking regular breaks from a weight loss diet can help shed excess weight.
Emily takes a balanced diet and often takes food breaks to continue losing weight. She has curves in the right places and not an inch of excess fat and it isn't possible without exercising. Emily leads an active life that leaves little time for exercising but she finds time from her busy schedule for workouts.
Emily Ratajkowski Workout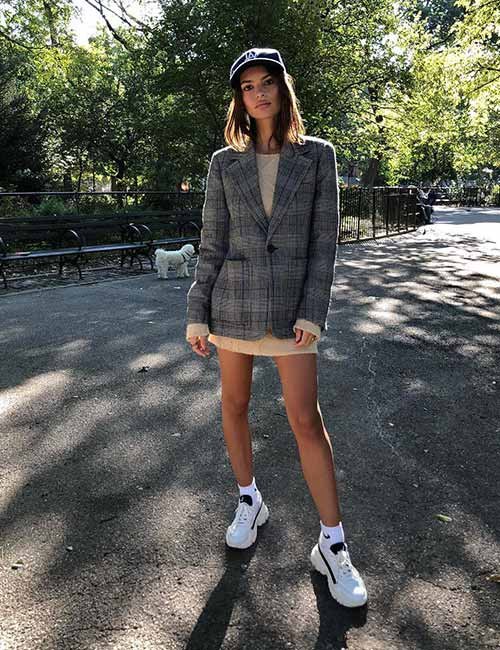 It is surprising to know that Emily isn't excited about exercising. But she likes yoga at a slow pace. She told to Instyle that she wasn't a big gym person. But she likes doing yoga under the open sky. She feels lucky as she has a yoga studio close to her home and she visits the studio once a week. Also, she loves hiking as it helps her stay in shape. She did a lot of hiking in Los Angeles. Since Emily isn't a fitness person, she doesn't have a trainer. She considers herself an outlier in the industry.
Is It Necessary To Go To A Gym For Exercising?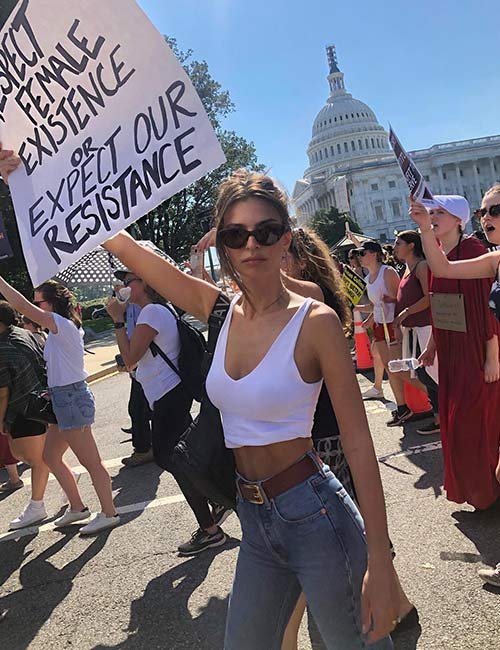 No, you don't need to join a health studio for exercise as there are many ways to do workouts. For example, you can go swimming or take part in a sporting activity. Dancing is also exercising and certain dances like hip hop and salsa are advised for fitness enthusiasts.
Final Thoughts
Emily Ratajkowski follows a balanced diet and active life to stay fit and healthy. You can also bring your body into shape by shedding excess weight and toning your muscles. But it shouldn't be a burden on your body and mind. Weight loss should be a way of life instead of an objective to achieve.
Your body keeps gaining weight and you lose the excess weight by exercising or with your daily activities. While Emily's diet and exercise plan could encourage you to change your diet, you should be careful about what you are eating as it will have an impact on your overall health.
For more information please visit our site at https://www.searchom.com/